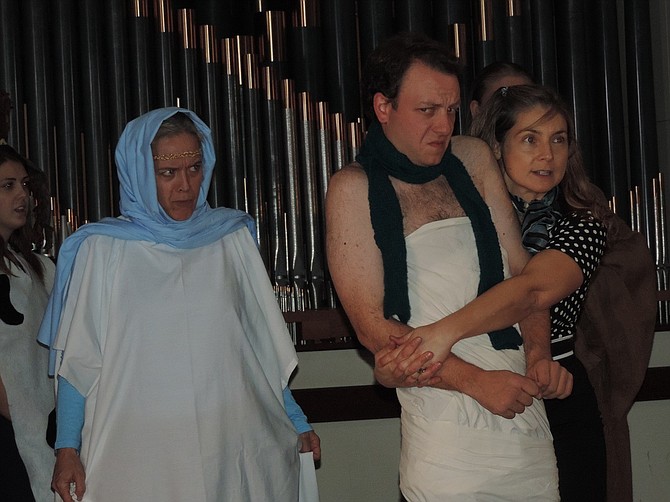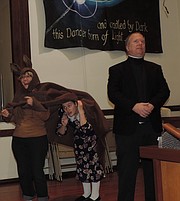 This comedic play is both theatrical AND theological.
With "Owen Meany's Christmas Pageant," continuing this weekend at Riverside Community Church, the audience gets both big laughs and big ideas, conveyed mostly through the preternaturally intelligent 10-year-old of the title protagonist, a boy with a "wrecked voice" and strong ideas who clings to a treasured scarf as well as to a literal interpretation of everything. (Parents: see Audience Notes, below.)
At one point, Owen (Jimmie Oates) tells the church pageant director, "Are you telling me Jesus was lucky? I would say he could have used a little more luck than he had. I would say he ran out of luck, at the end." This is a taste of the sardonic, though never sarcastic, take on Christianity the audience will find in a play that takes place in a church and is being staged, for the first time, at Riverside United Church of Christ. Johnny, the narrator and best friend of Owen is played by Aiden Tappert.
The play, by Jane Jones and Myra Platt, is based on the book "A Prayer for Owen Meany" by John Irving. The play is titled for the Irving character but the pageant within the play does become, somewhat chaotically, very much Owen Meany's pageant. It features stumbling shepherds, cows, and donkeys, and a raucous herd of turtledoves, all members of the Christ Church kids' pageant in 1953 New Hampshire.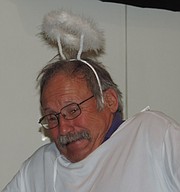 The kids are portrayed by adults ranging from 17 to 70, guided by the formidable Barb Wiggin (Jennifer Hanlon Wilde) and Rev. Dudley Wiggin (David Dye). Looking on are townsfolk Mr. Fish (Tom Burns) and Dan Needham (Kirby Neumann-Rea). Kathleen Morrow directs, Bruce Ludwig handled the lights, and Bill Weiler provides the music and occasionally suggestive sound effects
Above it all is a stranded ascending angel (Harold McBain) who gets caught in the apparatus (scaffolding and winch assembled by McBain), and helps turn the Wiggins' uninspired, ham-handed pageant into an offbeat, yet heartfelt exploration of the meaning behind the Christ's birth. It asks some challenging questions but remains comfy as Owen's scarf.
TICKETS AND TIMES
Dec. 9 and 10, Dec. 16 and 17 at 7:30 p.m., and Dec. 11 at 2 p.m. Tickets are $15 for adults and $12 for seniors and students, available at Waucoma Bookstore or at the door, or www.showtix4U.com
Riverside Community Church is located at Fourth and State Streets; entrances on State and Sherman streets.
The play runs about one hour, and there is no intermission. Come early to "Owen Meany" and enjoy beer and wine, and sweet and savory appetizers. Doors open at 7 p.m. and Fresh Start Culinary will be selling a hummus and veggies plate, cheese and fruit plate, and a dessert plate, for $6 to $10. Beer and wine are also available for purchase.