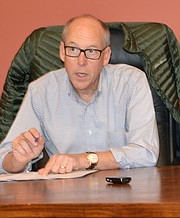 U.S. Rep. Greg Walden (R-Hood River) has been selected as the next Chairman of the House Energy and Commerce Committee in Washington, D.C.
The House GOP Steering Committee on Dec. 1 elected Walden to the post, which oversees a broad array of federal jurisdictions, including health care.
The committee has responsibility over the nation's telecommunications, consumer protection, food and drug safety, public health research, environmental quality, energy policy, and interstate and foreign commerce.
Walden has been on that panel, the oldest standing legislative committee in the House, since 2011. He's the first representative from the Pacific Northwest to become chair.
Walden said in a statement that the committee's work will "focus on what's best for consumers, on creating better paying jobs and providing patient-centered health care."
"I am deeply honored to earn the support of my colleagues to chair this incredibly important committee. Americans are looking for big improvements out of Washington, and that's just what we're going to give them as we work with the Trump Administration, the Senate, and the governors, to move forward on the Better Way agenda," Walden said.
"I commend my friends and fellow committee members, former Chairman Joe Barton and Subcommittee Chairman John Shimkus, for stepping forward to compete for this chairmanship. They are talented legislators and leaders to whom I will turn for help as we embark on our legislative work."
Walden said he and other committee chairs will not make subcommittee chairmanship decisions until after the steering committee finalizes committee rosters in early January.

Walden represents Oregon's Second Congressional District, which includes 20 counties in central, southern, and eastern Oregon. Walden, 59, grew up in Hood River and The Dalles. He was elected to a 10th term in the Nov. 8 general election.
In 1998, he was elected to the U.S. House, winning a seat on the Energy and Commerce Committee in 2001. Since 2011, he has served as Chairman of the Energy and Commerce Subcommittee on Communications and Technology. He has also served as Deputy Chairman of the National Republican Congressional Committee (NRCC) and four years as chairman.