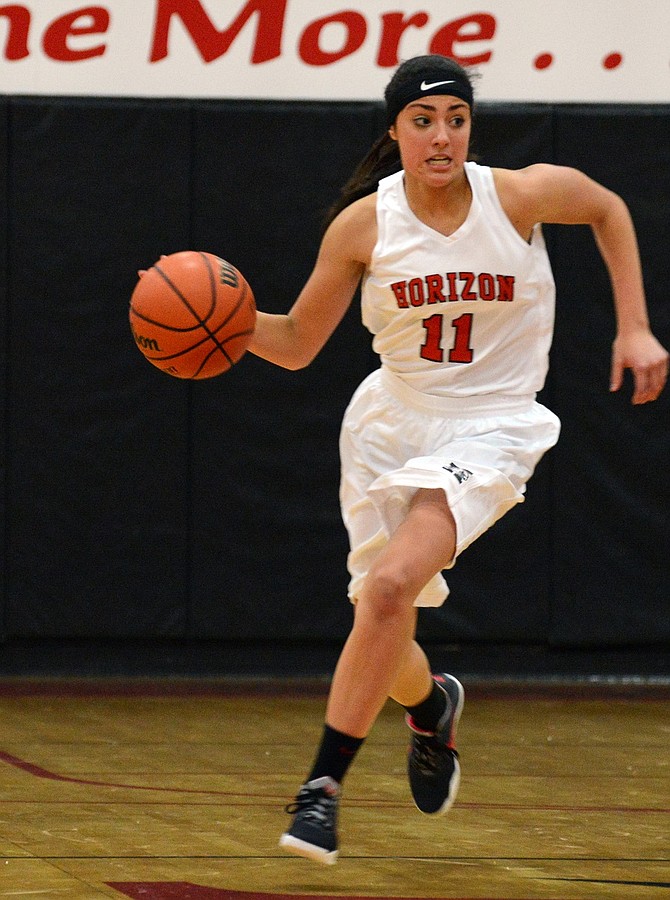 Fans at the Hawks Nest were treated to the highest-scoring Horizon girls basketball game in five years on Tuesday, when the Hawks pummeled the visiting Klickitat Vandals with 67 points on their way to a 40-point blowout.
The small Gorge school was no match for Horizon, as the Hawks could do no wrong on offense, with a number of impressive performances on their stat sheet.
Head Coach Brian Stevens gave a glowing review of what was Horizon's highest-scoring game since Dec. 2, 2011, when the Hawks rolled the C.S. Lewis Academy Watchmen 69-17 in Hood River.
'The game was a runaway... I was able to play our bench for 12 minutes to finish the game.'
BRIAN STEVENS
"This game was a runaway. Our press defense was incredible. I was able to play our bench for 12 minutes to finish the game," he noted.
Horizon dominated the nonleague competition so greatly that five players on Horizon's roster reached double figures in at least one statistical category. Paulina Finn, consistently a lead scorer for the Hawks last year, had a double-double, pouring in a season-high 21 points and grabbing 10 rebounds. She also recorded three blocks. Next in scoring was Haley Becnel, who had 12 points and a team-high six steals. Alexis Ruiz hit the double-digit scoring mark with an 11-point effort.
Kaitlin Wenz led Horizon in the battle of the boards with 13 rebounds, scored six points, and collected three steals. Jodee Hicks was right behind her, flirting with a triple-double with a stat line of 12 rebounds, nine points, and seven blocks.
Though there was no denying it was a lopsided contest, Stevens gave credit where credit was due to what he called a young Klickitat team.
"(The Vandals) passed the ball well. They missed some open shots. They executed well. Once they get some experience they will be a tough team to beat. Very scrappy," he said.
If there was a disappointment in Tuesday's contest, it was the loss of starting point guard Chantelle Carter (two points, four rebounds, five steals), who went down with a knee injury, according to Stevens. He did not have a timetable for her return as of press time.
For their next game, the Hawks will again play host, facing Country Christian (1-1) Tuesday at 6 p.m.