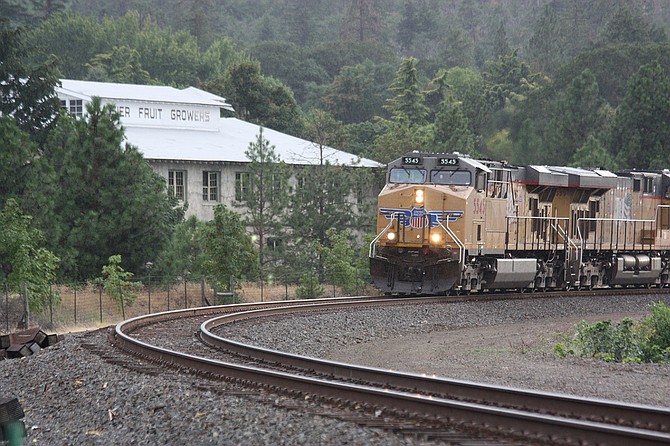 Two dueling appeals have been filed against Wasco County's denial of a Union Pacific Railroad track expansion project in Mosier.
Union Pacific has issued a notice of appeal targeted at the county's decision, as did a coalition of environmental conservation groups.
The appeals were filed before the Columbia River Gorge Commission, which has authority to review final county decisions within the National Scenic Area.
On Nov. 10, the Wasco County Board of Commissioners unanimously denied the proposed rail expansion after a five hour meeting, citing adverse effects to the Yakama Nation's tribal treaty rights, among conflicts with the National Scenic Area land use ordinance. Commissioners voted 3-0 to reverse Planning Commission's decision to approve the project.
The "Mosier Siding Extension Project" calls for about four miles of second mainline track to be added at both ends of an existing 1.35-mile siding at Mosier, The Dalles Chronicle reported. The extended track is designed to mitigate a "bottleneck" in rail traffic, UP officials have said.
The railroad released that proposal earlier in 2016, with a project area from Memaloose State Park to the train tunnel at the Hood River County line.
"Shortening the project would still leave a bottleneck," said Clint Schelbitzki, UP's director of public affairs at a hearing, the Chronicle reported. "If we're not able to have the full mileage, we'd still end up with stopped trains at the siding."
Groups, including Friends of the Columbia Gorge, Columbia Riverkeeper, and Physicians for Social Responsibility supported Wasco County's denial of the project, but appealed the decision based "on threats to fish and wildlife habitat, parks and recreation, scenic resources, and Gorge communities like Mosier," the groups said in a statement.
"Friends and our allies support the denial of the project to protect the Yakama Nation's tribal treaty rights. The recent Mosier oil train derailment and explosion demonstrate the dangers to public safety and the National Scenic Area from Union Pacific's plans to significantly increase rail traffic," Friends' staff attorney Steve McCoy said.
"This is why we're asking the Columbia Gorge Commission to deny the project on multiple grounds and ensure Union Pacific doesn't imperil public safety and trample over a national treasure."

A Union Pacific train hauling crude oil derailed in Mosier in June, catching fire and leaking 42,000 gallons of oil.