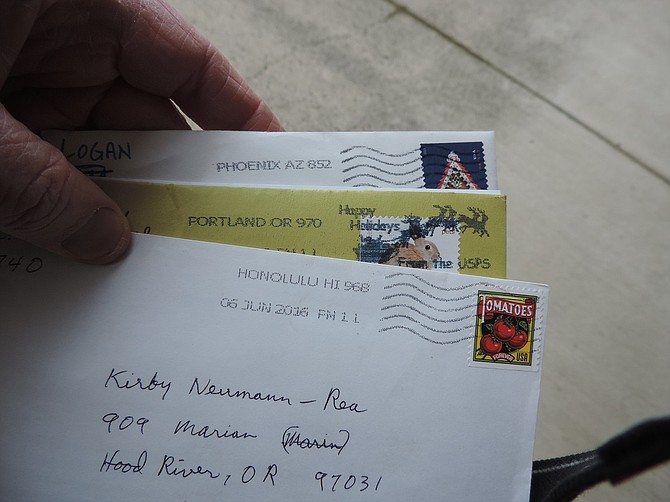 My goal of writing a letter a day in 2016 is nearly finished. Three to go.
As I wrote in a column in this space in March, my daily letter practice is "one way to celebrate the sustenance of a 'dying art' that can keep us alive."
This was one letter a day, in an envelope affixed with a stamp and dropped in the mailbox for delivery by the United States Postal Service, every day in 2016. Part pleasure, part obsession, it's about over.
All my life, and especially in the past 20 years I have been a regular writer, including daily letters in 2003 and 2005, and daily and weekly postcards, respectively, in 2006 and 2008. I decided in late 2015 I wanted to try it again this year.
My fifth grade teacher wrote several times, from his home in Hawaii; the AD of University of Oregon, where my son attends, did not; a cousin in Chicago wrote once, obligatorily, telling me I would henceforth only receive texts or emails.
It was a mixed mailbag, with most letters going unanswered. The 2016 numbers are in; as of this writing (Dec. 26):
361 — total number of letters
123 — total recipients
59 — total responses
1.1 — average responses per week
32 — total respondents
7 — Hood River County respondents (all seven answered)
36 — of the total responses came from 11 people.
14 — people responded with a text, email, phone call or postcard.
67 — recipients who responded in no manner
5 — letters that arrived unsolicited.
As to that one: in other words, I can count on one hand the number of people who wrote to me twice before I wrote back. (Thank you, Jeff Mueller and Tina Castañares.)
• 344 — Given a liberal two-week response delay, that's how many letters that, by this date, I can reasonably expect an answer.
• 17.1 percent — the response rate based on those 344 letters.
But considering that the last response received was a Dec. 4 letter written to an in-state friend, you can see the pattern. I expect five or six of the last 28 letters to get an answer, so I predict the year's total will top out at …
• 65
• Out of 366.
People who receive a letter often text or email how much it meant to them yet they rarely respond in kind. Letters have become special events, even call them oddities, when once they were simply a regular part of our social existence.
Yes, I did keep track of the numbers, and you can see my frustration. It's why I will reduce to one or two a week.
•
I plan to continue exchanging letters with a core cadre, among it two friends I have known since elementary school and a few friends and one of my brothers who have become regular correspondents.
I also remain open to surprises, for there are numerous as-yet unacknowledged letters out there. I have learned to be patient: in 2006 I received a letter from an old friend who had received one of my 2003 missives and proceeded to place it in a stack on his desk, unearthed three years later.
So no more postal tales of woe.
"Cry, cry if it makes you feel better/put it all down in a tear-stained letter," sings Richard Thompson.
I've collected numerous song lyrics about letter-writing. In music you can find a rich vein on the theme — I think because good songs invoke meaningful topics.
These include:
"I took time out to write to my old friend …"
"I'm gonna find me a ship/stow away on a boat/I'm gonna burn all the words and cards and letters that I ever wrote …"
"You can take all my postcards and letters/my loves and good memories/Well I'd lose them all, burn them all …"
More than one song deals with people burning all their cards and letters. Why would anyone do that? Plenty of reasons, I suppose: anger, regret, disillusionment, scandal prevention, drunkenness. Brahms once threw numerous composition drafts into a lake. Music, not letters, but the same brand of bitter.
Then it occurred to me that if destroying letters is something someone wrote a song about then it must be it is something many, many people have done. I would not have the guts. Or perhaps I've just never been that drunk.
•
But my favorite, and the most telling, letters lyric is from The Arcade Fire: "It's so strange, we used to wait for letters to arrive/what's stranger still is how something so small/can keep you alive."
I'll continue writing letters, though not so many as one a day, considering the record of return.
I also said last spring that a phrase I don't want to hear ever again is "snail mail." It's pejorative, not that I have anything against snails. No, I lobby for a new term for what I have been giving the stuffy term "conventional mail." Letters and postcards, or all stamped correspondence, I suggest we henceforth call what they are: "true mail."
•
This is likely the last in-print observation on letters by the editor, at least for awhile. He will, however, put his stamp on correspondence and the writing life in a new blog, titled, "Burning The Ax Handle," to start Dec. 31 on the Hood River News website, hoodrivernews.com.