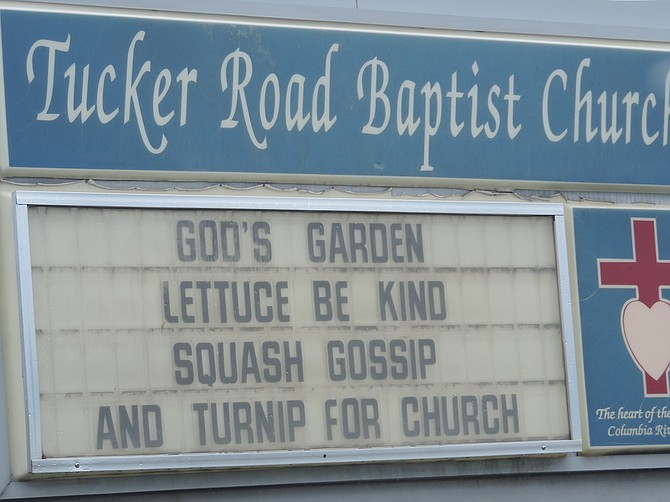 This was the year that a readerboard stirred up some controversy.
Only a handful of churches have changeable roadside signs, and some, including River of Life Assembly and Truth Tabernacle, rarely change the ones they have.
Some do on a weekly or every-other-week basis, with a mix of pulpit-banging ("Vengeance is Mine, I will repay says the Lord"), humor ("A word of advice: don't give any), and what might be termed general philosophy ("The distance between more and enough never grows closer").
In July Belmont Drive Baptist Church Pastor Mike Harrington drew protests, including some on the road in front of the church, for the message that, to paraphrase, stated that Islam is the virus and Jesus is the cure.
At about the same time, the folks at Seventh Day Adventist had this to say: "Kind words are like honey: enjoyable and healthy, Prov. 16:24."
But a readerboard message with a politically and culturally challenging tone was certainly the exception among all readerboard signs, and that Belmont Baptist message might be juxtaposed with the same church's words in February, quoting Colossians about minds like concrete — it's the first one listed.
From homily to occasional hellfire, the message boards from 2016:
Belmont Drive Missionary Baptist Church
Some minds are like concrete thoroughly mixed up and permanently set — Col. 3:2 (February)
Don't Let Truth Offend You/Let it Change You
Other side: Warning
(September)
We are praying for our country/Will you join us?
(November)
Cascade Locks Bible Fellowship
Whoever believes in the Son has eternal life, John 4:36;
Other side: Welcome
I sought the Lord and he answered me
Jesus is love, Jesus is alive, Jesus saves
Cascade Locks Community Church
May your journey be a safe and blessed one.
Church of Christ
Let the peace of Christ rule in your hearts, Col. 3:15
Vengeance is Mine, I will repay says the Lord
No one comes to the Father except through me. — John 14:6
A new command I give you: "Love one another," Book of John
There shall be one flock and one shepherd. John 10:38
Do not let your hearts be troubled. Trust in God — John 14:1
Jesus said, "Take care of my sheep." John 16:21
Seventh Day Adventist
An apology is the best way to have the last word.
Everyone smiles in the same language.
A word of advice: don't give any.
Heavenly forecast. God will reign forever.
Love doesn't keep score.
The password to eternity is Jesus.
Practice random acts of kindness.
Worship the Lord in the beauty of holiness.
Count Your Blessings
(Other side): Rejoice the Lord is With You
Kind words are like honey: enjoyable and healthy — Prov. 16;24
Jesus is a friend to sinners.
Jesus Saves
Pine Grove Odell United Methodist Church
Guess What? He still loves you
Riverside Community Church
"Ain't Heaven A Lot Like Dixie?" (think Hank Williams)
"Hold on to the vision" (Nov. 13)
Tucker Road Baptist Church
You can believe in God Now or Later. Now is better.
Just another week. It's always going to be another week without Jesus in your life.
Try the lamb (other side)
If you are tired of the Donkey and the Elephant (other side)
On the cross Jesus paid the ultimate price, to pay for all of your sins
God's Garden:
Lettuce Be Kind
Squash gossip
Turnip for church
Church shopping? We are open on Sunday
Crack your bible, get high on Jesus
Parkdale Church of the Nazarene
We can endure anything if we depend on God for everything
New Beginnings Church, White Salmon
Well done is better than well said.
The distance between more and enough never grows closer.
Wy'east Community Church
"We're back!" (October)
"We don't change the message. The message changes us."
Merry Christ-Mas
OTHER reader boards
Little Bit Ranch Supply:
"A bird is a bird. A cat is a cat. A dog is a person."
River's Edge Towing:
You and your car broke/financing available.
"We repair what your husband fixed." Enjoy the dog days with us.
Buster Bear, State and 9th
"Be a fountain, not a drain" — February
"Pray. Vote. Pray More" — November
WAAAM
Weather or not, we're open
Good News Gardening
"Vote" — November
Make it Christmas every day
Charburger
"We're happy to see you"