U.S. Rep. Greg Walden, R-Ore., has been chosen to chair the powerful House Energy and Commerce Committee, where some of the biggest legislative battles associated with a major shift in leadership will start.
His election by Republicans, the majority party, is historic in that no other House member from the Northwest, in either party, has held the position of chairman.
"This is why you come to Washington; to set policy that makes a difference for the people you represent, for all Americans," said Walden.
The committee is the oldest in the House and vested with the broadest jurisdiction of any congressional body that authorizes programs and seeks to hold agencies accountable.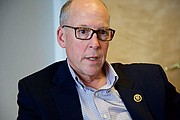 Today, the commission oversees the nation's telecommunications, consumer protection, food and drug safety, public health research, environmental quality, energy policy and interstate and foreign commerce.
The committee is responsible for the Departments of Energy, Health and Human Services, Commerce and Transportation, as well as the Environmental Protection Agency, the Federal Trade Commission, Food and Drug Administration and the Federal Communications Commission.
"My job will be to oversee all this and keep things on track," said Walden, who spent much of his childhood in The Dalles and now resides in Hood River.
He defeated U.S. Reps. John Shimkus, R-Ill., and Joe Barton, R-Texas, in the race for the gavel. He will replace Fred Upton, R-Mich., who is forced by term limits to step down as chair. After two successful terms as head of the House GOP's campaign arm, Walden garnered strong support from Republicans for his elevation from member to chair of the committee.
Because of its broad area of coverage, he said service on the committee is exclusive and only members with some type of specialty, such as a military background, can serve on other committees.
Getting Started
Walden said the first order of business for the committee, once President-elect Donald Trump takes office Jan. 20, is to repeal and replace "failing" parts of the Affordable Care Act, commonly known as Obamacare.
President Barack Obama's signature legislation was adopted in 2010 on a party line vote. Not a single Republican in Congress voted for the proposal because it had not been properly vetted, said Walden.
It is time, he said, to address key flaws that have allowed premiums to skyrocket for many customers, and caused insurers to drop out of public exchanges due to high coverage costs.
Recently, Walden said a couple from Eastern Oregon contacted him to report that their premium had risen to $1,600 per month and their deductible to $7,100.
He said similar reports are coming from people across his Second Congressional District and beyond.
"Our first responsibility will be to find a fix for these problems," he said.
Walden said Republicans have been working on an alternative health care model, which he declined to reveal until the GOP was ready to roll it out.
"The individual market is broken and I think everyone knows that something had to be done," he said. "That's our challenge and we take it seriously."
According to Walden, Republicans are not seeking to toss out Obamacare in its entirety.
The 92 percent of the population that gets health care through an employer, Medicare or Medicaid will see little change, he said.
"Less than 8 percent of anyone currently in the health care system will be affected by what we do," said Walden.

Changing Rules
On other fronts, he said Republicans are also getting ready to deliver on campaign promises to stop government overreach and eliminate "job-killing" regulations. He declined to provide further details but said GOP leaders will be prepared to move quickly to enact policy changes.
"We'll have a lot of things right out of the gate," he said.
For the seventh time in 70 years, he said Republicans hold the White House and both chambers of Congress, so making progress on much-needed reforms will be much easier.
"The American people told us what they wanted and now we have this opportunity to give it to them," he said.
Because of the filibuster rule in the Senate, Walden said it takes 60 votes to pass nearly anything through the 100-member chamber. Republicans hold 52 seats so they must garner support for policy changes from eight Democrats to not trigger a filibuster. That parliamentary procedure is used to extend debate on a proposed piece of legislation as an obstructive tactic.
U.S. Sen. Jeff Merkley, D-Ore., and others have spent the last several years pushing for the filibuster role to be changed. One of their proposals would have gradually reduced the number of votes to break a filibuster.
Read the full story at www.thedalleschronicle.com.