1916 — 100 years ago
A petition has been circulated in Pine Grove during the past week asking the board of directors of the East Fork Irrigation District to not include any more land in the district at the present time. The petition recites that if pending litigations should be decided unfavorably to the district, the available supply of water would be reduced and that those at present included in the district could not be served with an adequate amount.
For the first time during the present winter the Mt. Hood Railroad Company was unable to run its regular train through to Parkdale Monday. The snowfall that occurred on Sunday night was the heaviest of the season for that period of time and amounted to 16 inches at Parkdale. In the morning an engine plowed its way through the drifts to carry the mail but the passenger coach could not be attached.
VERBATIM: Mumps Is Now Nearing An End
The epidemic of mumps in the local high school has about run its course. On Monday, 25 pupils were readmitted, but there are new cases in all the schools. The number of severe colds and coughs perhaps exceeds the number of cases of mumps. Teachers are instructed to send home pupils when they have a cough, which annoys other pupils and especially when this cough is accompanied by sneezing and high temperature. Parents are requested to cooperate with the health and school authorities by keeping children at home when they have severe colds. When children are expected of having some communicable diseases, parents are asked to notify the county nurse or health officer, even though a physician is not called. All suspicious cases should be passed upon by the health officer or the physician, who will give the child a certificate before he or she is permitted to return to school.
— Hood River News, February 5, 1926
1926 — 90 years ago
A number of important matters were disposed of by the board of directors of School District No. 3 at the meeting last Monday. Among the subjects which came up was that of the projected building of a new senior high school on the new tract on May St., which was originally acquired for a union high school site. The question is one which, at a later date, will probably be submitted to the taxpayers for consideration and decision.
At the annual meeting of the Hood River Community Hospital held last Friday, it was announced that, with cooperation of the chamber of commerce, America Legion and other organizations, plans will be undertaken to provide funds for the building of a better hospital for this section. It was pointed out that not one surgical case has been lost at the hospital since it was reopened under the community plan, and patients were well satisfied with the treatment they have received while in the hospital.
1936 — 80 years ago
Mothers and daughters, in both Parkdale and Pine Grove, are joining together for luncheon followed by a joint meeting at which Mrs. Azalea Sager, Extension clothing specialist from Oregon State College, will discuss and demonstrate the uses of color and line in girls' and women's dresses. These meetings are sponsored by the Home Economics Committee and the 4-H Club leaders in each community and will be held at the Grange halls.
Businessmen, whose premises are located on the north side of Oak Street, between Fourth and Fifth streets, and other residents of the downtown area, had entirely different reactions late Tuesday night, when the city water main opened up and an underground river found its way in the basement of Koberg's restaurant, Gibbs Electric Shop, the Rialto Theater, Weber Hardware and the former bakery, doing considerable damage to stock and other materials within.
1946 — 70 years ago
A male now in custody in Vancouver, Wash., says he started a career of safe cracking at Parkdale in September of last year, when he broke into a safe. He and his two companions had only about $100 to share from this exploit. Later the trio stole powder from a DuPont magazine in Clackamas County and started a series of safe robberies in Oregon and Washington. The man, the father of three children, was shot in the leg as he attempted to escape from the rear window of his home in Vancouver.
A number of Hood River boatmen have noticed that, during the recent high water, Hood River's harbor area has filled up with silt to a remarkable degree on the south end, and they report that the navigable channel has been reduced in width to not more than 75 feet. Back over the years, many will recall that so much silt was brought down from the mountains and valley that periodic efforts had to be made to confine the Hood River to one channel, and it is now evident that the old condition still prevails.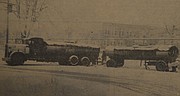 1956 — 60 years ago
Three applications for permission to sell beer by the drink in Odell were refused Wednesday by the county court. Three applications were received last month by the court for retail malt beverage licenses in Odell, which has no taverns, and the matter was tabled pending the filing of petitions in favor and in opposition. Judge Arvo Hukari said that a majority of persons had signed petitions in opposition to the licenses being issued. Hukari and Commissioner George Kreig voted to refuse granting the permits.
Children are urged to use Memorial Park and designated streets for sledding by Police Chief Francis Woolston. He reminded that 10th Street is barricaded between May and Montello for sledding and 13th from Columbia to Industrial may be used after 5:30 p.m. "Memorial Park east of the baseball field is a natural area for sledding," Woolston said, and urges children not to use "undesignated" streets for sledding.
1966 — 50 years ago
Skiers were making plans to pack camera equipment into the Hood River Meadows Wednesday as part of preparations for a half-hour television documentary film. Channel 2 in Portland is planning to tell the story of Hood River Meadows, and then some. History of skiing on the north side of Mount Hood, the background of exploration and location of the present area, and its potential are other parts of the story to be told.
In quick succession county planners took a look Tuesday night at three major new commercial or industrial projects which promise to bring changes to the area in the future. The items: A preliminary plat for a 40-acre plus industrial subdivision in the area of Central Sales on Tucker Road, a new shopping center on Tucker Road across from the new Byers Motor Co. building, and a proposal for constructing a new nursing home facility on land near May Street and Frankton Road, west of Hood River.
1976 — 40 years ago
A community paused Thursday to pay tribute to a handful of concerned people who have made Hood River a better place. The occasion was the 1975 Awards Banquet sponsored by the Hood River County Chamber of Commerce, and five persons were singled out for recognition: Dick Nafsinger, business person of the year; Toru "Porky" Omori, orchardist of the year; Ken Jernstedt, first citizen; Sylvia Hann, woman of the year; and Fred Duckwall, distinguished service award.
From the classifieds: Glenn Taylor and Associates, Inc., have a little old fashioned charmer. Well cared for, four bedroom home too big for present owner. Big back yard with creek large enough to make your own mini park, $24,500. And from Zalph Wilson Reality, a two-bedroom home off of Highway 35 near Mt. Hood. Appliances included, electric heat. Irrigation and Crystal Springs water. On almost one acre, $19,995.
1986 — 30 years ago
When it rains, it pours for the Port of Hood River. The most recent drenching from the heavens created a sea of muck on the Wasco Street project, threatening to call a work halt if conditions don't improve. And if that happens, a domino-effect will ripple through a tight timeline of Diamond complex projects waiting for completion. The rain splashed down on another port problem — a leaky roof that has sent water trickling down to form puddles on the top two floors of the Plant H building.
Later this month, a new car wash on 12th Street, next to the National Guard Armory, should be open for business. Linda Jensen, owner of the car wash, says it will feature three bays for coin-operated self-service and one bay with an automatic washer. Construction of the building is being done by Don Betz Construction. The car wash will be painted this spring. 1996 — 20 years ago
Some of the pressure of finding quality day-care will be eased this spring with three local agencies combining resources to construct a migrant day-care facility in Odell. Hood River County, HOPE (HOusing for PEople), and the Migrant and Indian Coalition Head Start program have developed final plans for the facility, which should be open May 1.
Columbia Gorge residents don't need us to say it, but we will — it's darn cold out there. By Thursday, ice was floating on the lower Hood River. How frigid is it? How about a record? Friday morning's low temperature was minus 9, according to Louis Angelo of the Mid-Columbia Experiment Station.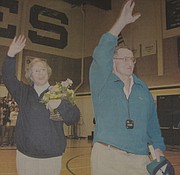 2006 — 10 years ago
The City of Hood River could soon be faced with its first Measure 37 claim and forced to defend a new riparian protection plan at the state level. Included in the city's new boundary to protect fish-bearing waterways is Riverside Grill at the Best Western Hood River Inn. Also sitting inside the 75-foot setback to prohibit development is CEBU Bamboo Lounge and the north-facing rooms along the west wing. "I know that it can get a little lively in CEBU at times, but we never really thought it qualified as a wildlife habitat area," joked Tom Stevenson, the Inn's owner.
A ceremony to celebrate the transfer of a property deed for the long-awaited waterfront park will take place on Monday. And, just two days later, the three conceptional designs for the park will be unveiled for public review. Christine Knowles, co-chair of the Park Development Committee (PDC), is excited about both events. She said everything is starting to come together for park development, including the formation of a new fundraising group.
— Compiled by Trisha Walker, news staff writer