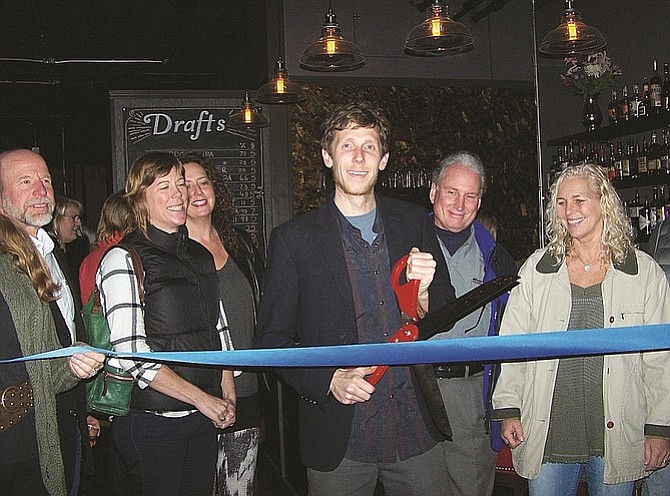 WHITE SALMON — Tarwater Tavern, located in downtown White Salmon, is now officially open.
Named after the medieval cure-all "Tarwater," which later became a common slang for liquor and/or adult beverages in the civil war era, Tarwater Tavern serves specialty cocktails reminiscent of the prohibition era when the term became popular again.
Featuring a wide selection of regional beer and cider on tap, there is a premium selection of wines from local vineyards, making Tarwater Tavern a new destination worth a visit. Also on tap is gallery-worthy art showcased professionally in this lushly decorated Manhattanstyle jazz club with a nod to the Pacific Northwest industrial art scene.
Hosting exclusive musical acts, film screenings, karaoke and art openings, Tarwater Tavern is an action packed, 21 and over venue, open later than any other in town.
"We've built a creative and celebratory space for people who want to experience urban nightlife in a small town. We want to bring that expansive, artistic sense to a relaxed tavern-style atmosphere," said owner and operator, Nick Baldridge.
Baldridge gathered his friends together to remodel the space — an inspirational feat that transpired over five months and combined knuckle-scraping reconstruction, and of course an artist's passion for beauty as the basis of creation for the Tarwater Tavern's interior.
The bar was designed based on classic and modern aesthetics that were fused together, creating a truly unique visual experience. The decor is softened by ambient lighting from a variety of beautiful pendant lights, a chandelier and the warm tones of dark wood as seen in handmade bar made of century-old repurposed wood pulled from the former ceiling rafters.
During their soft opening on Sunday, Jan. 16, Baldridge and Brewmaster Doug Ellensberger from Everybody's Brewery officially poured the first beer together. Baldridge invited Ellensberger, whose Brewery is just across the street from the newly opened Tarwater Tavern, to pour the first pint of Everybody's Local Logger Lager to announce the opening of the Tavern in White Salmon.
For upcoming show listings and specials visit www.tarwatertavern.com.
Tarwater Tavern, located at 130 E. Jewett Blvd, White Salmon, is open Sunday through Thursday from 5 p.m. to 12 a.m., and Friday and Saturday from 5 p.m. to 2 a.m.