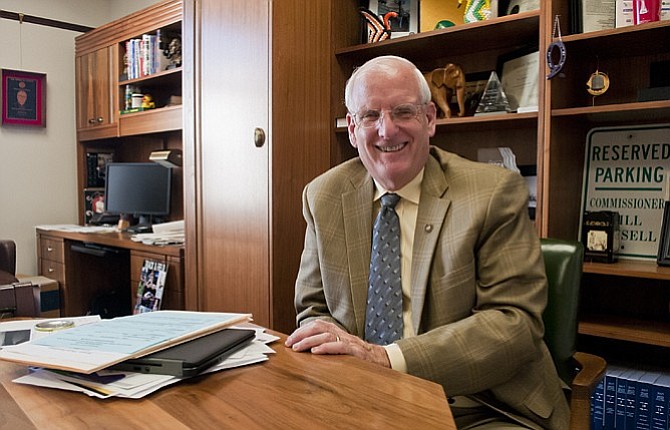 Sen. Bill Hansell, R-Athena, is pleased to see a bill upholding a state agency's decision to remove the gray wolf from the endangered species list making headway in the current legislative session.
He expects House Bill 4040, which was advanced Tuesday by the House Committee on Agriculture and Natural Resources, to get approved in a floor vote and head to the Senate for consideration. The purpose of the measure, said Hansell, whose District 29 includes parts of Wasco County, is to ratify the Oregon Fish and Wildlife Commission's November decision and thwart a lawsuit filed by conservationists.
"The thinking behind this bill is that we created a wolf management plan and asked ODFW to oversee it and move from phase one into phase two when certain criteria had been met — and they did what they were assigned to do," he said.
Hansell said the wolf management plan was crafted in 2005 by a broad group of stakeholders, including ranchers and conservationists, in an attempt to balance competing interests.
He said it is important that the plan be followed to give livestock owners the ability to protect domestic animals as the wolf population grows.
ODFW reported in July 2015 that agents are tracking 16 known packs or groups of wolves in the state, and at least 13 of those reproduced last summer.
Hansell's district includes Wallowa and Umatilla counties, which have dealt with the highest number of wolf kills since the animals entered the state over the Idaho border in the late 1990s.
District 29 also includes Morrow, Gilliam and Sherman counties, as well as the Wasco County communities of Dufur, Shaniko, Tygh Valley and Antelope.
Rep. John Huffman, R-The Dalles, whose District 59 includes a large segment of Wasco County, said he will be a "Yes" vote on HB 4040 when it is brought to the floor.
"I have traditionally and consistently voted to support ODFW's management of wildlife, in this case the wolf plan," he said.
Hansell said phase one of the state plan focused primarily on non-lethal measures to deter wolf kills while the population was becoming established.
ODFW reported in December 2014, the last year that numbers are available, that 114 livestock or domestic animals had been killed by wolves since they entered the state. There was no listing of the number that have been injured.
Hansell said the management plan allowed wildlife officials to move into phase two, the delisting of wolves in eastern Oregon where the state has jurisdiction, when there had been a population of four breeding wolf pairs for three consecutive years, an objective met in January 2015.
In November, the ODFW commission voted to take the gray wolf off the endangered species list following a recommendation by state biologists.
Hansell said hitting that threshold triggers greater flexibility in wolf management rules for the eastern two-thirds of the state, where wolves have been federally delisted.
The threshold for state officials to consider hunting a problem pack drops from four kills in six months to two in any timeframe.
Under phase one of the plan, ranchers were allowed to shoot wolves only if the predators were caught biting, wounding or killing livestock. Phase two allows livestock owners to shoot wolves they find chasing animals on their property.
Baiting of wolves is not allowed and a kill must be reported within 24 hours and the scene preserved for an investigation, according to ODFW rules.
Although wolf packs were initially confined to the northeastern corner of the state, the animals have been moving to other areas.
Federal protections remain in place for the western two-thirds of the state where wolf management is regulated by U.S. Fish and Wildlife. A "no kill" order is in effect.
The three conservation groups suing the state over ODFW's delisting decision want the wolf population much higher before any protections are removed.
They are seeking an independent judicial review of the commission's decision based on the argument that the agency failed to follow the best available science or get an independent examination.
Hansell said the wolf plan continues to provide protection for wolves because any commercial, recreational or scientific take in the future is regulated by the commission. The wildlife management plan includes penalties for killing wolves, and adequate programs must be in place to protect the species and its habitat, he explained.
The state moves into phase three of the wolf management plan when there are seven breeding pairs for three consecutive years.
Officials believe that could occur as early as January 2017.
In phase three, controlled take of wolves that consistently prey on livestock, or cause a decline in deer and elk populations, is allowed with commission approval, similar to ODFW's management plan for cougars.
As the wolf population grows, Hansell said the state needs to find more money in the budget to compensate livestock owners for their losses.
He also wants to see alternative funding for compensation in the form of a tax credit extended beyond its sunset date of 2018, which he believes is key to making the plan work for livestock owners.
"We didn't put anything in this bill as far as money for depredation — we just focused on backing the department — but that is something we need to take a look at," Hansell said.