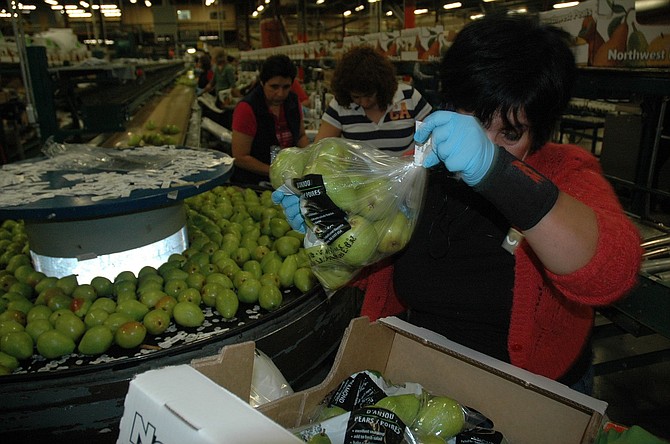 This story has been updated Feb. 17, 2016.
A bill to boost the state's minimum wage in three regional tiers has made quick and sweeping strides in the Oregon Legislature.
The Oregon Senate on Thursday passed SB 1532, and the House Committee on Business and Labor approved it Monday without making a single amendment. Next up is a vote before the full House chamber.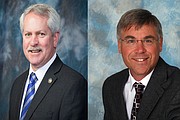 The proposal would cut Oregon into three minimum wage brackets, and increase them over six years: $14.75 for the Portland metro area, $13.50 for semi-urban regions, and $12.50 for rural counties.
Hood River County sits in the middle rung of the proposed system, Region 2, as does neighboring Wasco. The Cities of Hood River and The Dalles would fall in the same group as Eugene and Bend.
Sherman and Gilliam Counties would join most of eastern Oregon in the bottom "nonurban" tier.

Oregon's current statewide minimum wage is $9.25, ninth place in the United States, and $2 above the federal wage floor.
According to SB 1532's text, the minimum wage for Region 2 would nudge up to $9.75 on July 1, and climb each year until settling at $13.50 in 2022.
"This bill addresses the minimum wage issue as it relates to rising cost of living statewide," said Sen. Michael Dembrow (D-Oregon), the bill's chief sponsor, in a statement.
Legislators have said the bill was also crafted to head off a series of more extreme ballot measures proposed for the November election. These would raise the statewide rate by a blanket amount.
The new Senate Bill has proved divisive between party lines — the Senate passed it 16-12, with all Republicans fighting the legislation, as well as Betsy Johnson (D-Scappoose).
Thomsen stands against minimum wage bill
By RAELYNN RICARTE
The Dalles Chronicle
Sen. Chuck Thomsen, R-Hood River, is a pear farmer and said an attempt to get an agriculture exemption for wages was not given consideration.
"Ag has no control over market prices so if operational costs get raised by a change in the wage structure then we can't pass that on," he said.
"There are almost no legislators right now in ag so I don't think they understand how the industry works and that's pretty frustrating."
Thomsen's District 26 includes much of east Multnomah County, as well as east Clackamas and Hood River counties.
He said Democratic leadership stated when introducing the minimum wage issue that if the Legislature didn't act, a citizen initiative for $15 per hour statewide was likely to be approved in November.
"I don't like the argument that we have to do this because a gun is being held to our head," he said. To read the full article, go to http://www.thedal...
Sen. Chuck Thomsen (R-Hood River) voted against the bill, citing concerns for the agriculture industry (see related sidebar).
Rep. Mark Johnson (R-Hood River) said he's also giving a thumbs down to the bill, which is slated for a vote on the House floor before the end of the week.
"I'm not going to be able to support it," Johnson said. "There would be a lot of consequences and not a favorable situation (in terms of) economics."
He heard "loud and clear" from his constituents, especially the agriculture community and small businesses, who predicted that sharply raised labor costs — along with an inability to flex commodity prices — would harm their trade.
Johnson represents House District 52, which encompasses Hood River, Sandy, Corbett, Estacada, and parts of Gresham.
He said he heard from a wide variety of concerned citizens, from shop owners on Oak Street in Hood River to residents of Troutdale and east Gresham, where some citizens feel they'd be unfavorably "lumped in" with the greater Portland metro area by the legislation.
Numerous Hood River Valley orchardists testified against the bill.
"I think it's going to hurt everybody … we don't have any way to pass (the cost) on," said Kathy Nishimoto, a local orchardist.
Nishimoto, who also works at Duckwall Fuit, explained the packing house has about 50 year-round employees, as well as roughly 300 seasonal workers. The majority are paid in a bracket above minimum wage.
Three wage prongs
The proposal currently before the House would split up Oregon into three categories.
Those tiers were designated based on demographic "self-sufficiency" data, which describes "how much income families of various sizes need to make ends meet without public or private assistance in each county of Oregon," according to a committee report.
Here's the geographic breakdown:
• Portland's urban growth boundary would get the biggest lift, with an increase to $14.75 by 2022.
• Workers in Hood River, Wasco, Jackson, Benton, Clackamas, Clatsop, Columbia, Deschutes, Josephine, Lane, Lincoln, Linn, Marion, Multnomah, Polk, Tillamook, Washington and Yamhill counties would earn $13.50 per hour by 2022.
• Employees in Malheur, Lake, Harney, Wheeler, Sherman, Gilliam, Wallowa, Grant, Jefferson, Baker, Union, Crook, Klamath, Douglas, Coos, Curry, Umatilla and Morrow counties would get $12.50 per hour.
Democrat legislators said in their proposal the tier system could "address the needs of rural Oregon while still helping all Oregonians who are struggling to get by."
Johnson said he's unsure how the regions were chosen based on the demographic data, but he suggested the high cost of housing in Hood River and Wasco Counties could have driven them to a spot in the middle ground.
Nishimoto feels the Region 2 category isn't a good fit for Hood River County.
"How Hood River wound up in the second tier, where we're with Washington and Multnomah Counties … I don't know how they did it. It just doesn't make sense for the agriculture and small businesses," Nishimoto said.
Johnson expects the final vote on SB 1532 to come before the Oregon House within the next few days.