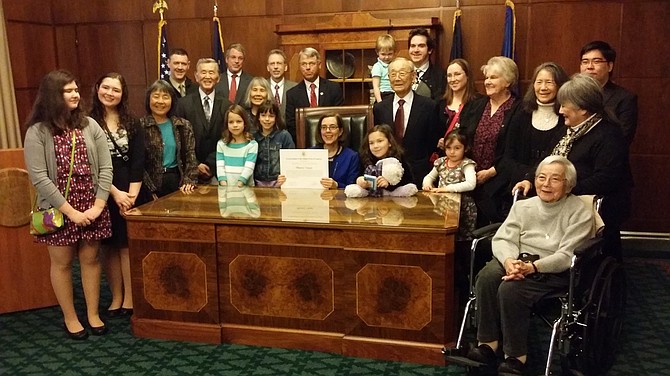 It has been a hectic month filled with both sadness and hope for the future.
We traveled to Salem on Feb. 1 to help celebrate Minoru Yasui Day at the opening session of the Oregon State Legislature.
It was a fascinating morning filled with family, friends and freedom.
Kerry Tymchuk, executive director of Oregon Historical Society, arranged for a display of the Presidential Medal of Freedom in the lobby of the capitol. We would get to testify at the House Committee Hearing, hear remarks on both the Senate and House side about the relevance of the Presidential Medal of Freedom award to Minoru Yasui, and meet Gov. Kate Brown. Helping make it happen were Carol Suzuki, the Senate Majority Office operations director, and her husband, Rep. Brian Clem, sponsor of House Bill 4009 seeking to establish a Minoru Yasui Day in perpetuity for the state of Oregon.
Opening ceremonies held deeply personal and social significance. From the Pledge of Allegiance to the choral ensemble's rendition of "God Bless America," young and old, child and staid politician, all were moved by the power of Minoru's work and the implication of carrying his mantra of "justice for all" into perpetuity.
House Bill 4009 passed unanimously. Now it is on to the Senate Hearing on Feb. 18, where we hope to have similar support.

We moved first to the Senate side where Senator Chuck Thomsen had arranged for several great great-nieces of Minoru Yasui to sit beside fellow Senators on the floor, truly a great honor for the children, although its significance perhaps lost on the youngest in the group.
The rest of the Yasui family, colleagues and a contingency of Hood River Middle School students who had researched the life of Minoru were seated in the outer gallery. Suddenly there seemed to be a parting of the sea of senators as they entered the room to take their seats. One after another began to stand, offering their seats to all of the students who had traveled to Salem for this inspirational day. The voices of the next generation of activists will long be nurtured by this modest gesture.
Senator Thomsen shared his pride in growing up in Minoru's home town, being educated in the same schools and now representing Hood River, a community that had long ago been noted for its shameful treatment of Japanese Americans as well as other immigrants and minorities. He spoke passionately about the cultural shift in beliefs that this community experienced over the last half century, a community now noted for righting wrongs, pledging not to repeat past injustices and embracing new immigrant groups. Minoru's mantra, "justice for all" is deeply engrained in our churches, schools, health care, and non-profits beliefs and practices. Senator Thomsen shared the moving reflections of President Barak Obama upon the relevancy of Minoru's work in present time and the need to carry the message forward. He noted that Minoru was the first Presidential Medal of Freedom winner from Oregon, and commented that there could be no better standard bearer for the honor.

We moved to the House Chambers for their opening, where Rep. Tina Kotek read from the Presidential Citation and Rep. Mark Johnson, also from Hood River, expressed the relevance of Minoru's work in our present social and political context in the legislators work protecting the rights of all people regardless of gender, ethnicity, cultural and spiritual beliefs.

The entourage then moved to the governor's chamber for a personal meeting with Gov. Kate Brown. She too read from the Presidential Citation underscoring the relevancy of Minoru's work now and expressed the desire to memorialize it into the future. Cameras captured this hopeful moment electronically and on celluloid while the youngsters in our midst captured via cell phone selfies, tweeting across time and space.

Then we were off to the House Committee Room to give testimony on House Bill 4009, establishing March 28 as Minoru Yasui Day in perpetuity. Testimony of Minoru's life was given by his brother, Dr. Homer Yasui, and a recounting of Japanese Internment was eloquently shared by George Nagata, a friend of Minoru's. His niece, Joan Yasui Emerson, spoke of her experience two decades after the war was over, and the continued prejudice experienced when she served as Girl's State Governor. Rep. Brian Clem, sponsor of the bill, spoke about the Suzuki family from Parkdale into which he married. He too was both personally and politically moved during the testimony.

Emma Kelly and Michelle Kinoshita, students from HRMS, shared their studies of Minoru and why they had chosen him as an American Hero. Michelle spoke about the Kinoshita family experience, also from Hood River, when they were forcefully evacuated and imprisoned throughout World War II. The Committee was duly impressed by the depth of their understanding and the maturity of their presentation.
Fifteen-year-old Kendra Wilkins shared a snippet of Minoru's influence on her life as a student educated in a system where half of the population came from Spanish speaking homes steeped in Mexican culture. The acceptance of differing cultures attested to the value of diversity in helping Hood River students succeed. Although Minoru Yasui passed away fifteen years before she was born, his legacy of serving the oppressed, righting wrongs and refusing to perpetuate injustice was instilled in her family. She felt that Minoru's legacy had served her fellow students in embracing other cultures, ethnicities, faith and sexual preference.
Samuel Henry, a legend of a man in the Commission on Children and Families days, as well as a prominent educator and civil rights worker, spoke of the value of Minoru's work across all race, ethnicities, and disparities. He praised the community of Hood River for inspiring the voice of each generation to right the wrongs and preventing future injustice. He said he touted the virtues of Hood River in places as far flung as Stockholm, Sweden. The very virtues that Minoru sought to instill in others and the justice system itself. He also commented that you should never follow children on an agenda. They will upstage you every time.