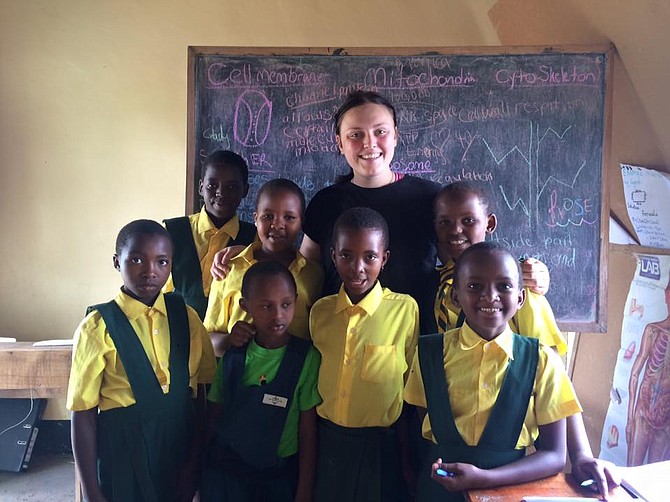 You step off the plane into the balmy night, your weary legs fail you as you stumble on the tarmac but a dark, unfamiliar hand offers salvation from certain humiliation on this foreign continent. The hand is connected to a petite woman whose short hair is pulled tightly back beneath her flashy orange cap. She smiles, gesturing towards the airport where signs concerning the infamous Ebola threat litter the travelers' line of sight. This is your first universality experienced: the universality of kindness.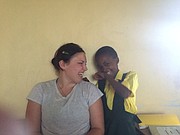 You have been traveling for the better part of two days, but when you step out of the car you are greeted by an assembly of strangers who hug you, kiss your cheeks, and take your bags. Baba, Bibi, Happy, and Happy, Frank's family, has come to greet their American family and coo over the newest addition, Frank and Libby's year-old son, Emmanuel. The party parades into a small room, and we sit circled around an equally crowded table. Heaping plates of food are dished out and you learn your first Swahili word: Asante, "thank you." The food is simple, but delicious: spiced rice, greasy greens, broth, and boiled plantains. You empty your plate, sip intoxicatingly sweet tea, revel in your gastronomic accomplishment and try to ignore your over-full stomach. The victory is short-lived, as yet another plate is handed to you by a smiling Bibi. It is now midnight; you release the mosquito net that cascades around your bed, clutching your stomach as you drift away to sleep. This is the universality of generosity.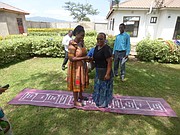 The heat is tangible. You stand sweating in your dress, your skin burning despite the layers of sunscreen. The safari car bumps along, and you bump with it, as there are no seatbelts to administer. A Masai woman walks barefooted alongside the dirt road. Weighed down with beads and wrapped in magnificent red cloth, the woman totes a chubby baby and leads a small boy along the path. A small, fat hand grabs at her stretched ears and she smiles down at her miracle, kissing the dark forehead, just as the elder child exposes the light underside of his young hands, waving exuberantly at you and guiding his mother's gaze towards the strange looking passengers in the jeep. In jingling grace, the woman adjusts her son's checkered cloth and accompanies him on into the heat of the day. This is the universality of love.
You step onto the Dalla Dalla, and squeeze into the back seat of the overcrowded bus. Towns whiz by, the driver's sharp whistle assaulting those who walk on the street, hoping to pack more people onto the vehicle and more schillings into his wallet. The smell of mangos fills the small compartment, coating your tongue, seeping into your pores with its thick luxuriousness. A young boy sits facing you, his face and shirt dripping with the golden juice, his smile fights against the pulp stored in his cheeks, revealing white teeth speckled with the fruit, and his sticky hands offer you a bite of his treat. Fresh air breaks the pungent atmosphere when a new passenger squeezes into a space on the bus. A new stench invades your senses, sticking to your throat, eclipsing the delicious mango scent. You are being watched. A young man presses into you a bit as the car winds down the road. He wears dirty jeans, mismatched shoes, and a poorly fitted blue shirt that darkens under his arms. He rests his eyes on your alabaster skin, and smiles his brown smile when his black eyes meet your green ones. You add more potential cracks as your chapped lips split apart to flash your own, white teeth. You grin at your fellow passenger for what else is there to do when the language is not your own? This is the universality of smiling.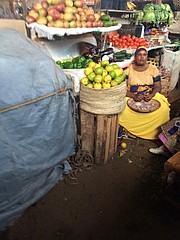 You are exhausted, dusty, and dirty, the girls' little hands grab at you, vying for your attention. You retire to your room, ready for a shower, ready to be clean. There is no water. You try not to panic, and step into the bathroom: a squatty potty with no toilet paper. Tears sting your sunburned face. You can't live this way. Hot guilt laces through your body: you are crying over the lack of a toilet seat. These girls have bucket showers and hole-in-the-ground toilets. That's all they've known, and probably all they'll ever know. Some things aren't universal: free education, flushing toilets, hot showers, deodorant, ice cream. You are red faced and puffy eyed over the lack of these luxuries for the next 14 days. These girls have the same breakfast every day, fried dough and sickeningly sweet tea, and they will have the same five meals rotating throughout their life at the orphanage. There are aspects of your western life that aren't universal, but the most important parts, the human parts, are truly universal.
The rain pounds down on the school's tin roof. Your biology lesson rests half-erased on the board as Rosie sketches hearts, pronouncing her love for her teacher. Your back is pressed against the cement wall whilst Veronica sits on your lap, speaking in a loud voice mere inches from your nose. She smiles at something she said, wrapping her thin arms about you, nuzzling her nose into the nape of your neck. Queenie and Sofia stand on either side of you, smiling and yelling at their sisters in Swahili. Sofia removes your greasy hair from its tightly woven bun (showers are hard to come by) and finger combs the dirty locks. She proudly braids the dark tendrils, pulling so hard you fear it may rip out all together: a good souvenir of their teacher. Braided with minimal damage, you take her distraction as a chance to hide your hair once again. Queenie says something to you and laughs, and you laugh along, even though you didn't understand the joke. You chuckle together as the girls pull you outside.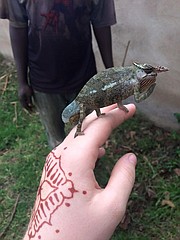 Their tiny hands are engulfed in your own white ones as they lead you home. The rain still beats down on you, and the group decides to run disjointedly, not wishing to break the connection. Your confidence abandons you when your feet don't land appropriately. You find yourself facing the sky, your body resting in the thick, wet African mud. It starts slowly, growing, spreading like wildfire through the gaggle of girls looking down at you. You lift your face to the sky from your bed in the filth, water streaming down your nose as you laugh. Laughter fills the air, mingling together into a joyous chorus. Laughter links humanity. It brings us together, transcending any boundaries created by conflicts. Humans are made to laugh. In that perfect moment there is two truths: the universality of laughter, and that you need a shower.
Backgrounder: HRVHS senior goes 'Full Circle' in Africa
A senior at Hood River Valley High School, Olivia Newcomb spent her winter school break bringing Full Circle Learning (FCL) to Your Sisters, an orphanage for girls and the Dinka School in Tanzania, east Africa. Full Circle Learning was founded after the 1992 L.A. riots and is a program that empowers young people to embrace their role as the change agents and humanitarians of their generation. Its educational programs integrate and expand students' character strengths, academic excellence, artistic capacities and peacemaking skills in service to the global community.
Learn more
www.fullcirclelearning.org
www.yoursisters.org
Through Habits of the Heart, such as unity, perseverance, advocacy, and kindness, children learn how to contribute as global citizens, and learn that the ultimate goal of education is to serve the human family. Today, there are FCL programs in seven countries in Africa. Full Circle Learning has positively impacted thousands of children in China, India, Brazil, and the United States. When Newcomb first met the founders of Your Sisters, Libby Bailey and Frank Mollel, she was inspired by their dream for the girls and the community.
Your Sisters is a three-part organization: community co-op, women's support, and a non-adopt out orphanage for girls located in Arusha, Tanzania. The orphanage is a sanctuary for young girls who have been orphaned or abandoned. The training will be conducted at the Dinka School, a non-profit boarding school run by a Swedish couple that the girls currently attend.
Last fall, Newcomb, daughter of Doug and Gretchen Newcomb of Hood River, raised $6,000 in the community to support her efforts.