1916 — 100 years ago
After the rapid thaw last week there was a washout of the Mt. Hood Railroad tracks Thursday afternoon. The slide occurred at the switchback, where the tracks cross Whiskey Creek. The railroad has not been able to operate any trains since the heavy snow and it was expected that this damage would tie up traffic for several days longer. The snow melted rapidly during the thaw last week and the trains would have probably have been able to operate as far as Dee at least, had it not been for this further damage.
1926 — 90 years ago
One of the features on the program at Rockford Grange on Friday, Feb. 26, will be the presentation of the colors by Mr. Cartwright, who served with the colors 37 months in the Civil War, from 1861 to 1865. Mr. Cartwright is an efficient color bearer of Rockford Grange, is a member of the Grange and lives in the A.G. Wing home. Refreshments will be served after the program and all who wish may dance to music to be furnished.
The inauguration of the Washington, Oregon, and Idaho United States Air Mail Service, which will start operations April 6, marks another step in the tremendous progress of the Great Northwest. Speed in commerce is the keynote to success in America today, and the Northwest is quick to realize the importance of fast mail transportation.
1936 — 80 years ago
State and county officers made an unheralded raid on resorts at Cascade Locks and Wyeth Monday, seizing six slot machines of the pin ball type and ordering operators to appear in Justice Stranahan's court in Hood River on Tuesday for a hearing. Machines, which have been confiscating as gambling devices, were seized at the Lakeside Hotel, Merrill's Tavern, Moran's Lodge and Erickson's Rapid Club, all of Cascade Locks, and at Todd's Restaurant in Wyeth.
A week of sub-freezing temperatures had its effect on the Columbia River on Tuesday, when ice was reported from bank to bank at Mitchell's Point. There had been ice in the river since the weekend, but it was not until the current had slowed down to almost zero at this point that the ice covering was extended from south to north bank. North of this city, the round slough had been frozen for several days and provided skating.
1946 — 70 years ago
The first annual meeting of the Hood River Electric Co-operative is to be held at Odell Grange Hall on Tuesday evening, Feb. 19, at 8 p.m. A number of reports on the prospective business of this cooperative will be submitted and a board of directors is to be elected, states Walter Wells. The manager of the cooperative, Court Morehouse, is now actively engaged in assembling the equipment which has been purchased.
VERBATIM: Large or Small? Anjou Question
Anjou were small in size a year ago. Bill Bryan wanted them larger so AGA growers grew them larger. Too large, Bryan said Saturday, and asked for "a few small ones" next year.
Last year, 25 percent of the AGA Anjou crop was sized at 150s or smaller. Bryan asked the group for more large Anjou. This year only five percent of the crop was in the 150s and small classification.
"Many Anjou weighed as much as 24 ounces," he remarked, "and we suggested buyers sell a consumer pack of one pear to the box," he continued, "but they didn't go for it."
The size nor Bartlett-inspired delay apparently have not hurt Anjou sales too much, and Bryan added in a soft voice, "We want a few small Anjou this coming season."
— Hood River News, February 16, 1956
Traffic on the Columbia River Highway, just east of Multnomah Falls, was to have resumed at noon yesterday, according to state highway engineer RH Badlock. The highway at this point has been closed for the past nine days by one of the worst slides in the history of this famous highway. Repair of the railroad was effected earlier, the first train going through on Monday after seven days of suspension, during which rail traffic was routed over the North bank.
1956 — 60 years ago
Announcement that he will seek reelection as representative to the 20th district, Hood River County, was made this week by Representative George J. Annala, Democrat. Representative Annala stated, "My appointment to the interstate cooperation commission, service on the Columbia Interstate compact commission and Oregon-Washington boundary commission has given me the opportunity to become acquainted not only with local and state problems, but with regional problems of the 11 western states as well."
Light pruning of fruit trees this year is suggested by Leroy Childs, who addressed over 100 persons attending the third annual Hood River soil conservation district meeting at Rockford Grange Wednesday afternoon. The former experiment station superintendent said that it is too early to predict the extent of winter injury which may result from the record November freeze last year.
1966 — 50 years ago
Ross Hukari of Hood River has been elected president of the Oregon Agricultural Association, an organization to coordinate farm labor activities of labor users. Hukari is also a member of the Oregon Farm Bureau Federation board of directors.
A new skilled trade school organization has formed in Hood River County with plans to start full-time welding classes early in March. "We already have a new 30 by 40 steel building at Duke's Valley," said Wade Briggs, chairman of the board of directors. He also said part time classes in welding are now in progress. The school is actually an extension started a year ago by Nicholas Whitaker, a Duke's Valley resident and welder at the John Day Dam.
1976 — 40 years ago
The Hood River County Board of Commissioners met with the Planning Commission Monday and took a step toward requiring that all mobile homes meet the same uniform building code as permanent structures must meet. The board passed a motion made by Commissioner Jim Crews to amend the zoning ordinance to state that mobile homes must meet the county building code.
A Tucker Park Master Plan, a guide for the redevelopment of Tucker Park as a day-use area as opposed to a 24-hour use, was approved Feb. 9 by the Hood River County commissioners. Development of the park, estimated at a total cost of $295,130, includes plans for parking, picnic units, game areas, an irrigation system, lawn grass and a caretaker's residence.
1986 — 30 years ago
It was appropriately billed as "A Last Hurrah!" when Westside Elementary School hosted its annual school board meeting last week. Appropriate, because it will be the last time the board will be greeted by the quips of Principal Marv Turner and the cinnamon rolls of cook Jane Franz at its annual visit to the school. Both have submitted their resignations effective at the end of the school year.
Enough, already! Anticipation heightens desire and slows time. To a child, Christmas is never so far away as when it's very near. Likewise, a firm commitment from spring has never been more prominent in the wishes of Mid-Columbia residents than when winter's clouds rolled back in to the area this week, bringing snow and freezing rain, and leaving locals staring wistfully at calendars depicting springtime scenes above February's dates.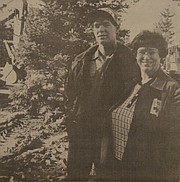 1996 — 20 years ago
It will take federal assistance to help Hood River County recover from last week's flooding that caused an estimated $28 million damage here. So, Wednesday, County Commissioner John Arens went to the top. Arnes managed to grab a brief moment of President Bill Clinton's time during the chief executive's Northwest tour. The commissioner conveyed concerns about the county's damaged irrigation system that could result in a potential $18 million crop loss.
"I introduced myself and asked if he could take a look at a packet we brought," said Arnes. "I told him that many of our irrigation systems are either totally or partially gone, and that it could affect our agriculture dramatically. He responded it was 'exactly the kinds of things I came here to find out, water, sewer and irrigation,'" Arnes recalled.
2006 — 10 years ago
When Hood River County Administrator David Meriwether read President George W. Bush's budget proposal on Monday, he was relieved. Relived to see the president had recommended the extension of the Secure Rural Schools and Self Determination Act, the 1999 legislation which has helped fund Hood River County's public works and education system for the last six years. And then he was concerned. Bush's proposal recommends the decline and eventual extinction of the $1.6 billion the federal government has paid to counties containing large tracts of National Forest land from 2000-2006. The new plan will reduce the payment amounts to counties until 2013, when they will be fully weaned from the stipends.
— Compiled by Trisha Walker, news staff writer