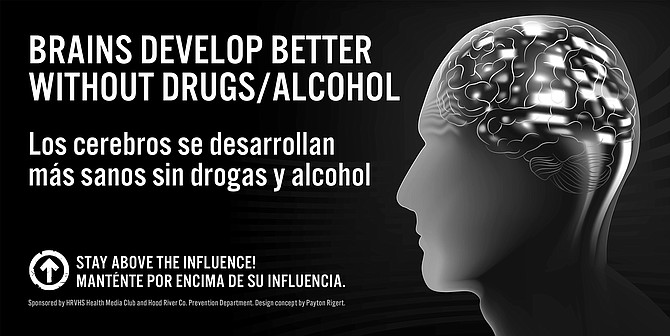 Hood River County Prevention, in cooperation with Hood River Valley High School's Health Media Club, has a new bilingual billboard on 12th Street, promoting the message, "Brains Develop Better Without Drugs/Alcohol."
The purpose of the billboard, said Belinda Ballah, director of Hood River County Prevention, is to educate the community on the effects of drugs and alcohol on the developing brain.
"Brains are not fully developed until the age of 25, and the impact that drugs and alcohol can have on the developing brain has long-lasting consequences, (affecting) memory, motor skills and coordination, along with the possible permeant reduction of IQ up to eight points in those that use marijuana regularly before the age of 18," Ballah said.
Hood River Valley High School's Health Media Club, led by seniors Janet Alvarado and Michelle Garibo, created a contest for the billboard's design, won by fellow senior Payton Rigert. The final design was created with help from Rachel Hallett of Hallett Design, said Ballah.
Alvarado and Garibo were looking for a design and theme that promoted drug-free living and awareness, and felt that Rigert's entry best fit that criteria.
"I really liked the design of the brain and the colors," said Alvarado. "The message was neat, too. It was very creative."
"I entered the contest because I believe that you don't need drugs to be creative or have fun," said Rigert. "I wanted that to be the message of my billboard. I then used a picture of a person with a 'creative brain' to demonstrate my idea.
"I had a lot of fun and it was really exciting when they chose my poster," she said.
The message is an important one, said Alvarado, because teens should "be aware that their brain is still growing, and drugs and alcohol can affect that dramatically."
Rigert agrees. "I think it's important for youth to understand the different effects of drugs and alcohol and that is why I entered the contest," she said.
The sign is a continuation of the Above the Influence "branding" consistently used by the Prevention department in years' past.
"Their goal is to help teens stand up to negative pressures, or influences, and began as part of the National Youth Anti-Drug media campaign, a program of the Office of National Drug Control Policy," said Ballah of Above the Influence. "It's now a program of the non-profit Partnership for Drug-Free Kids."
The brand can also be seen on the murals created by students on the Wy'east Middle School stadium in 2013 with help from artist-in-residence Allison Bell Fox.
Rigert's theme, "Brains Develop Better Without Drugs/Alcohol," will be carried in much of the media created by the department this year, added Ballah.