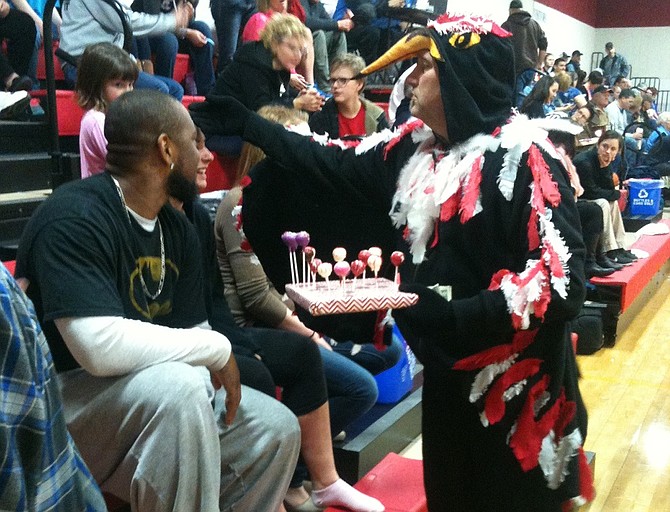 WELL SAID: "Well done is better than well said." – New Beginnings Church readerboard, White Salmon.
WELL DONE: The panda mother and cub got a welcome new paint job at Grace Su's China Gorge Restaurant, but what became of the life-size carved bear that stood on the bank at 9th and Sherman?
SEEN AND HEARD: Pickup truck seen Monday with eight bikes in the bed, all pink … At a local café, a California plate pulls up, with two rear-bumper yoga stickers, the driver a portly man smoking a cigarette … snowflake cutouts fill the window of Solera Brewery in Parkdale, including one in the shape of Sasquatch … hats and gloves 50 percent off … crocus flowers, discarded tire chains, rotting pumpkins on sidewalk strips and planting boxes …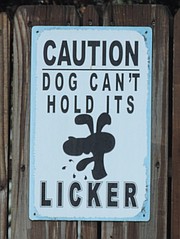 BEST SIGN of the Month: Photo at right says it all, on Belmont Drive …
LET THE GLUTEN Times roll: Regarding last month's moment at Kickstand café and the jibe about rising gluten: Sorry, forgot to name the chef. It's Nick Hardin, who's never too busy to come out of the kitchen and bag up a donut.
THE PICKUP went by pretty fast, but with the load of construction gear it sure looked like a pork leg, loin and back, seen one day last week on West Cascade. Which way to the barbecue?
COMMUNITY theater will be going strong in the coming weeks: "Close to Home" (a Mark Steighner original) at Hood River Middle School (page A3), and "Taming of the Shrew" at HRVHS and the continuation of "Father of the Bride" at Columbia Center for the Arts (details, page A9).
•
Want to "set a spell" on The Porch? It's part almanac, calendar, diary and conversation, and open to anyone. Readers are welcome to send brief items at the Hood River News office, by mail at P.O. Box 390, Hood River, or to kneumannrea@hoodrivernews.com.