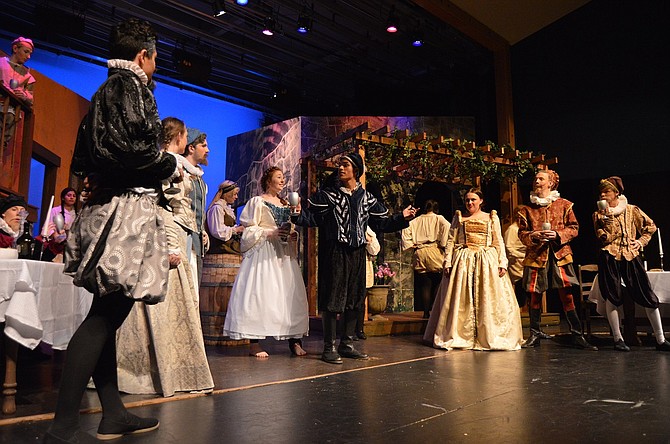 Hood River Valley High School's theater department is ready to debut its winter play, "Taming of the Shrew," written by William Shakespeare and directed by Rachel Harry, this weekend.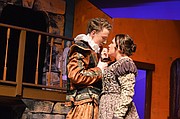 Tickets and Times
Tickets and times "Taming of the Shrew," written by William Shakespeare and directed by Rachel Harry, opens this weekend, Feb. 26-27, beginning at 7 p.m. in the HRVHS Bowe Theater. A 2 p.m. matinee will run Feb. 28. The show continues March 4-5 and March 11-12, also at 7 p.m. Tickets are $8 for adults and $5 for students and seniors, and are available at Waucoma Bookstore and at the door.
Though hundreds of years older than "Grease," the musical production put on this fall to sold-out crowds, "Shrew" contains many of the same themes — particularly those of gender roles and expectations.
Harry writes in her director's notes that "Taming of the Shrew" was controversial even in Shakespeare's time.
"One of the most popular plays of the Bard, 'Taming of the Shrew' is often hotly debated," she writes. "Is Shakespeare proposing that women are to be subjugated as servants? Or is Shakespeare pointing out the humor in thinking that women are to be mistreated in such a fashion? At the time the play was written, women were emerging as more than just 'chattel.' Controversial as it was at the time, there is much evidence to suggest Shakespeare was highlighting the absurdity of the concept."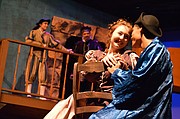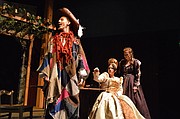 Much like with "Grease," Harry has found the choice of play has sparked debate, mostly because of Petruchio's treatment of Kate, "the shrew" (played by Jasper Krehbiel and Olivia Newcomb, two HRVHS theater veterans).
"Unhappy with how Kate is treated by Petruchio? Not pretty, is it? What about the scene where all the men are discussion the future of two young women, who should marry whom, how much money each female brings in to the marriage, (and) how much to pay off Petruchio if he marries the difficult one?" Harry asked. "Unfortunately, this is how women were treated then. They were considered property and this scene plays up how ugly that can be. Shakespeare is not encouraging this at all, but showing the ugliness of this."
While that may be uncomfortable for the audience to watch, "the (actors) are mature enough to understand that Shakespeare writes multidimensional characters, and the best actors will play all facets of the character," she said.
And they do. Case in point: Bianca (played by Emma Dexter) is considered the "good" sister, but is far from perfect. "She has simply molded herself into what society expects of her to gain what all women desired at that time — a good marriage," explained Harry. "If you look at the lines that are written for her, you see this duplicity in her conversations with her older sister Kate."
We can see this in Kate's and Petruchio's relationship as well — neither are all good or all bad. He initially wants to marry Kate for her dowry, but that does not go as planned.
"As he woos her, he discovers her intelligence and remarkable qualities," explained Harry. "She is not the typical noble female of the time. He falls quite unexpectedly in love with her."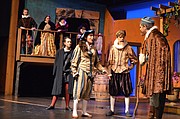 That's not to say the play is a solemn, somber affair — it's often deeply funny. Comic relief comes in many forms, though perhaps best exemplified by the character of Christopher Sly (Aidan Tappert), a drunkard who is convinced by a noblewoman (Sienna Reynolds) that he is really a lord as a practical joke. Sly finally believes, helped with the introduction of Bartholomew (Nathan Daniel) as his wife. The two are presented this play within the play — "Taming of the Shrew" — for their entertainment, with Bartholomew fighting off Sly's advances for most of its runtime.
"Shakespeare adores creating characters who are not what they seem on the outside, with crossdressing and impersonation a large part of the plot," said Harry. "He sees humans as wonderful, glorious creatures who are both beautiful and ugly, intelligent yet at the same time unbelievably dense, but who all, ultimately, simply desire love."
It's also an example of slapstick, with Grumio (Claire Hamada), Biondello (Sophia Marbel), and a host of huntsmen and servants breaking the tension with ridiculous commentary and physical slapstick.
And in the end, we get our happy ending.
"...We see that all the women do have control," Harry said.
In short, this is a play that will make audiences laugh and think — and come away impressed with this talented, youthful cast.
CAST:
Sly/widow: Aidan Tappert
Marian Hacket (hostess/bonnet maker): Cathryn Kellet
Lady (Lord)/officer/tailor: Sienna Reynolds
First huntsman/servant extra: Westlake Cannon
Second huntsman/servant extra: Jason Stine
First servant/Nora: Emily Spezia-Schwiff
Second servant/Mary: Jo Jo Summersett
Third servant/Peggy: Cassidee Lawrenson
Bartholomew/Sly's wife: Nathan Daniel
Kate: Olivia Newcomb
Bianca: Emma Dexter
Baptista: Sam Hannigan
Hortensio: Blaise Kaufman
Gremio: Matt McCravey
Lucentio: Miguel Vasguez
Vicentio: Onar Smith
Tranio: Lucy Fine
Biondello: Sophia Marble
Pedant/Curtis: Meghan Ball
Petruchio: Jasper Krehbiel
Grumio: Claire Hamada
Nathaniel/Messenger: Ami Santillan