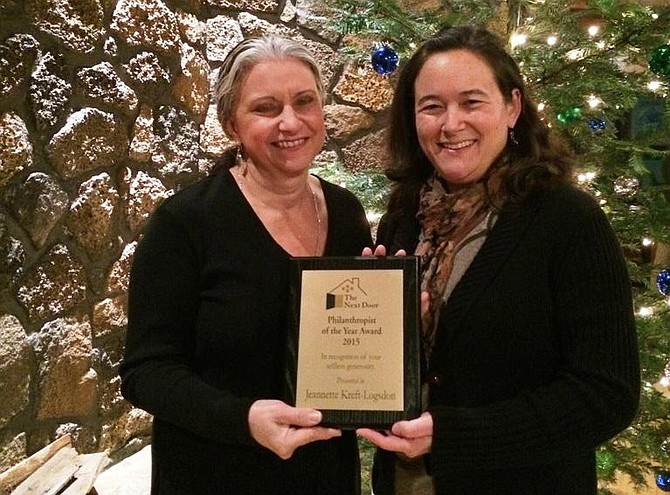 The Next Door is honoring Jeannette Kreft-Logsdon as its 2015 Bonnie Benton Philanthropist of the Year.
Kreft-Logsdon, owner of Wy'east Laboratories in Odell, has been a longtime supporter of The Next Door. Last December, she offered a very generous matching gift, doubling up to $100,000 of other donors' gifts.
The Next Door's donors have not only matched her donation, but surpassed it, for a total of $134,085 raised during the $100,000 Match.
When asked what motivated her generosity, Kreft-Logsdon said, "I did not have much at the time my daughters were born, and I will always remember Family Services visiting my home in the woods on a regular basis and providing coupons for formula," she recalled. "My most embarrassing moment was to ask how to fold a cloth diaper. I had never changed a diaper before and did not have a clue how to fold them. The Next Door was there to help."
Janet Hamada, executive director of The Next Door, presented the award at a surprise party at the Crag Rat Hut. She stated, "Jeannette is the kind of philanthropist I really admire. She supports causes she feels passionate about, and she makes sure that they are doing effective work that makes a significant and lasting difference in peoples' lives."
Kreft-Logsdon first gave to The Next Door in 2010 to help support the purchase of their Tucker Road building. The lobby is named in honor of Wyeast Laboratories. Since that time, Kreft-Logsdon has been a generous and thoughtful donor, including providing much-needed equipment for the Klahre House Alternative School science classroom.
Hamada added, "We are humbled by Jeannette's generosity, and honored to recognize her as The Next Door's 2015 Bonnie Benton Philanthropist of the Year," named for longtime volunteer Bonnie Benton of Hood River.
The Next Door is a local nonprofit whose mission is opening doors to new possibilities by strengthening children and families and improving communities. Staff members work with thousands of people in the Columbia Gorge each year.