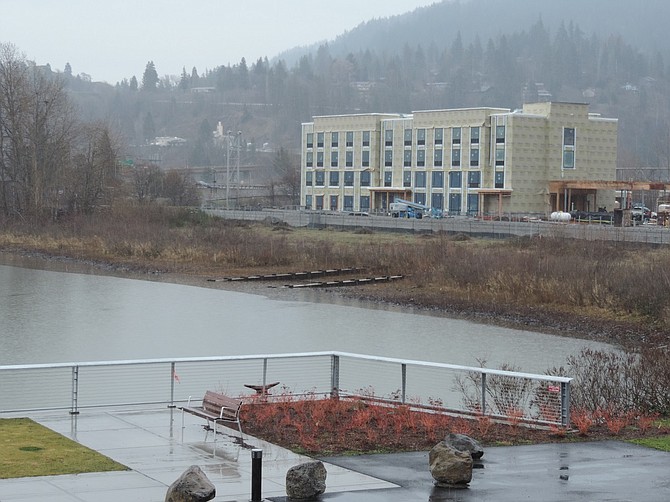 The City of Hood River gained new park property on the waterfront on Monday night.
Call it "Nichols basin park" for now: it's a 2.5-acre parcel on the south shore of Nichols boat basin, in front of the new hotel under construction by Naito Corp. It's open space dominated by low shrubs, a muddy shoreline, and the twin runners of the property's boat-building days of the 1960s to 1990s (see photo).
The Urban Renewal Agency formally accepted a purchase agreement on the property, costing $395,000, with NBW Corp. Payments toward the purchase price will be made from tax increment increases flowing to the Waterfront District, and with no interest due on the unpaid balance.
The URA, comprised of City Council and two Port of Hood River commissioners, oversees the funding and operations of the city's Urban Renewal Districts, and the new park falls within the waterfront URD. The acquired park land will be used for a passive park and habitat restoration.
In 2017, those revenues will pay for the park and it will formally be owned by the city, once the tax increments come in from surrounding landowners (primarily Naito).
"The acquired park land will be used for a passive park and habitat restoration. It will eventually be acquired and managed by the City of Hood River," according to the agreement.
The city will hold a ribbon cutting at noon on Jan. 26 at the site (just west of the new hotel, next to the Valero gas station).
"This is a long time coming and a super exciting thing for the city," said Mayor Paul Blackburn.
The city plans to restore the habitat, including removal of invasive species and planting of native ones. URA members also called for looking into removing concrete structures and other manmade features that are still next to the water from the property's days as Nichols Boat Works. Columbia Riverkeeper participated in the negotiations with Naito Corp. and will consult with the city on future use of the property.
The landscape on the basin has changed radically in the past year, starting with the construction of the hotel (due for opening in April) and removal of the former Windwings building. At that location, along the frontage road, Naito will break ground later this year on the commercial building associated with the hotel. In 2015, the Port upgraded "Slackwater Beach" on the west side of the basin, adding trails, green spaces, benches, and a beach. Work continues now on the pedestrian path that will link the Port trail with the city path at east end of the hotel property, linking the Hood River footbridge and Spit recreation access.