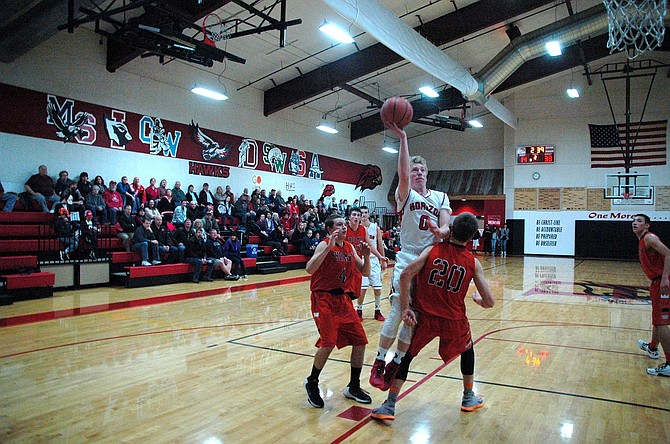 As five-time and defending Big Sky Conference Champions, the Horizon Christian boys basketball team opened its 14-game Class 1A regular season schedule with a weekend split. On Friday, the 13th-ranked Hawks (1-1 Big Sky, 4-6 overall) lost 69-39 at home to the sixth-ranked Sherman Huskies (2-0, 7-4).
Horizon responded to the tough loss by getting a 61-49 road win Saturday over the Condon/Wheeler Knights (1-1, 5-6). Horizon faced the defending 2A state champion Irrigon (9-4) in a nonleague home game Tuesday (results unavailable at press time). Horizon's next contest is Friday at home at 7 p.m. versus the 26th ranked Dufur Rangers (1-2, 4-7).
The Hawks, guided by first-year coach Sam Trevino, regained their momentum while snapping a five-game losing streak with a confidence-building win over Condon/Wheeler. It marked the Hawks' ninth-straight win over the Knights. The last time the Knights beat the Hawks was nearly six years ago (a 61-47 decision Feb. 5, 2010).
"The Knights played hard and with lots of heart," said Trevino. "Our boys were coming off a wake-up call. We played a really good Sherman team on Friday and we just didn't want to start the league season with two consecutive losses. The boys responded by playing much better on Saturday. That was exactly what we needed to do after the loss to Sherman."
Led by the duo of juniors Ian Walker (18 points) and Ethan Evans (16), the Hawks maintained control of the one-sided contest from start-to-finish. Horizon led 50-32 after three quarters as the Knights remained stuck in double-digit deficits. Condon/Wheeler outscored Horizon 17-11 in the fourth quarter to trim the final margin to 12 points.
Kameron Brown led Horizon in rebounding with five and he scored nine points. Jared Bryan (nine) and Cody Lingel (seven) also contributed to the Hawks offense, which produced a season-high (61) points.
Horizon's field goal shooting was solid versus the Knights, as the Hawks shot 19-for-29 (65 percent). The Hawks shot 6-for-13 (46 percent) from the three-point line, but they struggled with free throws, shooting just 5-for-13 (38 percent).
A couple of impressive Horizon streaks ended in the loss to Sherman. The Huskies win snapped Horizon's 50-game Big Sky win streak that included regular season and district playoff contests over the last four seasons.
The last time Horizon lost to a league opponent was a Feb. 10, 2012, loss to the Huskies in Moro; since then, the Hawks have won nine straight against Sherman over the past four seasons. As the top dogs of the Big Sky for the last five years, it was a role reversal for the Hawks, who dominated opponents with blowout wins at home, where they rarely lost.
"(Sherman Head Coach) Bill Blevens is an amazing coach and the Huskies are just an amazing team," said Trevino. "We've got a lot of work to do if we want to be one of the top contenders in our league along with Sherman, South Wasco and Dufur."
The Hawks were stunned by the Huskies' overpowering performance and they couldn't gain any offensive rhythm to overcome such a large deficit. Things only got worse in the second half as Sherman utilized an effective full-court press to create Hawk turnovers, get steals and then capitalize by scoring numerous transition baskets.
Walker led Horizon in scoring with 13 points, followed by Brown with nine points.
Hawk girls play strong, but lose league opener
The Horizon girls had a double-digit lead, but they faltered in the fourth quarter before suffering a 38-33 loss to the Sherman Huskies in their Big Sky opener at home Friday.
The Hawks (0-2 Big Sky, 3-5 overall) then followed on Saturday with a 39-18 loss on the road to the 11th-ranked Condon/Wheeler Knights (1-1, 10-2).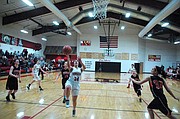 Horizon, guided by second-year coach Brian Stevens, initially appeared to be headed towards a victory against a then-winless Sherman squad (1-1, 1-8), especially after getting off to a strong start with a 10-point lead at the end of the first quarter.
"We had a really good first quarter and early in the game, it looked like we had a good chance to win," said Stevens. "In the second half, we made some mistakes and Sherman's press was a little tough for us to handle."
Paulina Finn (season-high 21 points) helped propel the Hawks in front early. Finn's jumper in the lane lifted the Hawks in front 6-0, forcing a Sherman timeout with 6:01 left in the first quarter.
After Sherman narrowed the margin to 6-2, Finn then proceeded to score six straight points. Finn fired in two outside jumpers, then got a steal and followed with a breakaway layup for a 12-2 lead. Horizon's tough one-three-one zone defense was sharp as the Hawks held the Huskies without a field goal in the quarter. Sherman's two points were both scored on free throws.
Early in the second, Finn sank a free throw to give the Hawks a double digit lead at 13-2. Sherman finally got its first field goal with 7:18 left in the second quarter, making it 13-4. The Huskies then got two more baskets, trimming the margin to 13-8.
Haley Becnel (eight) then ignited a rally to help the Hawks extend their advantage. Becnel fired in a jumper from the free throw line, then she connected on an eight-foot jumper from the side, lifting Horizon in front 17-8 with 3:24 left in the second, forcing a Sherman timeout. The Huskies responded with a 7-0 run, to trim Horizon's lead to 17-15 at halftime.
It was a seesaw third quarter with three lead changes and three ties. Following 17-17 deadlock, Sherman took its first lead of the game at 19-17 with 6:51 left in the third. Finn knotted it at 19-19 after hitting two free throws. Horizon freshman Jayde Marx followed by sinking a 10-foot baseline jumper, lifting Horizon in front for its final lead of the contest at 21-19.
The Huskies then scored six straight for a 25-21 lead after three. Sherman extended its advantage to 30-22 by utilizing a tough full-court press to create Hawk turnovers that enabled the Huskies to get some easy transition baskets.
Following a Horizon timeout with 5:01 left in the game, Sherman then built its largest lead at 35-24, but the resilient Hawks battled back to narrow the final margin.
The Hawks faced the 2A Irrigon Knights in a nonleague matchup on Tuesday at home (results unavailable at press time). Horizon's next game is Friday at 6 p.m. at home versus the Dufur Rangers.