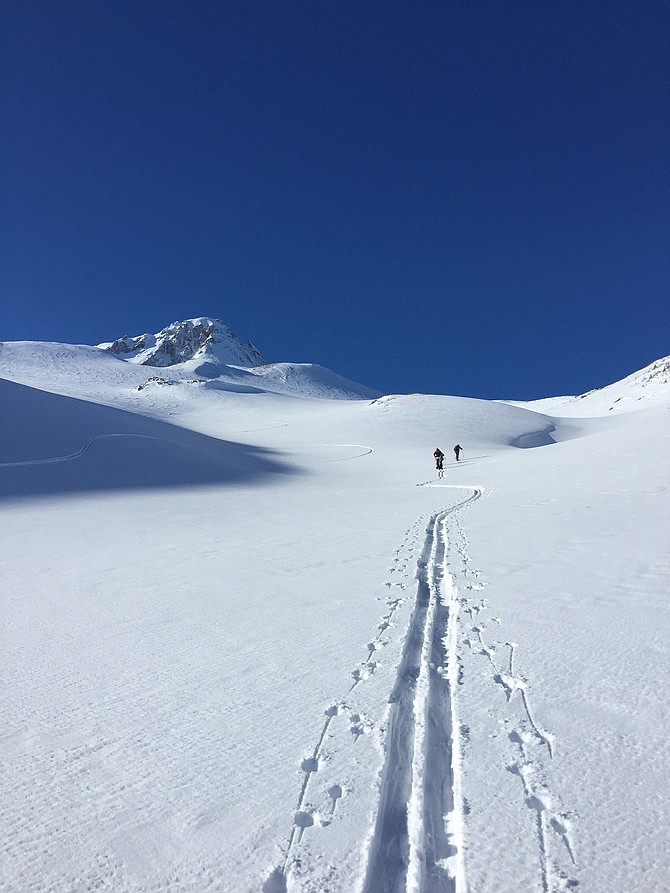 Favorable weather and snow conditions, an animal den, and sharp-eyed pilots helped bring two skiers off Mount Hood alive and well Sunday after an unplanned night camping out.
Branden Buel of Hood River and Scott Hulbert of White Salmon were met by Crag Rat volunteers at 1 p.m. Sunday, several miles and more than 1,000 feet higher than they had planned. They were assisted to safety at 4 p.m. at Cooper Spur Inn, where they were reunited with family. The men had gone for a morning outing from Tilly Jane parking lot, planning a hike up to Newton Ridge and to ski down and be back at Cooper Spur Inn by lunchtime.
But they became disoriented in the fog, going about two miles in the wrong direction, according to searchers.
"We could not see a thing," Buel said. They found shelter in an animal den and lined it with fir boughs, and caught some sleep. With no means to make a fire, they kept warm by sharing body warmth and getting up and walking around every half hour or so.
"They were tired and exhausted but able to make it out under their own power," said Chris Van Tilburg, who coordinated the search for Crag Rats.
Hulbert and Buel were found at a little over 6,000 feet near the headwaters of the north fork of Cold Creek Spring by Crag Rats Wes Bauman and Asa Mueller. The 22-hour search began about 6 p.m. Saturday just as Crag Rats were gathering for their annual dinner at Crag Rat Hut in Pine Grove.
Immediately upon getting the call from Sheriff's search coordinators Mike Anderson and Chris Guertin, six Crag Rats got their gear in order and met at the Crag Rats' base at Cooper Spur lodge to start a night-time search. Hulbert and Buel were now about six hours overdue, after planning to meet up with their families at Cooper Spur Resort for a Cooper Spur Race Team event.
"We got a 'hasty' team together to do an initial search of the Tilly Jane area," Van Tilburg said. Buel had intended to attend the dinner, but said, "Coincidentally, I ended up a search subject."
Tracks were found and the ground search continued at 6 a.m. Sunday with about 20 people from Crag Rats, Hood River County Sheriff's Office and Portland Mountain Rescue, on skis, snow cats and on snowmobiles.
"We were fortunate in that we had beautiful search conditions," Van Tilburg said. "Sunny conditions and all the snow was still relatively stable." Looking at the powder, searchers could tell from the depth of the track that it was created by two people. He added the searchers benefited from "plenty of cooperation and quick response by all the parties."
"Everything kind of fell together," Anderson said, referring to search organization, the weather, snow conditions — and technology.
Searchers made phone contact with the missing men at about 1 p.m. Their phone had lost power because of the cold, but functioned again when they got to higher, open ground, and used body heat to warm the phone. Anderson said they stayed in text only communication to save phone power.
"What stands out is that the support our community provides here is tremendous," Buel said. "People willing to go out and spend all night looking for us, and I think that speaks a lot to the community and organization of the Sheriff's Office and Crag Rats and Portland Mountain Rescue."
He said that at around noon Saturday, "we went one direction and were not completely confirmed exactly where we were on the first ski down. We couldn't see any tracks so we skied back to our starting point, and went the other direction, but that was way off the mark from where we were in the first place." He acknowledge that they were "completely unprepared" for anything other than a day outing.
They hunkered down, with a plan to find a creek descent in the direction of Highway 35 in the morning.
"We were fortunate that Mother Nature helped us out with clear weather," Buel said.
Searchers were able to track the men, whose path showed classic "lost" behavior, with repeated elevation changes, according to Anderson.
"They were a long ways from where they intended to be," said Deputy Bob Stewart, who was involved in the search from 6 p.m. through the next morning. "I was officially at the end of my shift but this is one of those things you want to stick with," he said.
The fog that had impeded the search early Sunday lifted by 9 a.m. and pilots Grant Porter and Joe Wampler, both deputies, were able to get airborne. Wampler, a Crag Rat and former sheriff, saw the missing men north of Cooper Spur. The subjects were skiing at the time. Wampler was able to radio their coordinates to Crag Rats, and Bauman and Mueller went up — literally — to get them.
Mt. Hood Meadows and Cooper Spur Inn assisted in a variety of ways, according to Anderson, including providing the Inn as an operations base and providing a room and food for the men's families.
Meadows allowed Bauman and Mueller to get on the Cascade Lift, which they took to the 7,000-foot level, enabling them to save more than an hour of climbing and traversing, so they could reach the missing men all the quicker.
Stewart said getting rescuers to victims quickly is about the food and water or other physical help they need, as well as "the mental boost."
"That is a big part of it — giving them the knowledge that things are going to be okay," Stewart said.