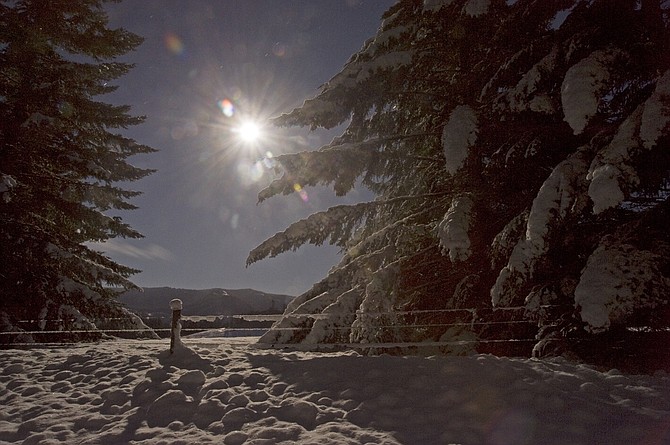 It started with the yuletide moon.
On Christmas night, the eastern sky was clear with a brilliant full moon, the first to appear on this day in 38 years. It was a magical moon, one that stirred my heart to go and bear witness and try to render an image that captured the nostalgia of the season.
It wasn't so much the moon I was after but something that reflected this rural sense of place. So I drove up to my favorite pasture along the Laurance Lake road and wandered on foot until I found a scene that caught my attention.
Satisfied with my effort, I drove home thinking about the traditional twelve days of Christmas. As is the norm for me, my active imagination kicked in with the idea of going out on each of the twelve days, no matter what the weather, and create one image worthy of sharing. This would be less about the holidays and more about seeing if I could call upon the learned art of discipline to stick with it. Just to make it a bit more challenging, my daughter was recovering from an intestinal bug and major oral surgery. Rather than giving up on my inspired idea, I limited myself to being gone for no more than an hour so I could make her smoothies and just be there for her. For most of the next twelve days, the weather was overcast and gloomy, and the magic of recent snows had receded to leftover mashed potatoes. This served to heighten my focus, to dig a little deeper to find beauty close to home.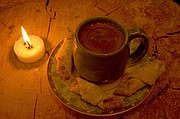 Each day I followed my intuition, which often involved asking my truck to show me the way. Among the highlights of this assignment of self-discipline was a downhill adventure sinking in knee deep snow to the roaring top of Big Brother Falls, the discovery of a little known side trail above Multnomah Falls decorated with ornaments, a pastel confluence of the East and West Forks of the Hood River near Punchbowl, and a last light of sky filled with the silhouettes of lightly falling snowflakes.
On the seventh day of the project, the rain fell in biblical proportions. And so I rested, sitting in my cozy cottage, wondering how I might salvage the day. I had a candle lit and a cup of hot chocolate and a plate of Grandma's Slightly Special Butterhorns resting on my rough, pine log coffee table. I drifted into a delicious stupor, staring at the candlelight, enjoying the simple beauty before me. And then the aha! moment arrived — this was the scene I was meant to try and photograph. And in that moment was the essence of the twelve days of discipline — to be fully present in your surroundings and not lose faith when all seems lost.
Self-discipline does not come naturally. We have to learn it. I was fortunate to have been raised in an atmosphere where discipline was the rule. Growing up, it often felt harsh or a form of punishment, but I eventually came to respect my mother's method of reward only after earning it.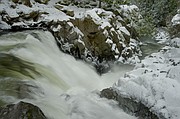 As a child I remember hearing her banging away on the manual Webster typewriter at 5 a.m. or earlier most days. As a writer and poet, she had amazing discipline to write every day, whether it be the gist of a poem, or an entry in her diary (which she kept doing for nearly 40 years). She told me later in life that writing helped keep her sane from the challenges of raising eight children. And to this day I still follow some of the childhood rituals of discipline, like not reading the day's mail until I have accomplished some task.
My coaches from the days of high school sports were unrelenting in driving home the importance of discipline, of practicing and practicing, and then doing it again. I remember shooting hoops at an outside basketball court until well after dark with my brother Marty, thinking it would improve the accuracy of my jump shot come game time.
The blessings of those early years of a disciplined life are many. Discipline bred confidence. Confidence gave me courage. Courage emboldened me to dream big dreams.
In an age of instant gratification, discipline may not be a very sexy attribute, but it can serve as a firewall from being swept up into the flow of ordinary. Seeking knowledge, being open to change, letting go of pre-conceived notions, taking risks — all are rooted in the embrace of discipline.
Who knows how many seasons will pass before the splendor of a full moon on Christmas falls upon us, but we need not wait to appreciate the gift of discipline.