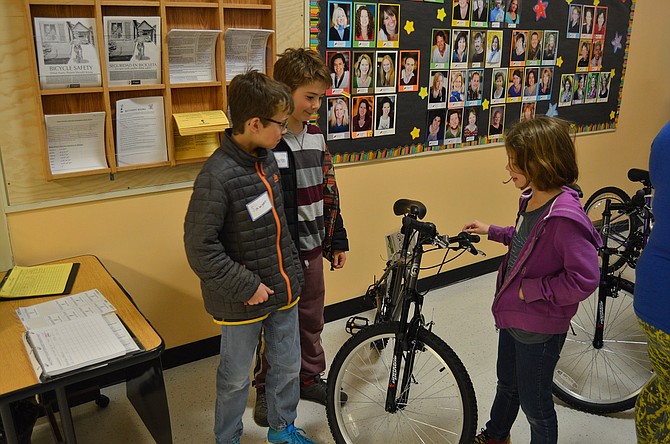 May Street Elementary isn't usually crowded in the afternoons after school, but on Wednesday, Jan. 27, the entryway was packed.
May Street Principal Kelly Beard and fourth grade teacher Kelvin Calkins, Westside Elementary Principal Bill Newton, and Hood River County School District Superintendent Dan Goldman met with senior high youth group members of Immanuel Lutheran and Youth Director Mike Mueller, who had come to donate two brand-new bikes — one boys, one girls — to each school.
Immanuel Pastor Jeff Mueller said the bikes were donated thanks to a monetary contribution from Thrivent Financial, a national Christian financial non-profit organization, and assembled by the youth group Jan. 23. The bikes will be used as part of an attendance campaign at both schools.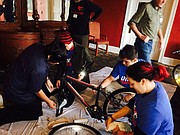 "Along with the incentive of a chance for students to receive a brand new bike at the end of the school year, this campaign will also serve as a positive way to communicate to parents and their children the long-term benefits of regular, consistent school attendance," he said.
Students at May Street learned about the new attendance program during an assembly on Friday; Westside students will have their assembly next week.
At May Street, students who log no tardies to school and are absent fewer than five times between Feb. 2 and the end of the school year will get entered into a drawing to win one of the bikes, said Beard. Newton said Westside is still deciding how the bikes will be raffled, but they will also be used as a reward to encourage attendance. Both schools will have the bikes displayed as a further incentive.
"School attendance matters," said Goldman. "In study after study, students with outstanding attendance perform significantly better in all aspects of their schooling, from literacy outcomes and overall enjoyment in school, to graduation rates and post-secondary enrollment.
"In fact, students who drop out of school tend to struggle with poor attendance beginning in Kindergarten. We want to catch kids as early as possible. When a student drops out, the likelihood of them getting a family-wage job goes way down," he said.
During the presentation, Goldman asked the youth group why they initiated the project, and member Katie Ritoch, a sophomore at Columbia High School in White Salmon, had a ready answer.
"My family has a big dropout rate, so it was important to me to give bikes to kids so they could one day have success in the future," she said.
"To me, this is a really important community collaboration," Goldman said. "This is a great example of the community coming together. We are appreciative and excited to have strong community partners like Immanuel Lutheran Church, who care deeply about our youth and their positive development."
Mueller hopes that the donation will inspire other local community service organizations, churches or bike clubs to adopt Parkdale, Mid Valley and Cascade Locks elementary schools and donate bikes to further the campaign.
"It's not that expensive," Mueller said. "Someone just needs to step up."