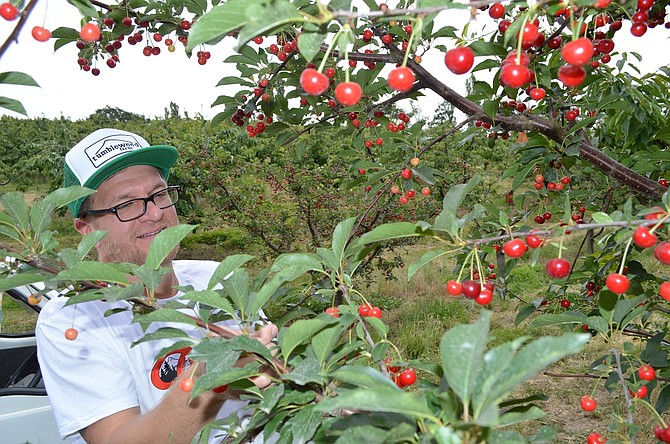 The source of the Solera kriek fruit connects to the Parkdale pub's own history.
The Balaton cherries that brewer Jason Kahler prizes for his tart beer are grown south of Mosier by orchardist Pete Kinsey, who is the brother of Sinclair Kinsey, co-owner of Eliot Glacier Brewery, which Kahler and John Hitt bought in 2011 and turned into Solera Brewery.
"They have a pretty color, and it's a local fruit," Kahler said of the Balatons. He drove to Root Road last week to help Kinsey and his crew pick the Balatons from five trees, each standing about seven feet tall, nestled among rows of sweet Vanns.
"I put the cherries into the beer whole, not pitted. I just want the stems off, which is easier the longer they are on tree, and the fruit gets all that juicier, so the easier the stems come off is good for us both," Kahler said.
"It's my favorite time of year," Kahler said. "This and peaches after this. The peach is the essence of summer, it's such a delicate fruit with such a short life, for a brief hot minute, but when you put it in beer like this it's like preserving it, it turns into something interesting, like putting it up in jars."
The yeasts that develop the beer's flavors are right there on the fruit.
"With this beer, the cherries are the fuel for the yeast and the bacteria that ferments it. The biggest wild card from year to year is what's on the fruit," Kahler said. "I don't add any yeast. I make the wort and throw these cherries in it and let it sit for a year, so whatever's growing on the fruit …" He said this year's cherries are smaller, but the acidity and flavor is the same.
Changes in temperature and humidity during the growing period will change the fruit, and the yeast, from one year to the next. "With the wet winter, the air is different from a year ago when it was hot and dry, when we picked (the Balatons) — that's got to have some kind of an effect," Kahler said.
"It evolves," Kahler said. "A lot of these beers go through a period called 'getting sick' and it's actually unpleasant, with an off flavor to it and several months later brettanomyces gets ahold of it and transforms it into something beautiful."
Brewers use a wide range of cherry varieties for beer, but Kahler loves the Balaton best.
"I really like that variety, it has nice acidity, and imparts a really deep red color and no sweetness" to the ale. He asks Kinsey to keep the Balatons on the tree as long as possible each year.
"Pete was threatening to pull them out, and I asked if he would keep them in if I bought them from him every year," Kahler said.
Kinsey said, "I said, 'they're yours until I retire, and they gotta stay yours if someone else takes over.'" He originally planted 10 trees, 15 years ago. "Not a lot of orchardists have Balatons. Only one of my neighbors, the Evans, and l have any of these trees around here.
"They were advertised as big as a sweet cherry, but that's not true," Kinsey said. "I wanted a sour cherry that was as big and easy to pick."
Kinsey and Kahler both savor the orchard-brewery connection.
"I also like beer," Kinsey said. "I was teasing Jason, I'm an electrician by trade and the deal with my brother was, I do the work and get all the beer I want. Isn't there something in the contract?'"
But when asked about sampling the beer that would come from his Balatons, Kinsey laughed, "I don't like sour."
Kahler has been a brewer for 20 years. He bought Solera after six years at Big Horse in Hood River. Before that he brewed at Walking Man and Full Sail, getting his start at Fitgers in his hometown of Duluth, Minn.
Kinsey sold his electrician's business five years ago to turn full time to orcharding. But he keeps his hand in the old trade, working for Rafael Landeros, of Land Electric, one of his old employees.
"I'm living testament to the saying, 'be nice to people on the way up because you'll meet them on the way down,'" Kinsey said.