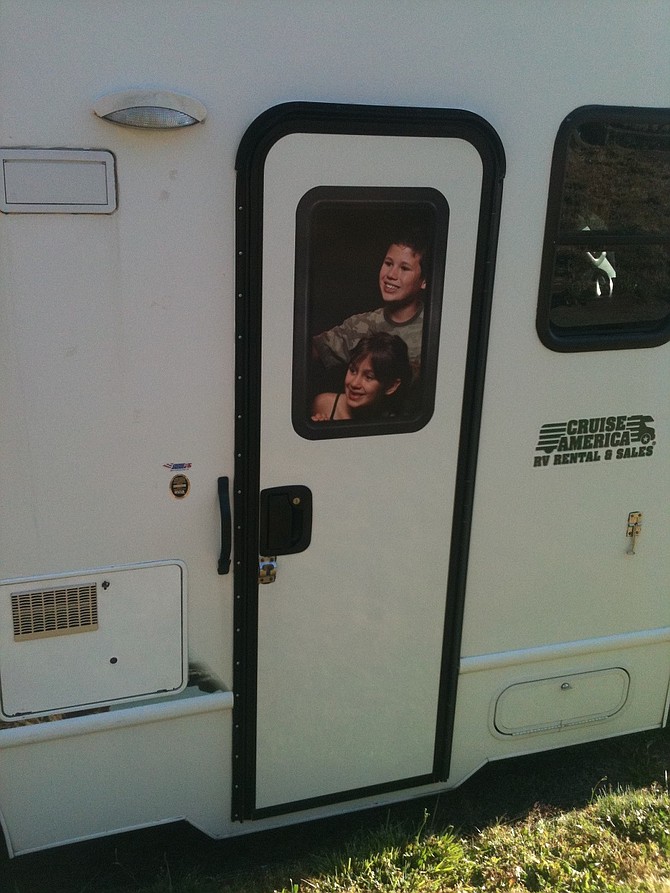 The obscure sport of Parking Your Age may be on its last legs, but with my birthday a month ago I got back into it.
Parking Your Age (PYA) is a little game I play, and others may join in. I have tried over the years to park according to my age in the mysteriously numbered spaces in the Hood River News lot (no reason is known for their numbers, because none are assigned and never have been).
Last year, space 57 was not an advisable parking spot, located as it was next to the dumpster, but 58 is good to go.
And 58, having been born in 1958, was a fun birthday to turn, and to commemorate.
I found that 58 is usually taken up by one of the company vans — gotta talk with the Columbia Gorge Press guys about that — but some days I get lucky and get to park there.
It's up against the wall at the farthest point from the front door, which is the main point of PYA, which I have waged since I came to the News at age 42. That was the time the numbers appeared, and I found that 42 was a parking spot located a fair distance from the door: good for me to get that walk in several times a day. PYA is a way of encouraging other regulars here to take those farther spots, and leave the closer ones for customers and the lesser-abled: each year you park in the spot that corresponds to your age. With food carts a welcome parking lot tenant now, covering spaces 60 to 65, I figure I have maybe two more years before PYA retires, even if I don't.
I've just got parking on the mind. I make the following observations from long experience in Hood River and other communities with similar problems and pressures, and acknowledge that I do benefit from a large parking lot I can use every day, 58 or otherwise.
•
I talked with parking enforcement officers Marty Morgan and Liz Tostada this week. (See their photo on page A8.) Since mid-June, Tostada has patrolled downtown as auxiliary parking officer, and will do so through the busy summer season. That gives Morgan more time to work on his other duties of evidence management and code enforcement, as well as parking issues on the Heights. By the way, Tostada is a reserve police officer and knows what to do when faced, as parking officers so often are, with a "public relations" conversation.
Morgan's tasks include enforcing the ordinance against keeping your boat, trailer or RV parked on the street for prolonged periods. You see it more and more this time of year as people are either using or acquiring such toys, or people with them in tow are visiting in increasing numbers.
•
On my morning walk commute Friday I looked up to see a hulking rental RV parked at one corner, and it scared me for two reasons: first was the Stepford children staring out the window (see photo). At first I thought they were real, but I was relieved, I guess, to see that it was just a bizarre photo.
"This is what travel-crazed pre-adolescents look like after a week riding in one our boats on wheels!"
The scarier thing was that the RV was parked directly at the corner, so close to the intersection that it created a view obstruction.
•
Ah, the Heights. I live there and love seeing it gain new vibrancy while retaining its funky neighborhood quality.
Only two parking meters exist on the Heights (in front of Raptor Archery on 11th Street) but other parking concerns exist in an area where streets are often narrow and crowded. These include streets signed for no parking on one side, yet people do it anyway. Any redevelopment of the Heights needs to look seriously at a central public lot, and prohibiting on-street parking on a number of the streets between 12th and 13th.
(That said, speeding on the Heights is a greater public safety concern right now, and the city should focus on this with more events happening at Jackson Park and more businesses opening and bringing people to the Heights.)
•
Speaking of parking garages, the idea of a structure to be built downtown has been part of the discourse for years (even an elevated structure on the Hood River News property has been suggested) but it seems like a pipe dream, and perhaps that is just as well.
I've believed, ever since coming to Hood River 16 years ago, that it is behavior, not infrastructure, that can ameliorate if not solve downtown parking ills.
By that I mean if a small number of vehicle users (downtown employees as well as shoppers or visitors) would walk an extra one to four blocks, it would ease the situation all around. A few here, a few there, and the positive displacement results in a greater likelihood of those select spaces being available at more times.
That is, if spaces in the core of downtown were not occupied by cars that sit there all day, and those cars parked farther out, it would make more available parking for someone coming downtown to get lunch or shop at the stores.
•
Solutions include fuller use of at least one privately-owned lot, just four blocks from the core, which sits virtually empty weekdays; the owners of that property could contract with the county and city to provide parking for their employees, thus opening up many spots around the courthouse and city hall.
There are a number of areas of downtown where, on a typical day, metered spaces are available for long periods. Granted, they are not right next to where all the shops are but close enough — either for the customers or for shop owners and employees to regularly use.
•
The city could consider issuing dashboard tags for people who work downtown to get priority for those peripheral spots to park, the ones close enough to get to for errands or meter-supplementation.
•
Business owners and their employees should park no closer to their door than they think the average customer would want to walk to get there.
•
It comes down to a matter of choice. I know of at least one restaurant owner in both downtown and the Heights who park their cars for prolonged periods at the very doorstep of their businesses.
•
In parking lots, employees should park in the least desirable space. I know of specific cases of people who have business in a particular building for a full morning, the car never moving, yet they park in the spot closest to the front steps. It makes no sense.
•
I'm also going to irritate some people with this observation, but when it comes to drivers with handicapped permits, they should not be used if the driver stays in the car while their non-physically-challenged family member or friend gets out and runs into the store and the driver — the permittee — stays at the wheel.
•
Finally, think about the mall: there are few places one is "forced" to park on the Heights or downtown that are farther away than you would have to park your car on a typical day at any large shopping center.
In Hood River, it just seems farther away because the destination is so much nicer.
Kirby Neumann-Rea actually likes to parallel park.