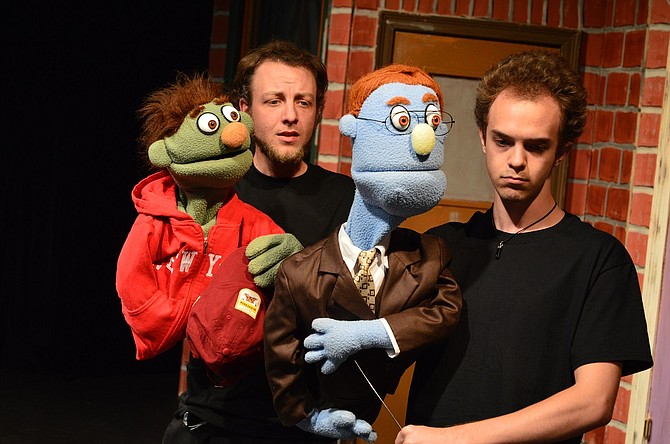 Yes, Avenue Q features puppet and human characters interacting together. And yes, there are intermittent, computerized visuals reminiscent of The Electric Company and Sesame Street.
Yes, there is singing and dancing. Yes, it's hilarious.
No, this is not a children's production.
(It REALLY isn't.)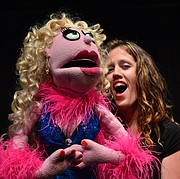 Avenue Q, written by Robert Lopez and Jeff Marx, won a Tony for Best Musical in 2003, and is a loosely autobiographical, satirical look at children's television shows such as Sesame Street. But here, the "hopeful but unrealistic messages of empowerment, equality and positive affirmation" are replaced with more realistic themes, said longtime Hood River theater director Mark Steighner.
"Avenue Q takes on racism, homophobia and sexual identity, existential angst and the meaning of existence, and the pitfalls of romantic relationships and friendship," said Steighner.
The musical is "notoriously 'adult,'" he added, "with liberal use of profanity and sexual content. While not the point of the show, innocent puppets behaving in surprisingly adult ways is definitely one of the musical's memorable elements."
That's also why the show is not recommended for anyone under the age of 18.
Steighner said that, after last summer's "intense and serious" production of "Next to Normal", he wanted to do a show that was lighthearted and funny. He's long been a fan of the musical, and has made it work in the CAST space — a challenge because of the tight sight lines on stage.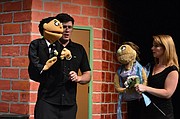 Learning "Muppet-style" puppetry was an additional challenge for actors, many of whom made practice puppets — the show uses professionally-made puppets, rented from an east coast provider, that weren't available until recently — in order to train themselves to move the puppets without looking at them. And as the human characters interact with the puppets, not the actors playing them, there was a learning curve there, too.
"Unlike Sesame Street, where puppeteers are hidden under a false floor, the actors manipulating the puppets are clearly seen," said Steighner. "Trying to act, sig and effectively control the puppets is not easy."
Major puppet characters include Kate Monster (April Sampson), Princeton (Reuben Betts), Nicky (Jimmy Oates and Kat Blackmar), Rod (Justin Danner), Lucy (Clara Cook), and Trekkie Monster (Dennis and Jana Castañares). Human characters are Brian (William Thayer-Dougherty), Christmas Eve (Emily Vawter), and Gary Coleman (Sheila Dale).
(Yes, THAT Gary Coleman.)
TICKETS AND TIMES
Avenue Q will run through July at Columbia Theater for the Arts. Shows begin at 7:30 p.m. on July 8-9, 14-16, 21-23 and 29-30. Tickets are $20 for adults and $15 for seniors over age 62 and for groups of 10 or more, and are available at Waucoma Bookstore, 212 Oak St., and at the gallery, 215 Cascade Ave.