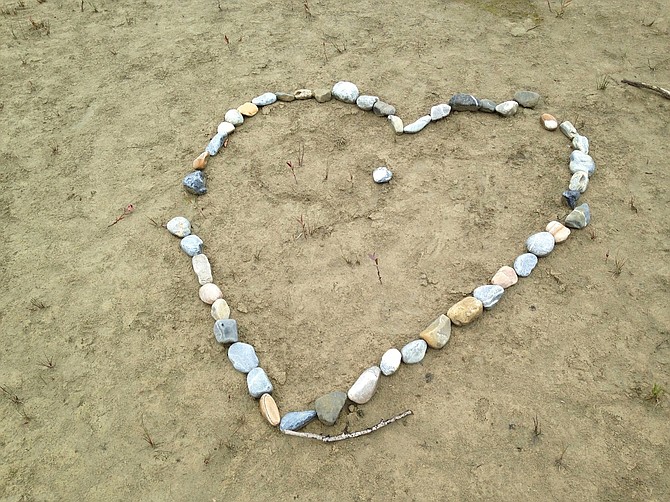 Last week was the 15 year anniversary of my open heart surgery. Since that time, I have always honored that day with something celebratory out in nature, like watching the sunrise from the summit of Mount Hood. There is no equal to the power of wilderness therapy.
But recent events left me in a sobering, reflective space this year. It has taken me this long to come clean with myself and admit that what nearly killed me was self-inflicted stress and a flawed approach to personal issues that caused a broken heart.
I can tell you for certain that the mind/body connection is for real. When you harden your thoughts and allow anger to take hold, it is toxic, and for me it lead to hardening of the arteries and coming to within hours of dying. Stress is an insidious thief that can come in silence and take you down.
Open heart surgery is about as invasive as it gets. A buzz saw cuts through your skin, chest bone, muscle, nerves, disrupting a perfectly balanced rhythm of your life. Your rib cage is pried wide open and a stranger sees your heart. I have always thought of my body as a private temple and my heart as the most sacred object in that vessel.
I was in the prime of my life, an intrepid climber, hiker, and long distance trekker. Fear was a foreign word before this and suddenly I was fending off panic attacks almost daily.
Post-surgery, I was confused and angry. I lashed out at the universe, sometimes screaming out loud, "What did I do to deserve this?" I put my wife and daughter through a hell they did not deserve.
Over the years, I have heard stories or read newspaper accounts of people dying from a broken heart. A spouse passing away within days of losing their partner, a widow passing after losing her beloved pet. A friend of mine took his own life over a troubled heart.
Others carry the burden of a broken heart for a lifetime. My mother lost her beloved father at 14 and she carried that pain the rest of her life. There were moments over the years when I would encounter her misty eyed in the early light of dawn in her rocking chair during visits to her country home in Maine. She was a private woman who rarely opened up about matters of the heart. When I asked what was troubling her, she said she missed her father every day and longed to be reunited. Other times she would speak of regret over the choice of my father, who caused her unspeakable pain. But with her razor sharp wit and resilience, she always found a silver lining, saying that the most blessed part of her life was bringing me and my seven siblings into this world and that all the good traits we inherited came from her and the bad things from my father.
A long time ago, I learned that with matters of the heart, words are living things. Once said or written, they cannot be taken back. They have the power to lift your soul to sublime heights of ecstasy or can shred your heart into shattered shards of pain. It is far easier to blame others for our pain than it is to own up to our choices that brought us where we are.
A few weeks ago, I was in Canada near the headwaters of the Columbia to document National Aboriginal Day at a pow wow for a project in the works. It was the solstice and the eve of my heart surgery anniversary. I shared a bit with a leader of the Shuswap Nation and she told me to listen closely to the drum beat. "It will bring healing," she said. After getting the images I needed, I sat close to the circle of drummers and for a little while, all heartache washed away and for a brief period the nagging scar tissue in my chest seemed to melt away and I felt a return of the rhythm of my original self.
Later that day, I moved up river to the confluence of the Kicking Horse and Columbia near Golden BC. It was an overcast day with a light drizzle, but I pressed on searching for something that captured the essence of this confluence of energy. While trekking along a sandbar, I came across an assemblage of stones in an almost perfect shape of a heart, placed there many full moons ago by someone enraptured in the universe of love. There was a stone missing and at first I considered adding one to make it complete, but I resisted. I ran my hands over the stones, polished smooth over years of river movement. The missing stone reminded me that we are all imperfect. And though our hearts may be cracked from a sudden loss of friendship or the passing of a loved one, this is what it means to be human.
Pain is an inherent part of life, but suffering is a choice when it comes to dealing with a broken heart. I've learned that it's important to take responsibility for your role in the pain and regrets in life, both for the harm you've endured and what you have done to hurt others. This is where healing takes root. Lasting healing can only come when you forgive and seek forgiveness.
A friend once shared that when your heart is broken, you pick up the pieces and build a beautiful mosaic of art with it all.
Soon I will head back to the mountain that knows my story, where the healing power of nature can restore rhythm and balance, and push the re-set button to return to kindness and an open heart.