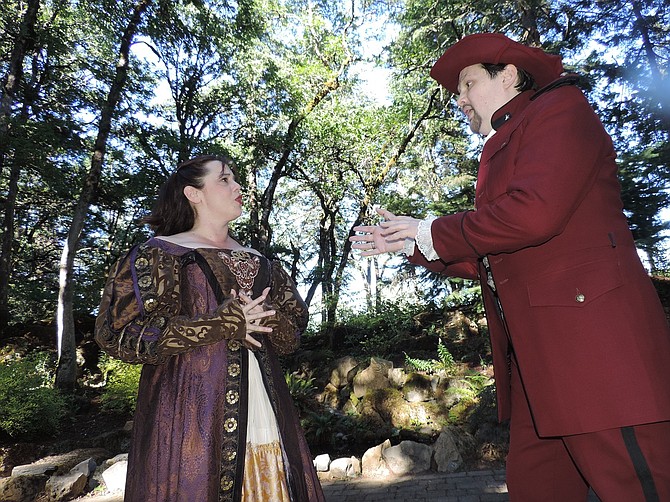 Summer has arrived and Plays for Non-Profits is opening this season with outdoor dinner theatre, a first in the nine-year history of the program.
William Shakespeare's comedic play "Much Ado About Nothing" will be performed at Stonehedge Gardens in an outdoor theater production in the secluded lawn normally used for weddings. (In august, Dallman will also direct Rodgers and Hammerstein's "Oklahoma!' at Hood River Middle School.)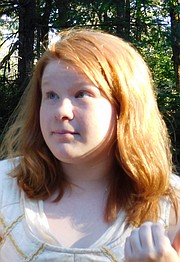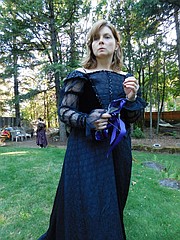 "Like all great works of art, 'Oklahoma!' and 'Much Ado About Nothing' teach us something new every time we encounter them," Dallman said. "The original 1943 production of 'Oklahoma!' was Rodgers and Hammerstein's first collaboration and is universally acknowledged for having set the standards and established the rules of muscial theatre still being followed today.
Many revivals and a 1998 London stage production, starring Hugh Jackman as Curly, won several awards along with the hearts of a new generation. Shakespeare wrote 'Much Ado About Nothing' in 1598 and it still remains one of his most often performed plays. The popular 1993 movie version, directed by Kenneth Branagh, is the inspiration for our current production of this timeless love story.
Dallman continues, "Speaking of love, the process of falling in love, is a key plot line shared by these two plays. Despite being set in very different worlds — the Oklahoma Territory of the early 1900s and Messina, Italy durng the early 1600s — and produced 350 years apart, both are wonderful illustrations of the absurd lengths to which their characters will go to find love. As audiences, we continue to enjoy watching the comic situations and the characters' discoveries of things about themselves that they previously didn't know. WE know, because we have all experienced this somewhat painful and wonderful phenomenon ourselves!"
•
Stonehedge will be serving up an Italian buffet to go along with the Sicilian setting of the play. Proceeds from the show benefit SMART, Hood River County Library and CASA of the Gorge.
A wedding does indeed take place in "Much Ado," but we'll not reveal too many other plot ponts.
One of Shakespeare's better-known plays, it concerns the merging stories of the love-hate and then just love, relationship of Beatrice and Benedick, one of literature's great love pairings, and Claudio and Hero, who overcome considerable odds to requite their love. In the meantime, efforts both bumbling and scheming by the likes of uncles Leonato and Antonio, the Friar, and rivals Don Pedro and Dona Lucia complicate matters in old Messina, Italy. Musician Bill Weiler sings a couple of songs and performs on varied instruments.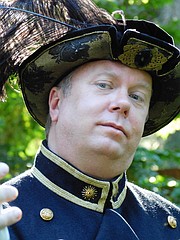 Notably, some characters' names have been changed from the original, to match the cast: Dona Lucia (Jennifer Wilde) is morphed from "Don John", but the character is no less a villain for being a woman. (Yes, that was Wilde in the decidedly different role as the mystical Russian maid in "Vanya and Sonia and Masha and Spike," this winter at CAST). Newcomer Elena Lundby, 15, plays Hero, and her father, Erik, has the role of Friar, and other key roles are filled by Kathleen Morrow as the constable Dogberry and Tom Burns as her sidekick Verges.
Local theater veterans David Dye (Don Pedro) and Lisa Roth (Beatrice) match wits with a first-timer to the Hood River stage but not to theater: Paul Bowen, who plays Benedick, and Roth graduated with theater degrees from Wright State University in Ohio and have remained friends ever since. Bowen is a veteran New York actor with multiple Shakespeare roles — though never Benedick — and a list of independent movie roles usually in the role of villain, he said.
•
In college Bowen and Roth had minimal stage time together, and Bowen said he is enjoying finally getting the chance to perform together.
He finds himself in the unusual situation of being immediately placed amidst a group of people he has never met.
"That's what I enjoy about it," Bowen said. He rehearsed via Facetime for the first three weeks, arriving last week for a total of eight rehearsals. "Everyone has been so welcoming, I'm really enjoying myself," he said.
"Theater is such an immediate experience and so to be with a group of people you don't know, and haven't worked with before, and to put on and tell this story, and bring the audience into it, that's what I love doing."
Bowen's day job is in real estate investment in New York and he's taking vacation time to do Hood River Shakespeare, but he has been logging onto his computer each morning at 6 a.m. to work for the morning.
"For the next two weeks, it's just the show," he said June 30.
TICKETS AND TIMES
The show is produced and directed by Lynda Dallman, director of Plays for Non-Profits. Tickets for dinner and the show are just $40, $35 for students and seniors and groups of 10 or more. Tickets can be purchased at Waucoma Bookstore, Stonehedge Gardens Restaurant and online at www.showtix4u.com. Show dates are July 7, 8, and 14 at 7 p.m. for dinner followed by the show at 8:15 p.m. There will also be a matinee 5 p.m. dinner followed by a 6 p.m. show on July 10.
For more information contact Lynda Dallman: lyndadocs@aol.com
NOTE: There is a change in the final performance, on July 15. It will be at 7 p.m., is now performance only, with no buffet; tickets are $20 for adults and $15 for students and seniors.
Much Ado is suitable for all ages.