During harvest time for corn, the heavy yet melodic rhythm of "El Novillo Despuntado," a ranchera song performed by an iconic figure for Mexican campesinos, echoes on the southern plains in Jalisco, Mexico. Juan Rulfo, the only Mexican author to write about the harsh countryside of the Jalisco region where he was raised, describes the southern part of Jalisco as an infertile, burning plain. Rulfo conceives the right description: infertile soil is the ordinary meaning of the southern lands in Jalisco. Consequently, many farmers from the burning plain have opted to try luck in the United States.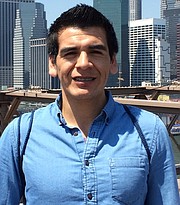 Why talk about immigration from Mexico? Why the Hood River Valley? Why now? These questions are clearly linked. The thousands of fruit pickers and packers in the Hood River Valley are only a fraction of the 12 million Mexicans who live in the U.S., and another small fraction accounts for the 11.5 million undocumented people, about 60 percent of whom are from Mexico. But let's address each question in further detail.
Unfortunately, many of the corn farmers in Jalisco are unaware of the many legal ways to enter the U.S. and come to this country without documents — and others are denied a visa. Despite the sharp increase in the costs and risks of border crossing in recent years, many have made it to the Hood River Valley, where they pick pears, cherries, peaches, apples, blueberries, and even huckleberries. During cherry or pear harvest time, "El Novillo Despuntado" resonates on the meadows of Mount Hood.
The immigration debate in the U.S. remains unsolved. Politicians in Washington have decided not to act on the immigration problem; just recently, the Supreme Court deadlocked in the case challenging President Obama's immigration plan, which would have shielded as many as five million undocumented immigrants from deportation and allowed them to legally work in the U.S.
Moreover, and perhaps most importantly, the State of Oregon has denied undocumented workers the opportunity to apply for driver's licenses. In effect, undocumented immigrants have broken the law by crossing illegally into U.S. soil, but they are already here. In fact, this country is in need of farm workers, especially the Hood River Valley area. Only immigration reform involving both countries can fix this problem. However, denying driver's licenses is only making the Oregon roads unsafe.
While many around the world are worried about the Republican candidate's campaign, the concerns are particularly pointed to undocumented Mexican workers. Donald Trump has repeatedly attacked Mexicans with xenophobic comments; he has also threatened to deport the 11.5 million undocumented immigrants if elected president. Fortunately, many agree that the claims on which Trump indicts Mexicans are trumped-up: his message is a poor foundation for diagnosing and treating the illness.
The 2016 presidential election is crucial for undocumented immigrants, many of whom reside in Hood River. On the one hand, the Republican candidate supports immigration raids, and promises to build a wall between Mexico and the U.S. — and make Mexico pay for it — and on the other, the Democratic candidate acknowledges that raids are only sowing fear and division in immigrant communities across the country. While Congress continues to ignore the issue and the Supreme Court decides to keep the status quo frozen, thousands of undocumented workers fear deportation every time they get on the highways to work. In fact, they are also afraid to send their kids to school, and go to the hospital to treat their illnesses, or even to the grocery store.

But not everything is lost for undocumented workers. The Hood River Valley has welcomed those who have lost hope in Jalisco, although most employers may not even be aware that their workers are in need of work because they have lost hope in their home country. Hood River residents and farm workers share mutual benefits: farm workers make sure that no single pear is left hanging on the trees — or as pickers put it in their native tongue, ni pa' los pájaros, "nothing for the birds" — while residents enjoy a stable economy. These hard working men and women have proven Trump wrong.
However, every orchardist in the valley would agree that labor shortages have been a big problem in recent years — there is a large demand for pear pickers. There are many reasons behind this problem, but there is one relevant reason that can be directly addressed in the State of Oregon: Many of these workers have been stopped for driving without a license, and have been put in the hands of U.S. Immigration and Customs Enforcement (ICE). Once in the hands of ICE, many of these workers are quickly deported to their home country. And circularity, is almost impossible nowadays: the costs and risks for crossing the border are exponentially rising.
Although undocumented immigration from Mexico to the Hood River Valley has flattened out in recent years, many undocumented immigrants remain in the shadows. But most importantly, they remain without a driver's license to go to work and back home.
Again, farm workers are needed in the Hood River Valley. Some of them are already here, and they can benefit from a comprehensive immigration reform, which would bring reduction in costs, danger, and oppression for those to come — and it would not necessarily entice those already in the U.S. to leave.
Politicians had their turn. November is the voter's turn to confront the Trump emergency. It is time to unfreeze the status quo in the Supreme Court. It is time for Congress to act on a comprehensive immigration reform. Now is the time to show Trump that he is missing the value of changing voter's minds by persuasion rather than demagoguery.

Abel Cruz Flores is a graduate student at Georgetown University, a second year Ph.D. in Spanish linguistics. He graduated from Columbia Gorge Community College Hood River Campus in 2010, paying for his education by picking fruit in the Hood River Valley. He is an advocate for immigration reform and is the vice president of the Georgetown University Graduate Association of Mexican Students (GUGAMS).