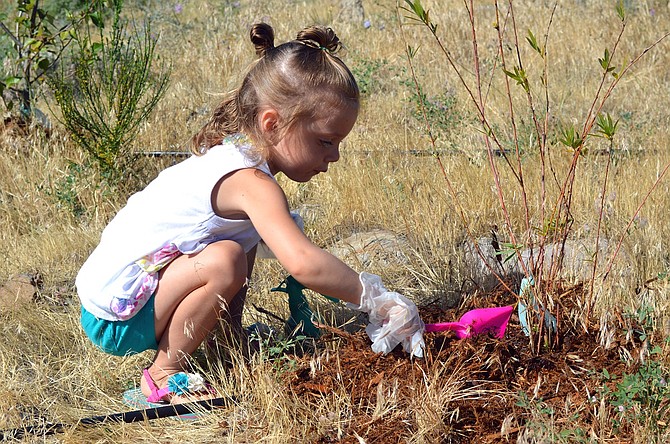 Young environmental stewards armed with buckets and plastic shovels did their part last Wednesday in the broad local effort to restore a wildlife habitat on the Hood River waterfront.
Nichols Natural Area, which hugs the shoreline north of the just-opened Hampton Inn & Suites, is coming to life as Columbia Riverkeeper and partners transform the former boat works into a riverside park for wildlife — and eventually the public — to enjoy.
"We're turning this former industrial space into a community green space — it's truly a blank canvas," Liz Terhaar, Riverkeeper communications director, said. "We're excited for this prime location to become a natural area that people can nurture and enjoy."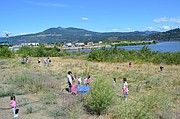 The property, nearly three acres in size and dominated by scrubby brush, will soon become the City of Hood River's newest park — the city recently acquired the land, and restoration is underway.
The basin once hosted Nichols Boat Works, which operated from 1939 to 1998 — wooden runners from that bygone era remain on the shore. The contaminated site was cleaned up and the property sat vacant (and weedy) for over a decade.
A settlement between Friends of the Hood River Waterfront and Naito Development (the Hampton Inn developers), gave Riverkeeper a conservation easement over the riparian area, which the group is now working to restore.
On Wednesday, summer campers from Blossoms Bilingual Preschool in Pine Grove, led by teacher Socci Galvez, helped water and place mulch on the trees volunteers planted in December.
Kids gathered that morning around a plastic pool filled with "agua" (water) from a hose, filled up their buckets, and distributed it to thirsty saplings. Some buckets held bark mulch, wheelbarrowed in by adult volunteers, which the kids spread at the bases of the trees with toy shovels.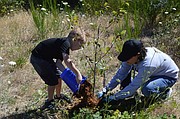 "We do a lot of exploration … so it's been really fun for them," Galvez said. "I told them what we were going to be doing (and) they were all excited."
Galvez explained the kids were enthused to learn trees "give us oxygen," and that one day the saplings they nourished would grow taller than themselves.
"What's special is these preschoolers are going to see the trees they're caring for grow with them and turn into a forest in their lifetime," Terhaar said.
The kids' work marked another step in Riverkeeper's journey to reinvigorate the site with native plants, replacing invasive ones.
In December, volunteers braved the cold and rain to plant more than 120 willow, cottonwood, and red osier dogwoods. In May, Hood River Valley High School students from Kevin Haspela's Earth Science class joined Riverkeeper on a habitat assessment and helped water new plantings.
The next plan for the summer will be teaming up with The Next Door Inc.'s summer youth employment program, Terhaar said.
Once finished, Nichols Natural Area will provide juvenile salmon habitat, nesting sites for osprey and eagles, and a home of waterfowl and shorebirds.
The city acquired the land following a purchase agreement in January.
The Urban Renewal Agency accepted the agreement, costing $395,000, with NBW Corp. The URA, made up of City Council and two Port of Hood River commissioners, oversees the funding and management of the city's Urban Renewal Districts, and the new park lies within the waterfront URD.
Hood River Mayor Paul Blackburn applauded the restoration project.
"This project can become a centerpiece for restoration in the heart of the Hood River waterfront," Blackburn said. "Riverkeeper's leadership in creating an inclusive project and engaging diverse communities is just what we need to be successful."