The mouth-watering recipes of Parkdale's Andrea Beemis gained local exposure this spring and can now be found in the July/August edition of the national publication Eating Well. Beemis and her husband, Taylor, own Tumbleweed Farm near Parkdale. Beemis writes a blog, "Dishing up the Dirt," and is developing a cookbook due out next year.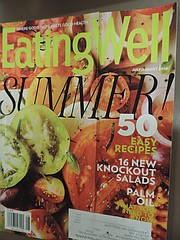 Beemis is featured on the cover of the current issue of Savor the Gorge, the Hood River News publication celebrating culinary and agricultural pursuits in the region.
Now, "The Modern Farmer" in Eating Well devotes seven pages to the Beemis' farm and her culinary skills. Her honey-roasted cherry and ricotta tartine is front-and-center, followed by dishes including beet and goat cheese quesadilla with chili-lime crème, and kohlrabi, leek and Gruyere pizza.
The article, by Carolyn Malcoun, notes that Tumbleweed, growing a wide range of produce "from arugula to zucchini," supports a 60-member Community Supported Agriculture operation. Copies of Savor are available at Hood River News and restaurants and businesses throughout the Gorge. The article "Recipes from Tumbleweed Farms' Andrea Beemis" includes "Zesty Green Soup," along with pasta, potato and quiche recipes made with local vegetables, herbs and cheeses.