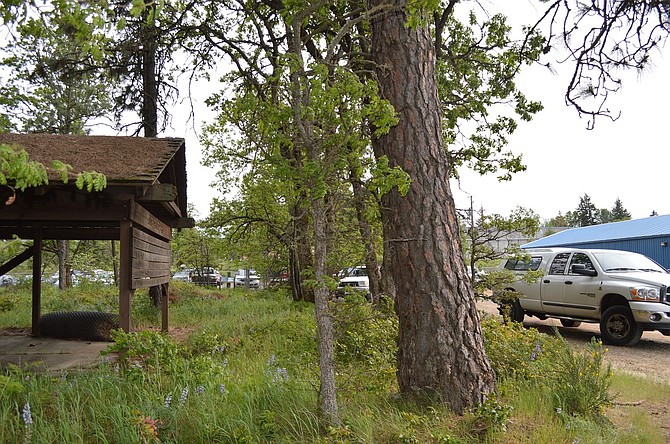 This story has been updated.
Plans to reinvigorate Golden Eagle Park have winged closer to fruition.
County planners okayed an application by Hood River Valley Parks and Recreation District on June 24 to develop the overgrown stretch of land neighboring Hood River Valley High School's ballfields.
After a 15-day appeal window passed by without any legal challenges, the permitting became official — the Parks District can now push forward with strategies leading up to the faded park's overhaul.
Hood River County has leased Golden Eagle — a minimally-used 3.75-acre park next to Traner baseball field — to the school district for decades. It's been a county-approved park since 1981. This spring, the Parks District unrolled a set of proposed improvements to the area.
Main features include two new lighted tennis or multi-purpose courts, three covered pickleball courts, two bocce ball courts, four open air picnic shelters, a multipurpose trail with signage, a mountain bike skills park, restroom and 100-space paved parking lot.
In addition to those developments, Traner Field would see upgrades: turf infields, improved backstops, new bleachers, new dugout, and a re-oriented field.
Hood River County Planning Department staff said the Parks District's plan met land use requirements — such as impact on parking and nearby farm and forest land — and addressed a community need.
"In addition to land use, staff finds that approving this application will also benefit the general public by providing opportunities for recreational activities, which are important for the general health and welfare of the community," staff said in their decision.
Scott Baker, Parks District assistant director, said the next step will be working with Oregon State Parks to make funds from a state grant eligible toward Golden Eagle. That grant, a $494,000 sum originally destined for Barrett Park, expires in October if it goes unused.
The district will also work with the school district on an intergovernmental agreement for park management, engineering and a timeline for construction.
"We would work with the school district to do construction at a time that works best for them," Baker said.
Plans aren't final, but the Parks District is considering implementing certain parts, such as the paving, as early as this fall. The greater set of improvements is permitted to be completed by 2018.
"It's a great project," Baker said, noting that all the 35-plus comments the county received were either positive or neutral on the park designs.
Most of the development of the park would take place in the now wooded stretch between the ballfields' gravel lot and Indian Creek Road. The bike skills area would develop a swath of land in the northeast part of the property, while the courts would run north-to-south along the parking lot. The park will connect to Indian Creek Trail.
•
The Parks District Board of Directors will meet next at 6 p.m. Wednesday, July 20 at the Hood River Aquatic Center party room. Agenda items include the recruitment process for its new executive (following director Lori Stirn's recently announced resignation, which is effective in September), an update on park code by County Planning Director John Roberts, and discussion on multiple potential parks.
The print edition of this story should have clarified the state parks grant is set to expire this fall without the option of renewal.