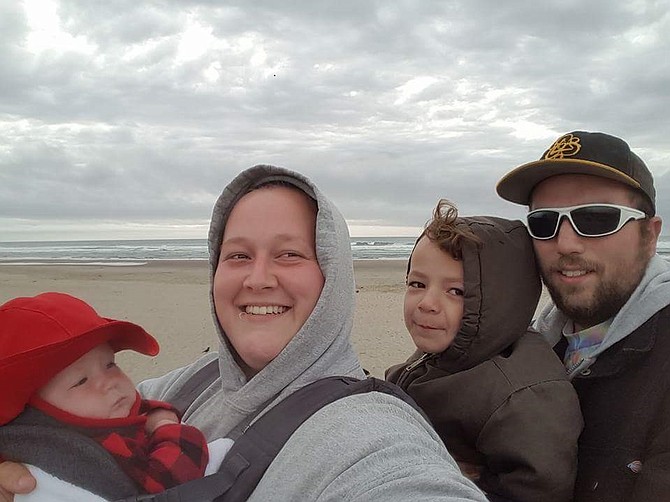 If there's one thing Kaius Johnson, 4, needs, it's friends.
And he has them. But he could always use more.
Kai, as he's also known, has a number of medical issues, and underwent an eight-hour surgery last week to remove one-eighth of his brain in an attempt to stop his hours-long seizures.
That's why Amanda Dommer, family friend, has organized a Zumbathon fundraiser for Kai and his family on July 23, beginning at 9 a.m. at the May Street Elementary cafeteria. Donations will be taken at the door, with silent auction and raffle prizes available. All are welcome.
Kai's mother, Crystal Noyes, said funds will go towards adopting a rescue dog and training it to become a registered service animal — they have applied for service dogs "several times" and have been denied. In addition, they hope to find toys and activities that will help with Kai's mobility and visual difficulties.
Noyes is also hoping the event will raise awareness on epilepsy.
That's one of the many issues Kai faces, due in part to a traumatic birth — he had to be delivered by emergency caesarian section and then resuscitated, and was soon after transferred to Doernbecher NICU, where he spent his first six days on a ventilator and his next three weeks at the hospital.
After he was released, he was home for five days before heading back to NICU for another two weeks.
"Basically since his birth was so traumatic, his fat cells died in clumps in his arms and back, and when they began to break down and be reabsorbed by his body, it made his calcium levels dangerously high," explained Noyes.
Seizures have become the norm. He has a brain malformation, called Polymicrogyria, "which basically means he has too many small folds in that part of his brain," said Noyes. "It affects the left side of his brain, both in the parietal lobe and the occipital lobe. His left side of his brain is much smaller than the right side, so he has mild cerebral palsy that affects his right side because of these differences in his brain anatomy."
While a typical seizure lasts less than five minutes, "every single one of his seizures last until we stop them with medication, and the medication becomes less effective at stopping them as time progresses," she said.
Recently, Kai had a seizure "that lasted over six hours. We gave him his emergency meds at home and had to call an ambulance when they didn't work," she said. "They gave him additional medicine in the ambulance, which made him sleep, and we thought the seizure was stopped. Then the meds wore off and he began seizing again, and we had to give him more."
The result of these seizures is serious brain damage, and it's unlikely his brain will heal.
"He is facing a lifetime of disability and dependence on others if we can't stop the seizures now," Noyes said.
To that end, Kai underwent surgery July 12 to remove part of his parietal lobe and most of his occipital lobe from the left side of his brain. There is a 50 to 75 percent chance this will cure his epilepsy, but with it the risk of losing half of his vision in each eye and the possibility of paralysis on the right side of his body. More surgeries may be required in the future.
Despite the challenges he faces, Kai is a typical soon-to-be 5 year old — he celebrates a birthday in September.
"Kai has been struggling his whole life, and he is one tough little guy," said Noyes. "He is full of energy and loves people, he loves to dance and ride his bike. He is a fighter and has never once given up."
"As a new mom, I can't begin to understand her struggles," Dommer said, "watching your son have devastating seizures that last hours at a time and not being able to do anything about them. That's a horrific thing to have to endure. So I decided to do something that was meaningful for their family."
She approached her Zumba instructor, Alicia Beckman, with the idea, and Beckman has since recruited six more instructors throughout the Gorge to help with the benefit. Dommer has also received support from Flow Yoga, Wy'East Vineyards, Andrew's Pizza and The Gorge White House, "to name a few. There are many more out there who have supported us, and we thank them so much for their contribution."
Kai lives with his mother, stepfather Casy Wise, and 9-month-old sister Minerva, whom he adores. His father, Benjamin Johnson, lives in White Salmon.
"Kaius' condition has meant we never get to relax," Noyes said. "We are always anticipating the next seizure and are fully aware that we could lose him at any time.
"I consider this fundraiser to be an incredible kindness," she added. "Amanda saw that we were struggling and spent time thinking of a way she could help us … We feel so incredibly thankful to have friends and community members who are willing to all work together to pull an event together to benefit Kai. It is truly incredible to witness firsthand the kindness and generosity that our little town has to offer."