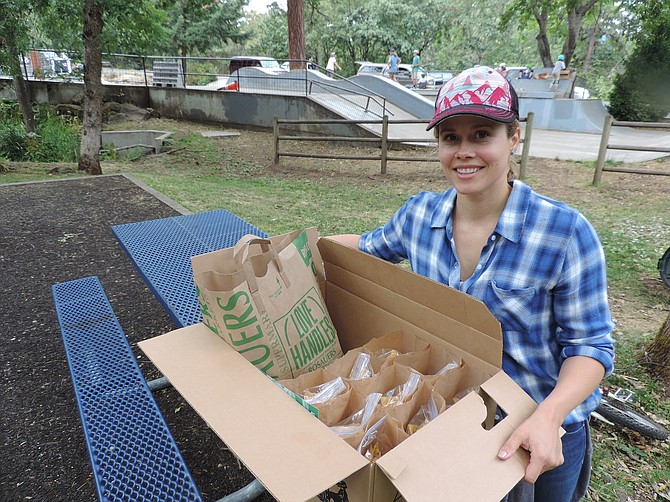 Skating teens and elderly residents alike enjoyed a free sack lunch at Hood River Skate Park Monday, the first day of a unique "work in progress" nutrition outreach by local volunteers.
Katie Haynie and Monica VonLubken handed out school district-provided lunches and more than 25 bags containing fruit, juice, instant soup, chips and crackers, made possible by a grant from FISH food bank.
Haynie is Hood River mother who said she saw the need for augmenting summer meals to local kids, and turned to FISH and the Hood River County School District nutrition department.
At select locations including apartment complex common areas, volunteers are passing out lunches provided by the school district or FISH donations, or both.
Essentially, from July 18-22 there are two feeding sites for all kids, ages 1-18, this week from 11 a.m. to noon at Rotary Skate Park and Indian Creek apartments.
"I presented this idea to FISH and the school district asking if there was anything I could piggy back off," Haynie said. "They have been great partners."
She said an elderly couple pulled up to the Skate Park Monday and asked about the lunches. While they are intended as an outreach to youth in need, volunteers will give help to anyone who asks.
She said the needs vary, and lunches have gone to those with actual food insecurity, others who might not have had someone make them a lunch that day, or happened to be hanging out and asked for a lunch. There was plenty to go around.
"Even if 10 percent of the folks we connect with have an actual need, it's worth it. The key is getting the word out so that others can come and take part," Haynie said.
"This year, our only goal is to evaluate the need and learn how to better get food to those with food insecurities. That way, the program can be conducted throughout the summer on a bi-weekly basis, giving youngsters a bag of food to take home," Haynie said.
Haynie and others are also taking FISH food bags to mobile home parks and other locations where a need has been identified, but that is an ongoing process, she said.
"The thought is, the best way to get the food to kids that need it, is to get it to them directly in their neighborhood, or as close to their door as possible," she said
The original Heights location on Monday was not drawing many people, so the manager of Indian Creek Apartments approached volunteers and offered use of a popular courtyard at the complex. It's an example of how the community is helping meet the need, according to Haynie.
"We're adjusting as we go," she said.
Haynie noted that FISH didn't have a program and the HRCSD must adhere to federal outlines when it comes providing nutrition programs.
"We can take the bags of food that FISH sponsored to doors, but we have to be at a specific site for the HRCSD food and the sites are not always close to targeted neighborhoods," Haynie said.
"FISH has been so incredibly generous with their energy, time, and resources. And so encouraging."
Volunteers will be on hand at the Skate Park and Heights locations from 11 a.m., to noon each day this week, and they are getting plenty of help:
Hood River Fire Department has several paid and volunteer personnel patrolling the neighborhoods to spread the word about the lunches, and Hood River Police officers are doing the same thing.
A Kidz Dental Zone donated toiletries.
Dog River is donating fresh cookies that were passed out to kids on Tuesday.
The Hood River Library donated books that will be passed out Wednesday (and the rest of the week until gone).
Mike's Ice Cream donated coupons for ice cream cones that will be passed out on Thursday.
Juanita's donated bags of chips.