On Monday night, Hood River City Council invites the public to attend a presentation about proposed changes to our solid waste collection services. The presentation will be part of the regularly scheduled meeting at 6 p.m. at City Hall, 211 Second St.
The proposed changes came out of a lengthy process kicked off in 2014 in response to citizen concern about nuisance, public safety and environmental impacts of the city's waste collection system. A "waste working group" was formed at the direction of city council, and has been working to define a program that would address these issues. This sub-committee includes business members, recycling advocates, city staff, city councilors, and Hood River Garbage (Waste Connections).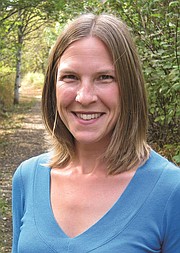 Currently, residents have the option to get weekly, bi-weekly, monthly or no (self-haul) service from Waste Connections, the city's vendor for waste collection services. In the new system, residents would receive three roll-carts (the size of carts depends on current service level), one for garbage, one for recyclables and one for yard and kitchen debris. Yard and kitchen debris would be picked up weekly and converted to high quality compost that will be re-used locally. Garbage and recyclables would be picked up on alternate weeks. This higher level of service and the capital investment in roll carts and special equipment would be paid for by a price increase of $7.25 per month for most ratepayers, according to Waste Connections.

We live in a windy place. On garbage day, it's very common to see garbage flying around and empty garbage cans rolling down the street. Roll-carts have lids, which address this issue, and are also known to help significantly decrease the amount of waste headed to the landfill.
In Portland, which initiated a similar three roll-cart system in 2010, the new program has decreased the volume of garbage sent to landfills by 32 percent and increased residential composting collections by 250 percent by the second year of the program.
A non-scientific survey conducted by Tri-County Hazardous Waste and Recycling in 2015 revealed that 95 percent of respondents were willing to pay more for enhanced collection. About 90 percent indicated environment/curbside composting as a key reason why, and 78 percent indicated safety as an important factor.
Council member Mark Zanmiller said, "The roll-cart system provides a nice range of benefits, from safety improvements for residents rolling carts to the curb, to yard debris composting, to the reduced carbon footprint that comes with landfill diversion. It's a good program at a good time."
The waste working group includes Hood River Garbage (Waste Connections), Tri-County Hazardous Waste and Recycling, Celilo Restaurant, Hood River Vacation Rentals, Dirt Hugger, city staff and city councilors Mark Zanmiller, Susan Johnson and myself.
If the council approves moving forward with the new program, a pre-launch education program will be defined to ensure that residents will be prepared for a Spring 2017 service launch.
Council Member Becky Brun ran on a "sustainability" platform when running for office.