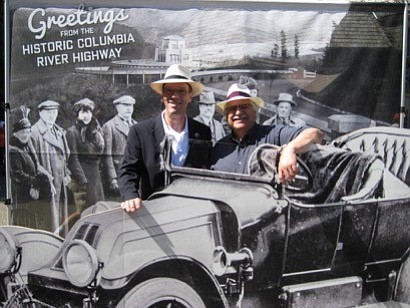 The Oregon Department of Transportation is sharing with The History Museum of Hood River County a brand new portable history display, "A Road Trip of Historic Proportions," that the agency developed as part of the centennial celebration for the Historic Columbia River Highway.
The museum is among several venues in the Columbia River Gorge and in the Willamette Valley that will show the display, which includes a group of tourists standing behind a full-size cutout of John B. Yeon's 1915 Franklin automobile. Yeon, who oversaw construction of the Multnomah County segment of the historic highway, often hosted tours of the road. The backdrop shows Vista House at Crown Point.

The display offers visitors the opportunity to step back in time and be photographed among tourists from a century ago, when the highway first opened. The display also includes an interpretive sign that informs visitors of the highway's importance in American history and of the present restoration and reconnection efforts.
Information about ongoing and upcoming exhibits about the historic highway will also be available. The display is 10 feet wide and 5 feet deep.

The History Museum of Hood River County will host "A Road Trip of Historic Proportions" through Aug. 1.