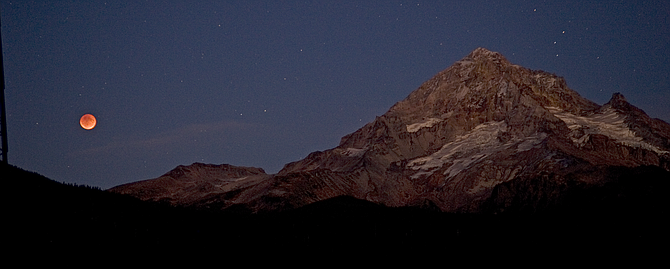 It took a recent 3,000 mile road trip to confirm what I have quietly and reverently embraced for 20 years. There is no deeper feeling than the unconditional love between father and daughter.
This once in a lifetime road trip began a few weeks ago with a 12-hour drive to share with family in the joyous celebration of Sofia graduating from the University of San Francisco. It was also my birthday, so sitting in the magnificent St. Ignatius cathedral and watching her strut with confidence to receive her diploma was the best present I could imagine.
Our original plan after packing up her belongings from her apartment was to slowly work our way home and visit parks and places in eastern Oregon she had not seen, like the Painted Hills, Steens Mountain and the Alvord Desert. But on my way out of town, a dear friend had given me a guidebook to the western national parks for my birthday. On the cover was an image of bison with the Grand Tetons rising in the background. I showed it to Sofia and wistfully blurted out, "Hey — wouldn't that be cool to go there?" Before she could even verbalize her enthusiasm for the idea, her illuminated eyes said it all.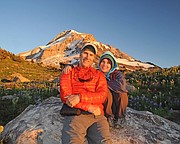 So we packed her up and headed east. Within an hour of leaving the Bay Area, she was fast asleep. I looked over at her and smiled and began to reflect on the 20 years of her remarkable life so far. How blessed am I, I thought, to have had the privilege of being along for the ride.
She came into this world with a thirst for life, and before she was 2 years old, I could tell that she was going to be a natural leader. I remember when she first discovered the power of language, especially when she shouted "No!" with a devilish twinkle waiting to gauge parental response. Her activist leanings were on full display at the age of 5, when she had friends over and tried to organize a fundraiser for homeless animals, complete with a chart with options for which animals the group would vote to support. When the U.S. invaded Iraq, she set up her Barbie dolls and made little protest signs taped to the figurines.
When I underwent open heart surgery, I was stuck in the hospital and was crushed to have missed her June dance recital. I vowed to never miss another milestone event again. Her choice to attend USF was the perfect fit for her interests, blending the multi-cultural aspects of a dynamic city and the Jesuit philosophy of creating change through social justice initiatives.
Last fall, during her study abroad semester, immersed in the indigenous culture of Peru, we received vague information that she had become ill and needed to be hospitalized overnight at a clinic. I had my truck packed ready for an overnight to climb South Sister. The next day I was going a bit crazy waiting to hear what was happening, so I decided to go ahead with the trip, largely because of a fond memory of this climb with Sofia years ago and I wanted to be somewhere to honor her and do a blast out 12-mile trek to stay calm. At the summit there is normally an azure blue glacial pond called Tear Drop Lake. My plan was to scramble over there and burn some special sage and send her a prayer of healing. But to my disbelief and utter dismay, the lake was gone, a victim of too warm of a summer. I dropped to my knees and just let the flood of emotions come pouring out, noting the irony of my tears dropping into this dried up pool. I raced down the cinder cone peak, not sure what to do next. I suddenly remembered that it was the night where the full blood moon was expected to peak right around sunset. The easy option would be stay put at Sparks Lake and wait three hours for a photo shoot, or I could take a chance and speed back to Mount Hood and hope to get there in time. What would Sofia do, I asked myself. The resounding answer was "Go for it!" Three hours later, speeding up the west side of Mount Hood on the Lolo Pass Road, I caught the moon cresting the ridge with moments to spare. Later that evening the news came that Sofia was going to be okay.
After a butt numbing drive across California, Nevada, and into Wyoming, we rounded a bend outside of Jackson, and there stretched out before us was the unending majesty of the Tetons. With alternating wows and oh my gods and fist bumping congratulations that we made it, we drove north under threatening skies and quickly set up camp at Jenny Lake. It began to drizzle, but we fired up the stove and enjoyed a mash up meal of Pad Thai, fresh salad, and leftover birthday cake loaded up with spray whip from the cooler.
The next two days were a surreal experience of close up encounters with bison, searching for moose, standing in the same place where Ansel Adams created the lasting view of the Tetons and Snake River and experiencing the other-worldly land of Yellowstone. With just one day left, we decided to hit two major geyser areas. There are no words for this place. It simply must be experienced. The combination of swirling steam, wind, the mist rising from the cerulean hot waters, from moments of zero visibility to flashes of land forms so primordial and wild it left me speechless.
As we left Yellowstone and began the long journey home, Sofia fell asleep and once again I looked over and thought about all the gifts she has brought to my life. When my mother died five years ago, it left a huge hole in my heart, but she lives on in Sofia. Now that Sofia is an adult, I have such a deeper appreciation for the uncanny gestures and personality traits like my mother — her razor sharp sarcasm, her unflinching knowledge that she is correct on all matters, and a brutal honesty that can leave a lesser man in shreds. But these are all recognizable terms of endearment passed down from one generation to the next. As with my mother, we have a quiet unspoken understanding of this fiercely unbreakable bond between us.
My mother waited until the last days of her life to write me a letter expressing her deep feelings. Life is too short to wait a moment longer, so tell your daughter, spouse, lover, best friend exactly how you feel. In a world where we often feel pressured to meet other's expectations, where fixed identities and thought patterns often get in the way of telling someone exactly how you feel, I relish the freedom to engage with my daughter openly and honestly. There is nothing more powerful than the language of feelings.
At graduation, the commencement speaker spoke of "the electrifying cocktail of pride, joy, and excitement of seeing your child graduate."
Add unconditional love, stir, and savor.