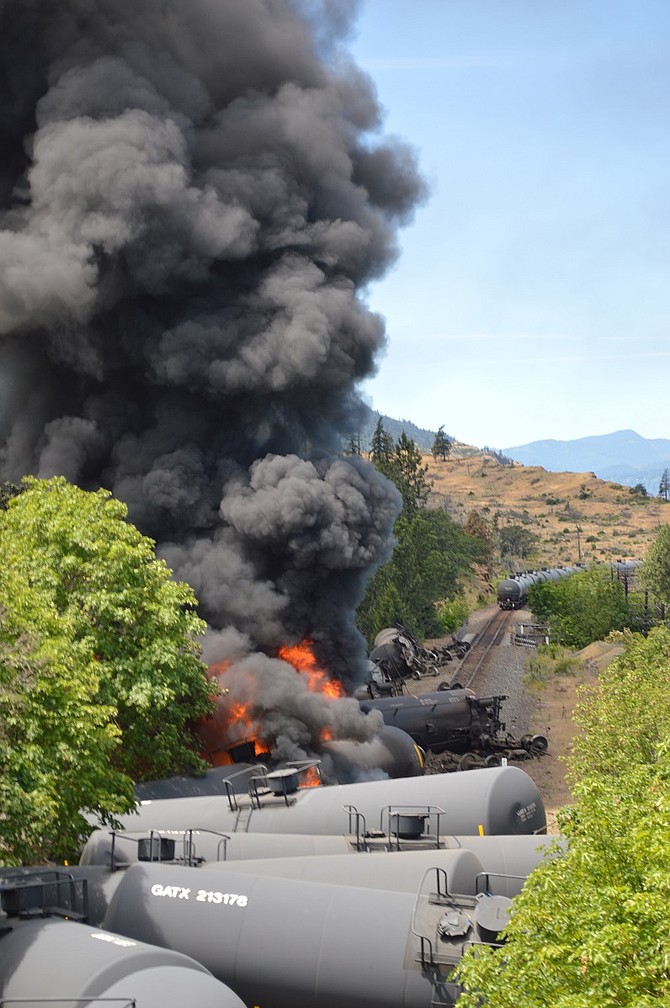 A fiery 16-car train derailment and oil spill in Mosier left the community reeling in its wake.
No deaths, injuries or structural losses were reported, but the town of about 400 people faces a long path to recovery.
"We were wondering … if we would be obliterated," Arlene Burns, mayor of Mosier, said.
The 96-unit Union Pacific train, which was hauling Bakken crude oil from Eastport, Idaho, to Tacoma, Wash., derailed just west of Mosier shortly after 12 p.m. Friday, spilling oil and igniting a fire along the tracks near the Rock Creek overpass, not far from the Columbia River.
Flames fully engulfed one tanker, and three others caught fire, with smoke rising in a massive black plume that was visible from Hood River and The Dalles. Homes within a quarter-mile radius of the derailment were evacuated, as were all students at the nearby K-8 Mosier Community School campus.
It took crews — made up of more than a dozen local, state and federal agencies — more than 12 hours to douse the blaze.
Officials estimate 42,000 gallons of crude escaped four rail cars. Each railcar can hold 24,000 gallons.
About 10,000 gallons were discovered and removed from Mosier's wastewater system after the crash, with the remaining 32,000 gallons burned off and vaporized, captured by booms in the Columbia River, or absorbed by soil. An undetermined amount remains in Mosier's municipal wastewater lines.
As of Tuesday morning, 13 cars remain at the wreckage site and two have been emptied. The oil is being transferred to The Dalles for transport by rail to its original destination in Tacoma. The empty cars are still resting to the side of the tracks, crumpled.
Crews "transloaded" more than 65 truckloads of recovered oil to The Dalles by Tuesday morning. Oregon Department of Transportation estimated that about 25 more truckloads remain. Once all of the oil is removed, crews will begin removing the damaged rail cars.
A Union Pacific representative, Raquel Espinoza, told the News Monday the likely cause of the crash was a faulty "fastener," or bolt that fastens the rail to the railroad ties. However, she said a final determination hasn't been made.
Union Pacific plans to file an investigation with the Federal Railroad Administration this week.
When the cars derailed, the oil leaked into the nearby Mosier wastewater treatment plant, an Oregon Department of Environmental Quality representative said.
"My understanding is that when the cars derailed they damaged the plant … some oil saturated the plant through the ground and through pipes that were exposed," said DEQ spokesman Greg Svelund.
A "light rainbow sheen" of oil was spotted in the mouth of Rock Creek, which feeds into the Columbia River.
Hood River County Sheriff's Office officials put out booms when it was spotted Saturday, and crews have contained the sheen. Washington Department of Ecology and tribal agencies are monitoring the sheen for environmental impacts.
Mosier residents have been coming back gradually since the evacuation order on most homes was lifted this weekend.
Jody Henderson, manager of Mosier Manor, on Monday said park residents were glad to be back home.
He spent much of the day checking on neighbors, setting up outhouses, and delivering cases of water bottles from Union Pacific's claims filing center, which the company set up across from the Mosier Market.
Water sample tests showed that the water is now safe to drink, ODOT reported. At 2 p.m., Monday, June 6, the city lifted the boil water advisory for all residents except for two homes on Rock Creek Road.
Long-term issues remain for the city's sewage system, which was flooded with oil during the derailment.
The city has set up a temporary solution, where wastewater from toilets and sinks is piped into large containment tanks and trucked out to Hood River's plant on Riverside Drive for treatment.
Mosier's plant is still offline as multi-agency crews clean out the oil within its network of pipes.
"I think people are starting to look at longer term issues now, like how we fix our water treatment plant now. It may take a few weeks," said John Grim, Mosier city engineer. "The amount of resources has been insane and the local communities from all around the Gorge have been completely willing to do whatever it takes to help us — it's been really impressive."
Mosier Community School cancelled class for the week, and likely the summer.
Federal, state, tribal, and local authorities remain at the command center on the main drag of Mosier, and public access to the train tracks where officials are working is prohibited.
"We have a lot ahead of us to get back to normalcy," Burns said.
Railroad resumes traffic, Oregon lawmakers call for halt
On Sunday evening, Union Pacific began moving trains reportedly bearing mixed goods through Mosier — past the site of Friday's fiery derailment and oil spill — despite an outcry from Mosier's elected leaders.
Traffic resumed on the rail line through Mosier on June 5, with trains limited to 10 mph, instead of the usual 30 mph limit.
The City of Mosier passed a motion at an emergency meeting Sunday afternoon asking Union Pacific to hold off on any new rail shipments until all oil had been removed from the scene.
Several of Oregon's highest elected officials joined their cause.
On Monday afternoon, Oregon Gov. Kate Brown, U.S. Senators Ron Wyden and Jeff Merkley, and Representatives Earl Blumenauer and Suzanne Bonamici issued a joint statement demanding a temporary freeze on oil train traffic through the region.
"Oil train tankers are still lying on their sides in Mosier, the ground and water have yet to be cleaned up, and there's still no good explanation for the cause of Friday's crash," the state leaders said. "It is too soon to resume oil train traffic through the Columbia River Gorge."
The lawmakers argued Union Pacific needs to give the Mosier community a thorough explanation of the derailment's cause, and prove the company is "taking the necessary steps to prevent another one."
The statement also announced the legislators will be putting pressure on the Department of Transportation to "take a hard look" at alternative routes for trains bearing hazardous fuels.
However, the lawmakers' demands didn't call for an outright ban on all goods by rail.
About eight trains had moved through Mosier by Monday morning, Espinoza said. They contained mixed goods, some destined for "big box stores," but none were oil unit trains, she said.
Espinoza said Union Pacific won't be bringing through any oil unit trains through the area for the time being.
Mosier was one of several Gorge cities that have gone on the record opposing oil traffic through their limits. The City of Hood River issued a resolution in December 2014 calling for a total ban on fossil fuel rail shipments through the city, and Hood River County followed suit in July with a call for greater state and federal oversight of crude oil shipments. The Dalles passed a similar resolution last year.
Hood River City Council members Kate McBride and Peter Cornelison took part in an anti-oil train rally in downtown Hood River that brought in more than 100 people.
Hood River Mayor Paul Blackburn said city council will be deciding "how much to plead" with political leaders to implement greater protections against crude-by-rail transports through the region.
"We dodged a bullet but it kind of hit our neighbor … it didn't kill our neighbor," Blackburn said. "It could have been so much worse."
The Dalles Mayor Steve Lawrence shared those concerns, arguing, "We cannot celebrate our scenic area, build and reopen our historic highway and at the same time allow such dangerous rail shipments to occur."
For more updates on this story, go to www.hood rivernews.com and www.the dalleschronicle.com.