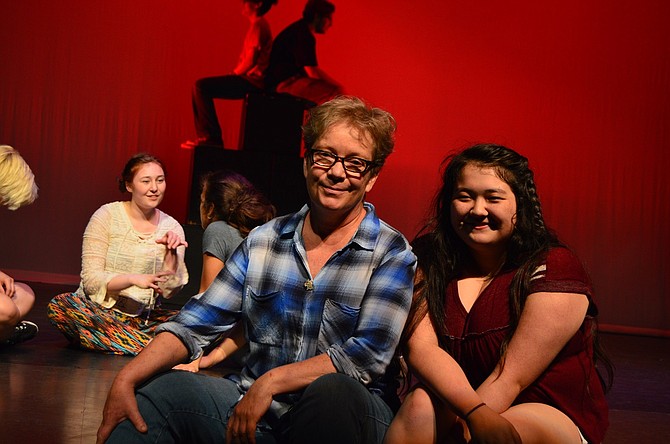 Sunday's Tony Awards playbill will contain a familiar name and school, thanks to the efforts of students and community members.
Rachel Harry, Hood River Valley High School theater arts teacher, has won The Tony Awards and Carnegie Mellon University Honor Teachers with the Excellence in Theatre Education Award in the honorable mention category. Her name and HRVHS' — along with the one award winner, two runner-up winners, and 19 other honorable mentions — are currently on the award ceremony's website (www.tonyawards.com), and will make their print debut at Sunday's ceremony.
According to the Tony Awards website, "This annual honor recognizes a K-12 theatre educator in the U.S. who has demonstrated monumental impact on the lives of students and who embodies the highest standards of the profession." A panel of judges, consisting of the American Theatre Wing, The Broadway League, Carnegie Mellon University and other leaders from the theater industry sorted through 1,100 qualifying nominations and chose the 23 winners — of which Harry was one.
The nomination was organized by HRVHS Art Teacher Amirra Malak and students Claire Hamada and Olivia Newcomb, both seniors and four-year theater students — without Harry knowing anything about it.
Malak learned of the theater award while scrolling through her Facebook feed and immediately thought of Harry.
"I've known Rachel for many years. We've taught in the fine arts department at HRV together and collaborated on set design," Malak said. "Back stage, I have been able to witness firsthand the tremendous impact her teaching has had on her students. I consider her a friend and mentor and was thrilled to be able to nominate her for this award."
But the process had to be initiated and completed by students, so she texted Newcomb and Hamada, who set up a private Facebook page, "Nominate Krum," Harry's nickname.
The page "blew up," said Hamada, and soon, more than 200 past and present students, parents, community members and even playwright Elizabeth Wong — Harry debuted her play "Does My Head Look Big in This?" in February 2014, the first time it had ever been performed — combined their efforts to secure Harry a nomination. Even students from 20 and 30 years ago were submitting photos and information, Hamada said.
And it's that effort that touches Harry the most.
"The collaboration on this thing was huge," she said. "A nominating package has to qualify. Out of several thousand entries, only 1,100 qualified, and then out of 1,100, only 23 candidates were selected. To be a part of this group, to have my name and our school's name on the playbill for the Tony Awards' night thrills me to no end."
Since it was a secret, Harry had no idea why students and staff began asking her "odd questions out of the blue." Her daughter, Tay, also got in on the act, claiming she needed to talk to someone in theater for a college assignment. Photos and video were a little harder to hide.
"The fact they had to be so conniving and sneaky — it was a lot of work," Harry said. "They were asking me questions surreptitiously, how long have I taught, what my masters was in, etcetera. A former student … collected the interview tapes and the secretly taped segments of me teaching and put them together in a video.
"It was their work that got me the recognition. To me, that's so amazing. It was an unbelievable amount of work."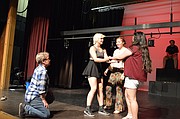 Terra Neal, a former student who now resides in Eugene, was put in charge of all letter submissions and whittled those down to three: one from a teacher (Malak's letter was chosen), a former student (Cayla Sacre) and a parent (Terina Neal). Nicole Scribner, now at the Seattle Film Institute, volunteered to take photo and video submissions to make into a three-minute video.
Less than a month later, Hamada sent off the packet, receiving word last week that Harry had won. She announced it at the high school's Evening of Excellence ceremony, right after Harry had given her "The Proper Thespian" award.
"We surprised everyone in the auditorium," Hamada laughed — Harry included.
"I had just presented our top award in the Theater program to Claire and was standing on the risers with my students and Dan (Kenealy, music teacher), who was waiting to present awards to his music students," Harry said. "Claire walked up to the podium and I thought, 'Okay, she is going to call the names of the music students.' Instead she starts talking about me. Evidently Dan knew about the award. I started crying, Dan starting tearing up, and then the crowd gave me a standing ovation.
"What a big surprise."
Hamada was happy to help spearhead the nomination because Harry has had a big impact on her own life. She's been a theater student and techie since her freshman year, and calls the program "home."
"She's an amazing teacher and mentor-slash-counselor," Hamada said. "She's always there for everyone, and helps kids out. She definitely deserves (the award) — she's a second mother for the entire theater department. I could go on and on. She's amazing."
Denise McCravey, theater and music parent volunteer, was excited to learn of the nomination and award because she's seen firsthand Harry's teaching style and philosophy.
"She does more than teach. To see the difference in the kids … it almost brings tears to my eyes," she said. Her son, Matthew, a junior, "started as a freshman with her, and to see all of these kids change, now that they're juniors and seniors … she has this amazing ability to help them be fine with who they are, more than fine with who they are. She doesn't try to put them in a box. She builds their confidence, so by the time they're seniors, they do remarkable things.
"Her door is always open and there are always kids inside, all during the day, that's their safe place," McCravey continued. "She has a couch, and if you just need to come and sit and talk, there you go. I've never seen her turn anyone away."
While the students were ultimately able to keep their nomination a secret, there was one small hiccup: Harry got an email from the Tony Awards committee stating that she had been nominated and asking if there was any reason why she should not be considered.
Not understanding what the email meant, she replied that she was eligible, and then promptly forgot about it.
"I thought, 'Yeah, right, that's never going to happen,'" she said.