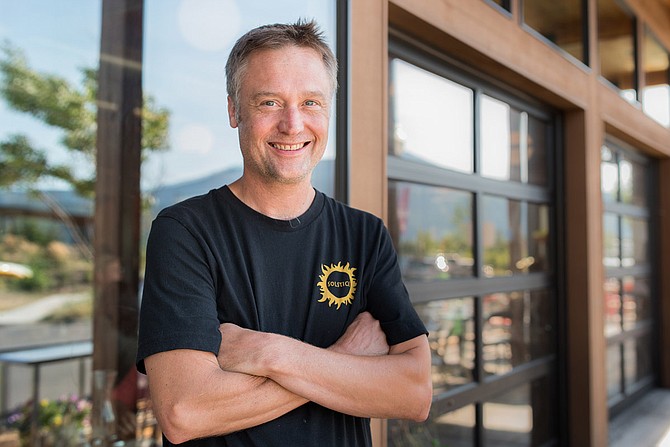 When you walk into John Helleberg and Marcie Wily's house, you enter through the side door directly into the kitchen, which is fitting for a family whose life and livelihood is mostly centered on food. As you are welcomed into their simple, cozy kitchen you're greeted by a flurry of activity led in equal measure by their children, Sophie and Jack, and their Labradoodle, Hank.
Like in many of our homes, their daily routine rounds into the question, "What's for dinner?" Unlike many of our homes, John happens to be a professional chef. After moving to the Gorge to work as executive chef at Celilo Restaurant and Bar, John and Marcie opened their own restaurant, Sophie's, which they ran for several years. After that, John spent some time at Brian's Pourhouse before settling most recently at Solstice Wood Fire Café & Bar.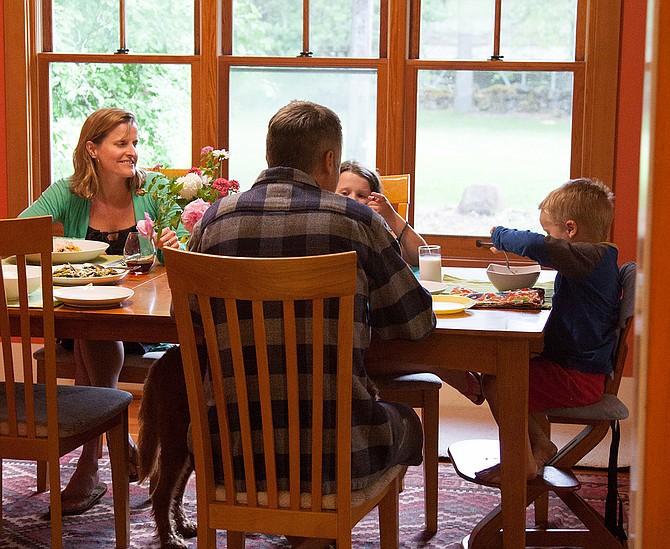 The relationship between John and Solstice owners Aaron and Suzanne Baumhackl is grounded in their collective passion for food and a focus on elevating the main dishes offered in the restaurant. That passion translates to John's home kitchen, and vise-versa. "If work is exciting," John said, "the more excited and inspired I am to come home and cook… cooking at home is just for fun."
John's love for cooking is clear in the way he talks about ingredients both new and familiar, the fact that an entire wall of his living room is overflowing with cookbooks, and that even after a day at the restaurant, he is the one who does most of the cooking at home. His home kitchen acts as a test kitchen for side dishes and main courses for the restaurant. Two sides currently on the Solstice menu were first whipped up in John's home kitchen: Local Asparagus with lemon, garlic, Espelette pepper, olive oil and Grana cheese; and Grilled Cauliflower with chimichurri.
On the particular evening I visited their home, John had a pork ragu simmering on the stove. He offered to make pasta from scratch using the same recipe used at Solstice. When someone, especially a chef or an Italian grandmother, offers to make you fresh pasta, you say "Yes!" I didn't even have to say yes, because at the mention of fresh pasta, Marcie and Sophie chimed in with their votes and within minutes the flour, eggs, and olive oil were on their way to becoming rich, tender, fresh pasta. Sophie helped separate the eggs under John's relaxed supervision, and then together they incorporated the dough.
It was fitting that John made pasta for dinner since it's what graces their family table most nights.
John's variations on pasta dishes are simple and delicious: olive oil and fresh herbs; sausage and tomato; cherry tomatoes, basil, garlic and olive oil. There's also often the addition of fresh or dried fruit,
anchovies or capers for a creative, flavorful element. Tonight's pork ragu benefited from a flurry of dried cherries.
As a side dish, John prepared the same asparagus with lemon, garlic, Espelette pepper, olive oil and Grana that can be ordered at Solstice. As we sat down to the table to eat, and the kids began to slurp up their pasta, it became clear that eating well at home isn't about knife skills or access to fancy equipment. Eating well and creating a restaurant worthy meal at home is about having a little passion and a few quality ingredients.
"We do eat well," John said with a laugh.
John Helleberg's Recipes:
Pork Ragu
2 lbs ground pork
1 yellow onion, diced
1 carrot, diced
1 rib celery, diced
3 cloves garlic, chopped
4 cans whole peeled tomatoes
1 cup white wine
1 cup water or chicken stock
1/2 cup dried cherries
Brown the pork over medium high heat then add the onion, carrot, celery and garlic. Cook until onions are translucent, about 5 minutes. Add tomatoes, wine, water or stock, then simmer for approximately 1 1/2 hours, adding more water if needed. Add cherries, and season with salt and pepper to taste.
Pasta
1 cup "00" Flour
6 tbsp Semolina Flour
9 egg yolks
1 tablespoon extra virgin olive oil
2 tbsp water
Use either the well method, or combine all ingredients in a food processor and mix until the mixture comes to together to form a dough. Let rest for half an hour before rolling out by hand or with a pasta roller.