It was rainy, it was windy, it was cold, but the weather Friday night at Henderson Community Stadium failed to dampen the spirits of the Hood River Valley High School students and their loved ones who gathered to watch the Class of 2016 graduate.
Umbrellas, plastic bags, slickers, and ponchos shielded parents and guardians, brothers and sisters, friends and well-wishers who huddled together on the white chairs placed on the school's football field — normally dubbed the "preferred" seating area. On Friday, it was the last to fill up as most people made a beeline for the stands, seeking shelter from the elements.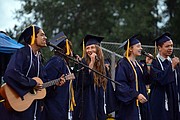 The moody sky contrasted against the jubilant celebration that took place at HRVHS, as the culmination of all the years of hard work that students have put in were celebrated, as were the caring individuals who raised the 295 Eagle seniors in this year's graduating class. Acknowledging those who have helped the students and the school was a theme that ran throughout the soggy ceremony.
HRVHS Principal Rich Polkinghorn gave a nod to those parents and guardians in his opening speech, stating that, "Your love and support for the past 18 years has been nothing short of spectacular." To the graduates, Polkinghorn offered up a quote from the late Muhammad Ali: "My only fault is I don't realize how great I really am."
"You don't need me to tell you how great you are," Polkinghorn told them, noting that this year's class consists of many types of people, including robot builders, athletes, college-bound students, future members of the armed forces, and those headed into the workforce. Some will be staying close, while others will be moving far away.
HRVHS' administration also took time to celebrate those from the community who have also helped this year's grads on their way to success, recognizing Shawna Russell and Lori Duffy as the Volunteers of the Year.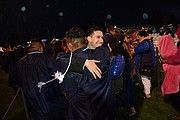 Russell was honored for her many efforts at the school, including working to help teen moms, tracking mountains of data for the ASPIRE program, and logging hundreds of hours of research into scholarship programs to help HRVHS students pay for college.
Duffy was recognized for her "enthusiastic support" of all of HRVHS' clubs and sports teams, keeping statistics for volleyball and supporting the baseball team. She was lauded for her fundraising efforts for school activities, helping to provide an increase in school apparel sales.
As in past years, student speakers addressed the crowd, with Beatriz Najera Perez and Jesus Chavarria-Barrera delivering speeches in Spanish, while Charley Boonstra and Hannah Hall gave theirs in English. Again, recognizing others for their efforts in supporting local students was a common theme, with Boonstra noting that "none of us have arrived here alone."
Also recognized during the ceremony were valedictorians Camaryn Chambers, Quinn Fetkenhour, Arthur Finstad, Talon Kennedy, Payton Rigert, and Marelie Vorster. This year's foreign exchange students also got a nod, including Kaja Frank (Germany), Jonas Kleinknecht (Germany), Apinporn Sillapajarn (Thailand), Marina Uehara (Japan), Katerina Vackova (Czech Republic), and Clara Vorgaard (Denmark).
Before fireworks were lit and mortarboards were tossed into the stormy night sky, HRVHS' chamber singers ushered in the diploma ceremony with the class song, "Fly Away," written by Miguel Vasquez and Olivia Newcomb, and performed by Vasquez, Newcomb, Kimberlee Boquist, Blaise Kaufman, and Victoria Kohner-Flanagan. Students swayed to the music, with sunflowers in hand, which popped against the dark blue of the graduation gowns. Though it was written before Friday night, one verse of the song nicely tied together to elements of that evening: bad weather, and the unwavering support of friends, family, and the community.
'Brothers, sisters, fathers, mothers
You have all made me better
Loving me through any weather
What will I do without you?'
Photo Gallery
Hood River Valley High School Graduation 2016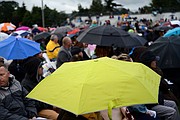 Scenes from Saturday's graduation at Hood River Valley High School. All photos taken by Ben Mitchell.