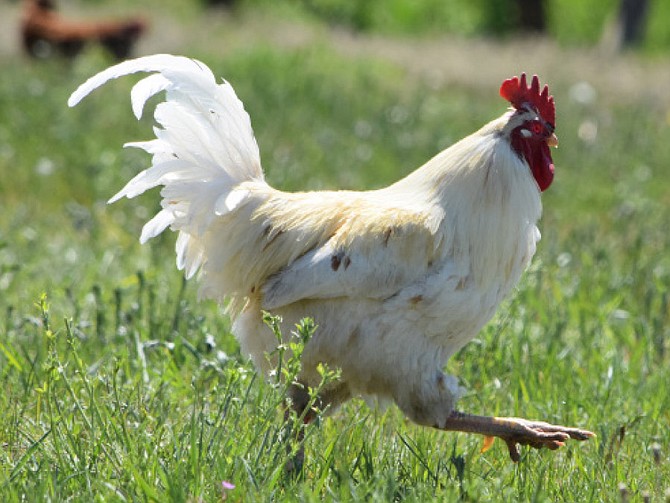 For TreeBird Organics, it's all about "getting good food in people's hands."
At least that's Michael Kelly's goal for the family farm that he and his wife Rebecca Wellman have re-established, nestled in the hills of Trout Lake, Wash. TreeBird Organics, formerly Sunnybrook Farm, specializes in pastured meats and organic eggs. The farm is 100 percent organic and is a part of Gorge Grown and Oregon Tilth, and is Animal Welfare Approved.
The farm consists of 45 acres (plus an additional 20 leased acres down the road) and began as a hobby farm for Wellman's parents. Wellman and Kelly began running the farm after the couple relocated to Trout Lake from Olympia, Wash. According to Wellman, they had read Joel Salatin's book, "You Can Farm", and thought, "yes we can."
"One of the great things about the land in Trout Lake is that everything is certified organic," said Kelly. "Everything you see has no pesticides including a non-chlorinated public water system. With these elements, it's not only a great place for us to live, but animals as well."
In March, after farming Sunnybrook Farm for five years, Wellman and Kelly felt they had outgrown the name and decided to change it to TreeBird Organics. Tree is Wellman's nickname and bird is Kelly's. "We also wanted to get 'organics' into the name since that's a key part of our values," added Kelly. "It's unique. It speaks to us."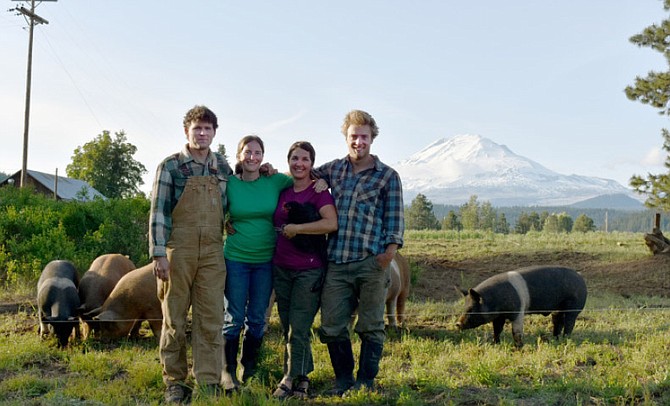 TreeBird Organics is home to pigs, cows, chickens and turkeys as well as several family pets and a dedicated working farm dog named Oly, whose main job is to protect the chickens and turkeys. TreeBird currently has about 180 hens that roam the pastures under Oly's watchful eye. They produce 10 dozen eggs per day. The farm recently purchased an additional 400 chicks that will begin laying in the fall. The eggs are hand collected twice a day and each one is hand cleaned and inspected to ensure that only the best eggs are sold to customers. "We personally select each egg — those are the ones that ship out that week," said Wellman. "We try really hard to get fresh out to our customers."
The majority of the eggs are sold wholesale to local stores including Rosauers and Farm Stand in Hood River and Feast in White Salmon, and the farm also sells directly to customers — including shipping eggs weekly to customers who order from the farm or online. Not only are TreeBird's eggs organic and Animal Welfare approved, but the Cornucopia Institute also rated them number one in the country. This rating was based on rigorous and thorough inspections that included evaluating the chickens' diet, size of pasture to graze on and everyday living conditions.
TreeBird Organics eggs, along with cuts of beef and pork, are also sold at both the Hood River and White Salmon Farmers' Markets. The pork is sold outright to customers prepackaged, or can be pre-bought as a share — either a whole share, or a half or quarter share. According to Wellman the quarter shares, which includes enough meat to fill a freezer, are the most popular.
TreeBird's meats are sold frozen at the markets because the farm only butchers a couple of times a year. The farm currently outsources all of its butchering and curing, but Kelly and Wellman are hoping to find someone who operates a U.S.D.A. mobile slaughterhouse so the butchering can be done on the farm. Not only does this get meat to their customers the fastest, but also it's also more humane for the animals, according to Kelly.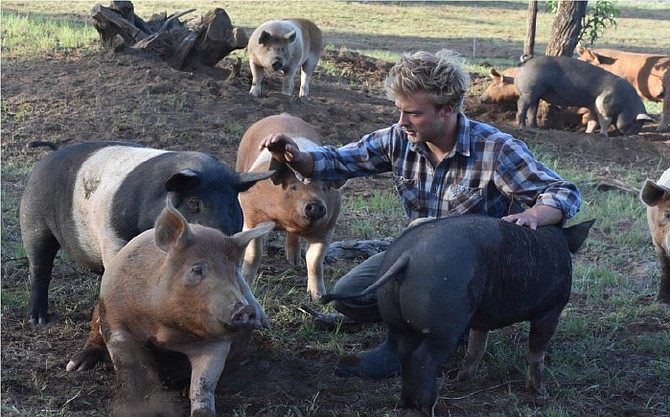 Soon, the couple also plans to sell chickens and stew hens. But that's about as far as they want to go, at least for now. "We focus on quality," said Wellman. "We could be raising goats and sheep, which we have, but we felt scattered. We're more focused now."
Although eggs, pork and beef are perhaps the most noticeable products of the farm, Kelly insists that another product takes priority above all of them. "Pasture is the number one product," he says. "Everything else we do is designed with that in mind."
The ultimate goal of TreeBird Organics is to be completely sustainable and figure out the balance of what the land can handle and what the land can effectively produce. According to Wellman and Kelly, soil and pasture are the number one things they are trying to grow. "We're trying to retain the soil and really grow it," said Wellman. "Top soil is a vital resource."