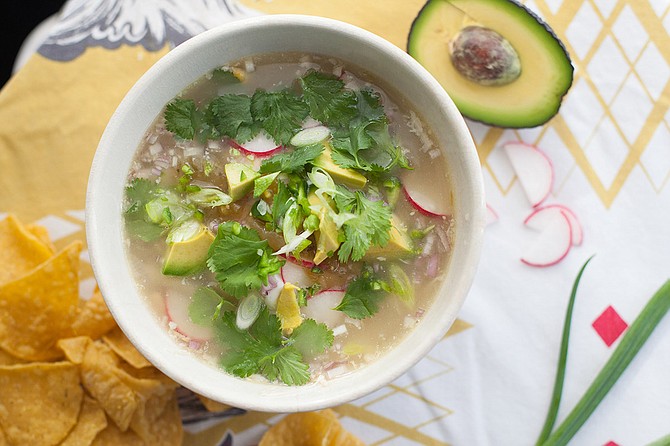 Inviting kids into the kitchen to help cook has many benefits: it allows them a sense of contribution, it actually helps with the food prep (sometimes), and it encourages them to try new foods. Sometimes it's not possible to have them help with the actual cooking; between activities and homework, the late afternoon and evening can be pretty hectic. A fun alternative is planning a simple meal that they can assemble at the dinner table. Tacos, burgers, ramen, and nachos are fun examples of this. One of our recipes that allows for kid participation at the table is Posole.
Posole is a classic Mexican soup traditionally made with hominy, meat (usually pork), and is generously seasoned and garnished with a variety toppings, including chiles, onions, garlic, radishes, salsas, lime, and more. The version we make is a simple chicken version loaded with hominy, sweet corn, salsa verde, and finished with lots of delicious toppings.
While my 5-year-old is generally pretty adventurous and varied with her toppings, my 2-year-old tends to add sour cream to the extent that she's no longer having Posole, but rather Sour Cream Soup with a side of Juanita's tortilla chips. The kids regularly request Posole for dinner in part because it's delicious and in part because it's fun, and kids are always up for fun.
A few tips for cooking with kids:
• Try to limit snacking. If and when kids are hungry, they're more likely to try new food and eat what's in front of them.
• Give kids cooking tasks that may seem above their ability. For example, my kids love to cut things up with a butter knife (mostly fruits and soft vegetables). They don't do it well by any stretch of the imagination, but they feel accomplished and proud and that is much more important.
• If your kid requests something they'd like to try for dinner, make it! My 5-year-old recently begged me to cook shrimp for dinner, and then she hated it. Turns out she meant "speck" which is a type of smoked prosciutto. It was something we all laughed about, and are still laughing about. So, even though the meal wasn't successful, we still ended up with a fun family food story.
• When our kids "don't like" something, we ask them to rephrase it as "don't prefer." We then tell them that it's fine not to prefer something, and that they might prefer it the next time they taste it. It's helpful to give examples of our own experiences with that, and to accept that they may never prefer peas (my 5-year-old), or eggs (my 2-year-old).
Great books about cooking with and for kids:
"French Kids Eat Everything" (Le Billon); "Start Fresh: Your Child's Jump Start to Lifelong Healthy Eating" (Florence).
My kids also love having their own cookbooks to look through, particularly "The Little House Cookbook: Frontier Foods from Laura Ingalls Wilder's Classic Stories" (Walker, Williams)
Posole Recipe
This Posole takes no time at all to put together and the result is a fun, fresh, bright, flavorful soup. The soup itself is really simple; the toppings are colorful and exciting and can be adapted to each person's preference, which is sure to make everyone happy. This soup is also great for a crowd or party.
Ingredients:
1 medium yellow onion, diced

3/4 cup salsa verde, plus more for topping

1 28 oz can hominy, drained and rinsed

1 cup frozen corn, thawed or fresh corn cut from the cob

2 quarts (8 cups) chicken broth

5 cups shredded chicken

extra virgin olive oil

1 shallot, minced

1 avocado, cubed

Cotija cheese, crumbled
1/2 bunch cilantro, washed and torn

4 radishes, thinly sliced

green onion, thinly sliced

1 jalapeño, seeded and minced

sour cream

lime wedges

kosher salt

freshly ground black pepper*
tortilla chips


Directions:
Heat 1 tablespoon of olive oil over medium heat, sauté the onion until softened, about 7 minutes. Add in 3/4 cup salsa verde and stir constantly for 5 minutes. Add in the hominy, corn, broth, and chicken. Stir it together thoroughly and bring it to a simmer, and cook, uncovered, for 15 minutes. Season to taste with salt and pepper.
Serve with all the toppings on the side, and a handful of your favorite tortilla chips.
Kacie McMackin is a food writer, blogger and photographer, and founder of gorgeinthegorge.com.