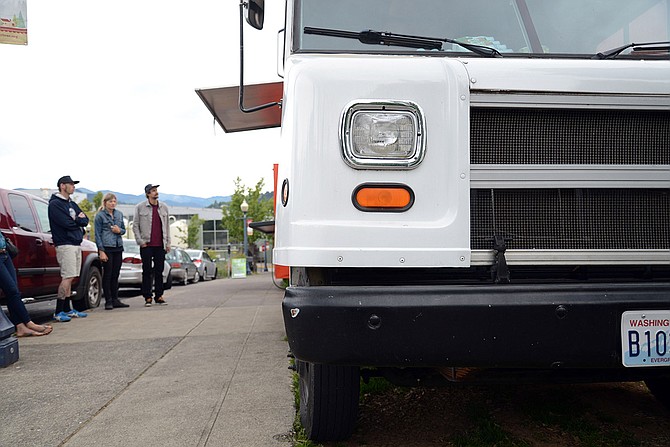 Once maligned as purveyors of lowbrow eating, food trucks have experienced a renaissance in recent years, serving up creative dishes from all over the world while simultaneously using fresh, local ingredients. Our neighbors to the west in Portland may get lot of attention nationally for their food cart scene, but the Columbia River Gorge has plenty to offer as well and the number of food carts has grown rapidly in the past few years. The cities of The Dalles and Hood River have nearly two-dozen licensed food carts between them and there are even more outside city limits. Here, we highlight a few local food carts to see what they're serving up and how they keep it fresh — both with the types of dishes on their menus and the ingredients that make them.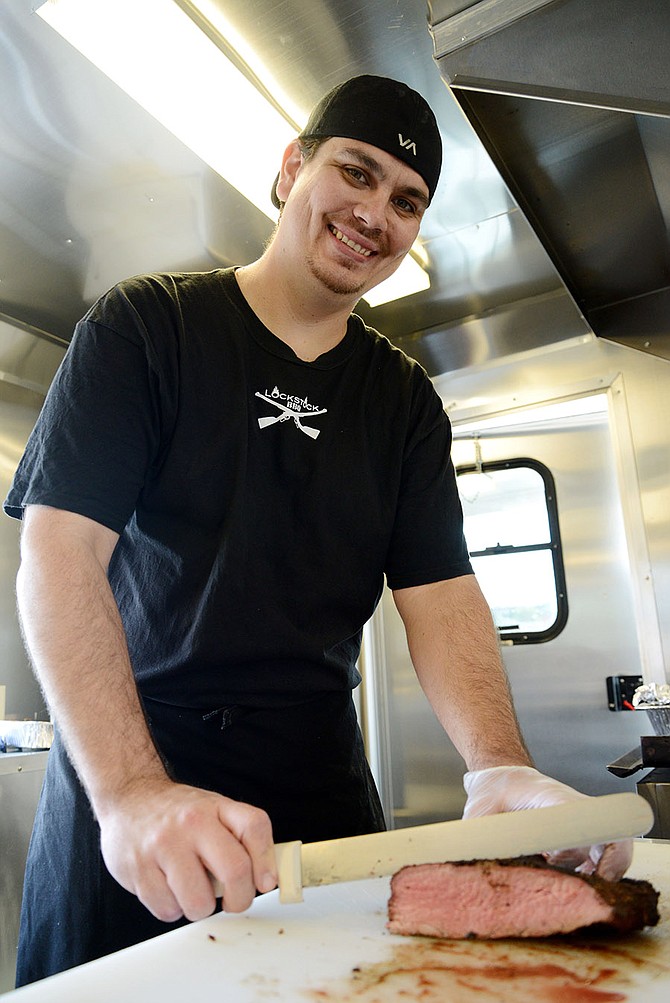 LOCKSTOCK BBQ — THE DALLES
(lockstockbbq.com or 541-300-9091)
Raymond Bustos works full time for Google, but on the weekends (and the occasional weekday) and at community events, he's serving up his Cajun-style barbecue to hungry diners in The Dalles. Bustos said his cousin, Travis Schofield, got him into barbecue competitions a few years ago and Lockstock BBQ has been racking up the awards in Eastern Oregon ever since, where judges have a shown a liking for Lockstock's low-and-slow style of barbecuing.
Bustos, whose rig consists of a custom-made 26-foot trailer containing a smoker and kitchen towed behind his pickup, barbecues various cuts of pork, chicken and beef, with the most popular being the ribs and the reverse-sear, blackened tri-tip. Because of the volume of meat he deals with, Bustos says he usually has to get meat from a wholesaler, but the product is always fresh because of high demand. At an event this spring, Bustos blew through 90 pounds of pork shoulder and 21 racks of ribs in three hours.
"A lot of the really successful barbecue operations are open until they are sold out," he explains. "Clients and customers usually get the feel for that and know, 'Hey we better show up if we want food.'" Bustos tries to source as much locally as he can, including honey to make his sauces and wood to smoke the meat, noting that "there's a little bit of pride and if I can give back to local businesses, I do."
The trailer is the ideal setup for Bustos. He says restaurant owners have to endure higher risk and overhead when opening their establishments, adding that "it's an industry where 50 to 60 percent at a minimum fail." And as the carts have become more popular in the Gorge and elsewhere, Bustos says the "ugly stigma" of the formerly named roach coaches is going up in smoke.
Now, it's some of the best food you can find," he says.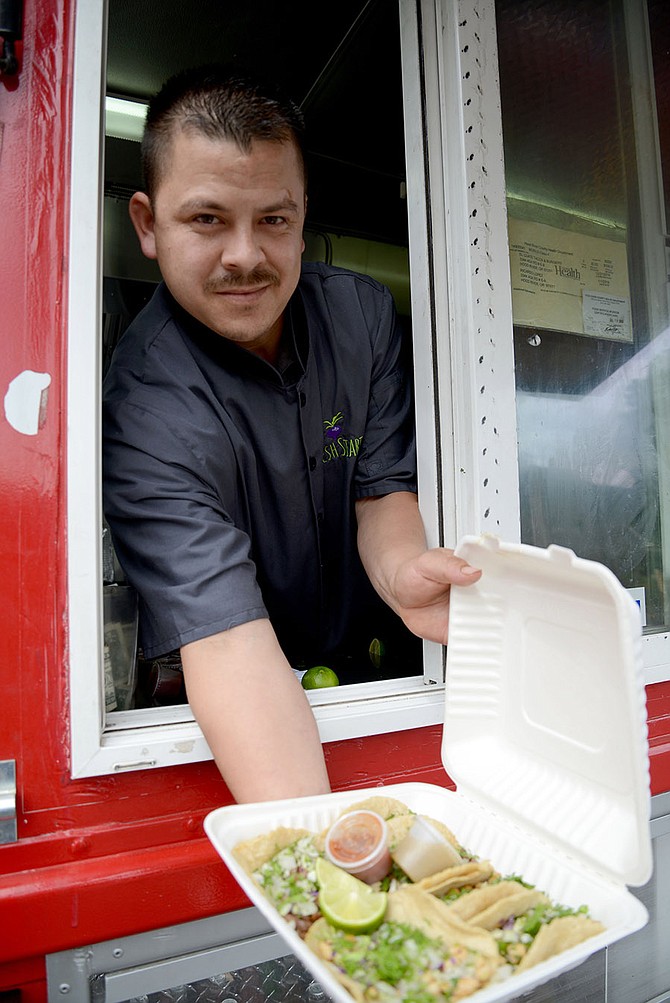 EL CUATE BURGERS AND TACOS — HOOD RIVER
(541-400-9686 or find them on Facebook)
While other food cart owners like their trucks for their freedom, Ricardo Lopez, who owns one of the newest carts in Hood River — El Cuate Burgers and Tacos — says he dreams of owning his own non-mobile restaurant one day. However, Lopez says the truck is a much cheaper option to get his business rolling (get it?) and allows him to keep a smaller, more manageable menu.
Lopez previously employed his culinary skills at Nora's Table (now the site of Kin) and credits former owners Stu and Kathy Watson for giving him the inspiration to start his own business.
"They were always telling me I should open a restaurant. I said I would open a food truck," he says.
As the name suggests, Lopez serves burgers and tacos — along with chicken sandwiches and other Mexican food — out of his bright red 1995 Chevy Stepvan. The tacos and the torta are probably the most popular items on the menu, but Lopez takes pride in all his food. He grinds the meat for his patties, makes his own tortillas, fresh cuts his fries every day (and sometimes per order) and grows cilantro and tomatoes that he then turns into his homemade salsa.
"I really enjoy making my food," he says. "I always say I make it with mucho amor."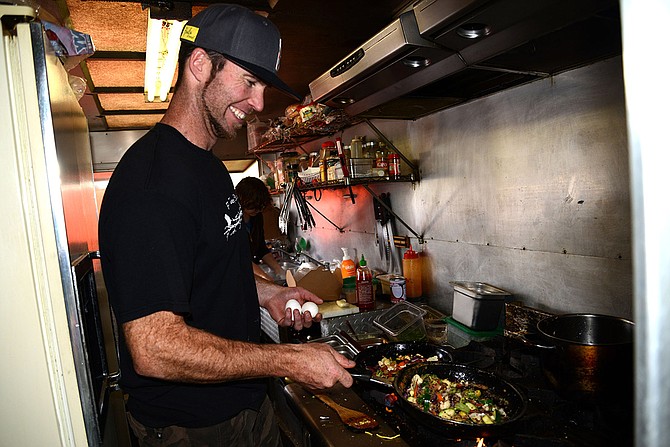 FOUR AND TWENTY BLACKBIRDS — HOOD RIVER
( fourandtwentyblackbirds.me or 970-379-4121)
Shane Egan has been serving up an eclectic mix of world cuisine out of his white 1996 Utilimaster truck since 2012 and can usually be found somewhere in downtown Hood River when he's not at a catering gig.
Egan says he likes having a food cart over a more traditional brick-and-mortar restaurant for a number of reasons: lower overhead, the ability to constantly change the menu, freedom to go kiteboarding when the wind hits, and not having to rely on other people.
"When you open up your own restaurant, you're pretty much married to it," he notes.
Having a menu that's never the same is one of the things Egan likes the most about his food cart.
The "Badass Breakfast Burrito" and "The Lunchbox" are the only two constants on his whiteboard. On a given day, hungry 9-to-5ers, tourists, or whoever, can find anything from rosemary elk burgers to duck confit pitas, Vietnamese banh mi sandwiches, lamb gyros, ramen, deep-fried alligator, and on the rare occasion, camel. Yes, camel.
"Sold out, dude," he says with a smile when asked how people liked their dromedary dish.
As you might imagine, the camel isn't locally sourced — Egan says he gets the majority of his "crazy" meats from Portland — but the vast majority of everything else he serves is. Egan gets much of his produce from local farms, which send him "goodie boxes" of seasonal vegetables, or he'll cruise the farmer' markets. Other stuff he grows himself, including kale, tomatoes, and peas.