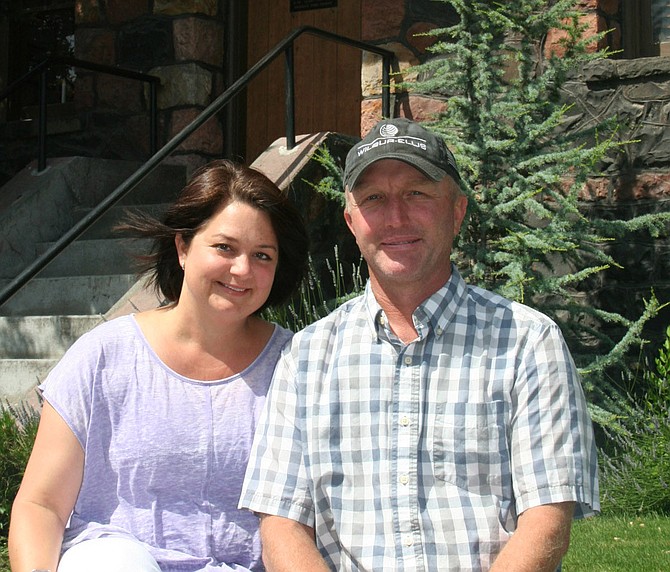 Dane Klindt is a cherry and pear orchardist in Hood River and Wasco counties. Dane and his father, Paul Klindt, along with partner Rich Kortge, own and/or manage about 750 acres of orchards — including five orchards in The Dalles, three located between The Dalles and Dufur, one in Tygh Valley and two in Parkdale.
Dane grew up in Parkdale and served in the military for 3½ years, then attended Oregon State University where he graduated with a degree in horticulture. He and his wife, Stephanie, moved to The Dalles in 1998. They have four kids, ranging in age from 7 to 17.
Dane's family has a long history in The Dalles, dating back to his great great grandparents, Heinrich Klindt and Doris Stoltenburg, who settled in The Dalles in 1864 on property that is now the Port of The Dalles. Dane's grandfather, Henry Klindt, built the stone house that now serves as the port office. In 1963, Henry was forced to sell the property along the Columbia River where he raised green onions to the Port of The Dalles. "With this sale, he purchased the orchard in Parkdale where my parents moved and my sister and I were raised," Dane said.
In 1981 Dane's uncle Philip Klindt and his wife Linda purchased the bookstore in downtown The Dalles that is now Klindts Booksellers — becoming the third owners of the iconic bookstore since it opened in 1870. When Philip died in 2010, Dane and his wife kept the bookstore going until his sister, Kristen, moved back to The Dalles with her husband and took over the store.
When did you decide to follow your father's footsteps into orcharding?
When I was young, I never put much thought into being an orchardist. However,
I remember talking to some friends a few years ago and saying that I wasn't sure how I ended up farming, and they said they all knew since I was young that I was going to be a farmer.
What do you like about being an orchardist?
I enjoy watching the crops grow and trying to figure out better ways to run the business and produce the best quality product I can. I have been very lucky in being involved in a business where every day brings a new challenge. I also very much
enjoy the people. Being able to sit down with my partners, field reps, employees and peers and have discussions about farming is something I enjoy very much.
What's your favorite go-to meal when you're busy with harvest?
I enjoy it when my wife makes meatloaf, because I know I'm going to get meatloaf sandwiches for a day or two in my lunch. At the end of the day, I always look forward to sitting on my back porch, watching the river and discussing the day's events with my wife over a glass of wine.
Do you see your kids carrying on the family orchards someday?
My two oldest children say they are not interested, but lately my oldest son is starting to ask a few more questions about farming. My youngest son, Cooper, says he is going to farm no matter what and even told his teacher that he didn't need to go to school because he was going to be a farmer. My youngest daughter lives to eat any and all the fruit I can bring home. They all will know that they have to follow what they want to do and that education is important. If they come back, that would be great. I have been very lucky to be able to work for and later alongside my father. I would not be upset if I could carry that on with one, some or all of my children.