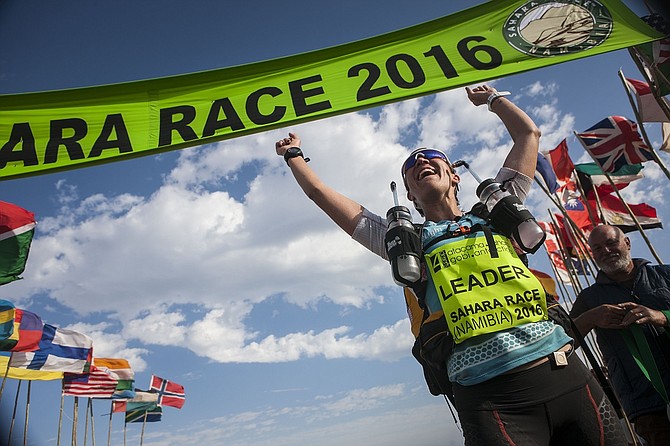 For many people, running 155 miles through an African desert with an 18-pound supply pack on their back sounds like the perfect vision of Hell.
For Hood Riverite Jax Mariash Koudele, who runs these sort of ultramarathons (a misnomer of sorts, considering 155 miles is about six marathons put together), it certainly can be hellacious, but it's something she can't help but feel driven to do.
"Ever since I was a little girl, I have had this mission to do epic feats as a means to inspire the masses to move their bodies and explore the outdoors," she said.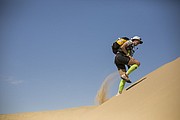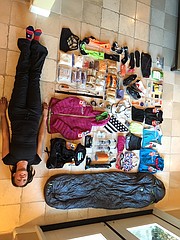 The life of a 4 Deserts runner
A lot of planning and training goes into preparing for the 4 Deserts series. Here's a look at some of the many tasks Koudele has to complete before, during, and after her race.
• Packing: Koudele must carry everything she needs in her pack, which weighs about 18 pounds — "a little heavier than the optimal super race weight," she notes. Her pack usually consists of two pairs of shorts, two shirts, three pairs of socks, sleeping supplies, required safety gear, blister kit, and at least 2,000 calories of food per day for seven days. She also has some "luxury items," which include "iPod Shuffle, half of a toothbrush, toothpaste from the airplane, ear plugs, sleeping pad, flip flops, trigger point therapy ball, a portion of a microfiber towel, resistance band, bandana, and a small tin of Nivea lotion."
• Getting there: Traveling to the race destinations is exhausting in its own right, with Koudele noting that there are "so many logistics and moving pieces," including dealing with customs and adjusting to jet lag.
• Race strategy: Koudele says this is by far the most important aspect of winning a race — 90 percent race strategy and 10 percent training. Having a rhythm to her run is important and that includes what she does at the end of the day. Consuming recovery fuel immediately upon finishing and putting her legs up is important. Koudele then rests, stretches, eats dinner at 6 p.m., goes to bed at 7:30 p.m., and then wakes up at 5:30 a.m. "You also have to manage your food intake and be strategic about your energy output," she explains. "If you push it too hard, your system will push into an anaerobic state and run out of fuel, or it will reject food completely."
• Recovery: After a race, Koudele takes an entire week off from running, which she says is difficult because "your mind is in the habit of getting up and running every day. In the second week, Koudele will tentatively start running again, figuring out how much her body and mind can take. By the third week, it's back to a regimented running schedule.
Koudele, who founded Stoked Roasters + Coffeehouse on the Hood River Waterfront, finished up one of those ultramarathons in Namibia last month and is about to start her next ultramarathon in the Xinjiang province located in northern China, where she will be running through the Gobi Desert. The events are part of a self-supported ultramarathon competition known as the 4 Deserts, which feature runs in Namibia (called the Sahara Race, though Namibia is not included as a country in the Sahara Desert), China (Gobi March), Chile (Atacama Crossing), and Antarctica (The Last Desert). They are part of a larger competition known as the Grand Slam Plus, which includes a race in Sri Lanka (Roving Race).
Finishing any of the races is difficult in its own right. Competitors complete the weeklong race in six stages of varying lengths while carrying all their supplies on their backs. The race in Namibia featured 219 competitors, but only 198 made it across the finish line in Torra Bay after a week of running in hot, windy weather and challenging terrain.
Not only is Koudele attempting to be the first woman ever to complete the Grand Slam Plus, she's also trying to do it with a podium finish. She's already well on her way, finishing as the second female in the Sri Lanka race, and the first female in the Namibia race — sixth place overall. She finished the 155-mile course in 29 hours, 10 minutes, 20 seconds.
"I am so thrilled with the result in Namibia," she said. "The competition was extremely tough between the top women and thus took all of your will and grit to stay in the top position."
Koudele loves running and has been doing it competitively since she was just eight years old, running a 5K that ended in an age group win. She also is a double national champion in her division of the duathlon, winning the short course and long course version of the event. But Koudele isn't running just for personal enrichment — her journey through the Grand Slam Plus series is also a way for her to raise both awareness and funds for Lyme disease through the LymeLight Foundation, a nonprofit that has the mission of helping children and young adults struggling with Lyme disease to gain access to treatment and the money to pay for it.
For Koudele, the cause is a personal one.
"When a few very close friends of mine were diagnosed with the disease, I couldn't help but get more involved. Lyme is extremely hard to diagnose and the side effects are really awful," she explained. "I was troubled when I learned that most insurances do not cover treatment for Lyme and that families are often left on their own to battle the disease. When I started to see the vast extent of treatment protocols and the suffering that goes into this disease, I began to get more involved."
Koudele started out by riding her bike 100 miles in the Ryde for Lyme in the Marin Century Ride in San Rafael, Calif., of which Stoked Roasters was a sponsor. She's hoping to gain more exposure for the cause as she rises in prominence in the 4 Deserts Series (she's currently a favorite to place first in the women's category in the Gobi race).
Though Koudele has found success in the series thus far, it has been anything but a cakewalk. In Sri Lanka, she said she vomited "all of Day 1 and then sprained my ankle on Day 3." In Namibia, competition was so fierce that "to be on top and win, you could never walk, had to race through the aid stations, and you couldn't have a bad day."
Koudele didn't get to spend much time in Namibia outside of the race, a country known for its stark beauty as well as serving as the set of some notable movies, including 2015's Mad Max: Fury Road. She did try to take in as much as she could of her surroundings while she was running, noting that the terrain was "magical," including a stretch of the Namib Desert known as The Red Planet, due to its reddish-colored sand that looks similar to the surface of Mars.
"It did contain a lot of sand. Every kind of sand you can think of as well as granite fields and rocky areas," she said. "As a tourist it would have been even more epic. As a runner, sometimes the magical terrain is so hard that it can shift your opinion in that moment of how much you like it."
Koudele will also have plenty of "magical" terrain in the Gobi Desert and will see an elevation gain of 7,800 feet over her journey, along with an elevation loss of 12,100 feet. The temperature can also vary wildly, with Koudele noting that the mercury can range from 0 degrees Celsius (32 degrees Fahrenheit) to 45 degrees (113 degrees Fahrenheit) in the desert.
By the end of the race series, Koudele hopes that she's done enough to help at least one person with Lyme disease.
"I hope I can raise enough funds to give out at least one medical grant to a child or young adult suffering from Lyme through the LymeLight Foundation," she said. "I hope that this grant will allow him/her to heal so that they can get back outside to adventure and explore."
Readers can keep up to date with Koudele's efforts on one of her many web and social media pages. Her website, wonderwomanjax.com, links to many of those sites, including Facebook, Twitter, and Instagram.