Blueprint at Underground Music Station July 1
"Blueprint (aka Printmatic) is an emcee/producer from the city of Columbus, Ohio, who began his career with the release of a couple unassuming cassette tapes in 1999. The success of those tapes led to national and international distribution of their releases. Blueprint is currently on The Vigilante Genesis Tour, in support of the new EP produced by Aesop Rock."
The show on July 1 features Blueprint and DJ Rare Groove, Durazzo and Voodoo Voltage, starting at 9 p.m.; 21 and over, $10 admission. Call the venue for tickets. Underground Music Station, 512 Industrial Way, Hood River, 541-387-2263 (Monday-Friday 11 a.m.-6 p.m.).
'Retro punk,' windsurfing mash up, film event June 25
Classic old-school Gorge wind sports video footage will be screened while Ben Bonham and the guys in Bonneville Power Trio play "retro punk and old wave" music in the Classic Windsurfing Show, set for June 25, 7 to 9 p.m. at Columbia Center for the Arts.
Tickets for the all-ages show are $18 and available at CCA or online at www.columbiaarts.org/ tickets.
During the intermission the center will show interviews with sailors and board makers, including a youthful Bob Dill and windsurfer Rhonda Smith who was visiting The Gorge for the first time.
Rod Parmenter's classic film, "Hard Wind's A Blowin,'" from 1987 will screen, along with 1980s footage from John Hardham of Light Wave Communications.
Want Classic stuff? "We will also have a raffle for some fab prizes from local stores," said Bonham, who has himself been windsurfing since the 1980s in his native Bristol, England.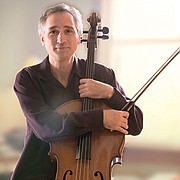 CelloBop concert at the library June 30
Composer and cellist Gideon Freudmann will perform CelloBop at the Hood River Library on Thursday, June 30 at 7 p.m.
This program is free and open to the public but registration is required. For more information, please contact the Hood River County Library District at 541-386-2535, info@hoodriverlibrary.org, or visit their website at hoodriverlibrary.org.
Tillinghast at Double Mt.
"With an acoustic guitar, Richard Tillinghast incorporates the sounds of Appalachian banjo, distortion, bottleneck slide, and syncopation into his poetic songs about wilderness, adventure and love. Catch him Thursday, June 23, at 9 p.m. at Double Mountain Brewery.
Double Mountain Brewery, 8 Fourth St., Hood River; 541-387-0042.
Springhouse Ruins open Tues.
Shows continue at Springhouse Tuesdays outside at The Ruins. 6 p.m. start time.
June 21: Lewi Longmire and The Left Coast Roasters with Roots — Rock Americana
June 28: DoveDriver brings "Shoegaze Jazz"
Springhouse Cellar, 13 Railroad Ave., Hood River; 541-308-0700.
Larry & Raven at The pines
This week at The Pines: Larry and Raven, Friday, June 24, 6-9 p.m. "Striving for sweet harmonies and intricate vocal intervals, they transform classic tunes with an acoustic style and interweaving voices. Choosing artists that vary from Led Zeppelin to Abigail Washburn, they cover a wide range of musical genres. The Pines Tasting Room, 202 Cascade Ave., Hood River; 541-993-8301.
'Darlings' at Marley's Corner
The Strangled Darlings return for their fourth annual performance at Marley's Corner Pub. This favorite Americana duo will be performing on the patio on First Friday, July 1 from 6-8 p.m. All ages are welcome, no cover charge. Marley's Corner, Scottish Pub & Drive-Thru, 1216 C St., Hood River; 541-386-0153;
Kit Garoutte at Stave & Stone
This week at Stave & Stone, music is from 7-10 p.m:
June 22: Kerry Williams and Friends
June 24: Kit Garoutte
Stave & Stone, 210 Oak St., Hood River; 541-946-3750.
Beach Bash June 23-26
The Pray for Wind Party music lineup on Friday, June 24 features Dirty Revival and Bonneville Power Trio at Hood River Waterfront Park.
Mayors' Independence Celebration July 3 in Bingen
Come and help Radio Tierra and the mayors of Bingen, White Salmon and Hood River celebrate our country's diverse talents and patriotism at a live broadcast of the Mayors' Independence Eve Celebration, Sunday, July 3, 7-9 p.m., at the Bingen Theater, 210 Oak St. in Bingen. As a special feature of this year's party, we will honor the memory of Gorge native and 2016 Presidential Medal of Freedom recipient, Min Yasui. Admission is free.
Radio Tierra's live broadcast will include the music of Mariachi Los Temerosos and more.
De Juan Antonio, Maren Euwer, Weiler and Tindall, Tim Mayer and the Riverside Gospel Choir, Midnight Gypsy, Harmony of the Gorge, Antifaz and Paul Blackburn; readings of poetry by Robert Service, Langston Hughes, Woody Guthrie, and original poetry readings by White Salmon 4th graders; tongue twister contest with Kirby Neumann-Rea; and a special appearance by Sam Hill.
Admission is free, with donations to the Mayors' Independence Eve Scholarship Fund accepted at the door. The Fund will provide scholarships to students living in the Gorge.
Entertainment listings can be e-mailed to jdrake@hoodrivernews.com.