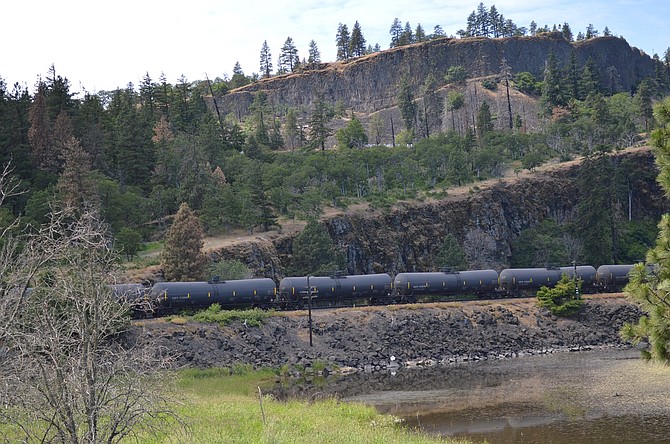 A day after Union Pacific announced oil trains will begin rolling through the Columbia Gorge again, a federal report blamed the railroad for the fiery derailment in Mosier.
The Federal Railroad Administration on Thursday released their preliminary report regarding the June 3 train wreck, declaring the cause was sheared "lag bolts," which led to a widened track that caused the train to leave the rails.
UP, the federal agency said, was at fault.
The company's "failure to maintain its track equipment resulted in the derailment," FRA reported.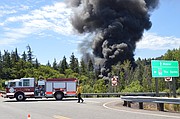 Specifically, "multiple lag bolts in this section of Union Pacific track were broken and sheared, leading to tie plates loosening from ties. The loosened tie plates allowed for the rails to be pushed outwards as trains moved across them … leading to the derailment," the report said.
Earlier this week, UP told Oregon officials the company will soon resume oil unit train traffic through the Gorge, ending a temporary moratorium requested by state and local leaders.
"We expect those operations to resume over the course of this week. This includes transporting crude oil," Wes Lujan, a UP representative, said in a written statement.
Previously, a UP spokeswoman had told reporters the company wouldn't be transporting oil unit trains through the Gorge, but didn't specify if that also included mixed-unit trains.
"The longer crude oil trains … will not be moving through the area at this moment," Raquel Espinoza said at a June 6 press conference in Mosier.
The speed limit at Mosier has been temporarily decreased from 30 miles per hour to 10 in response to the derailment.
Lujan explained UP is federally required to transport crude oil, which includes less than 1 percent of their total shipments.
"If a customer delivers a crude oil tank car in conformity with U.S. Department of Transportation requirements, we are obligated to transport the rail car to its destination," Lujan said in his statement.
Oregon senators Ron Wyden and Jeff Merkley sent a letter this week to FRA administrator Sarah Fenberg asking for a temporary halt on oil trains and a push for tighter safety standards.
"We urge the FRA to use (its) emergency order authority … to put in place safeguards for unit trains transporting hazardous materials through the Columbia River Gorge," the senators wrote.
Tribal leaders, environmental groups and elected officials such as the mayors of Hood River and The Dalles, as well as the Cities of Mosier and Cascade Locks, have called for a moratorium on oil traffic until safety standards are better established.
"This is a stinging indictment from a government agency that doesn't typically call out the railroad companies. Union Pacific's assurances of safety have just been derailed," Kevin Gorman, Friends of the Columbia Gorge executive director said of FRA's declaration. The Associated Press contributed to this report.