The City of Cascade Locks is still considering a Nestlé water bottling plant, but concerns over truck congestion have spurred city officials to ask the multinational corporation for an alternative traffic plan.
City Council on Monday approved a letter to Nestlé Waters North America asking the company to alter its "unacceptable" planned truck route — in order to bypass residential areas — if the bottling plant becomes a reality.
"We, the City Council of Cascade Locks, have determined that the truck traffic entering and leaving the proposed (Nestlé) bottling plant will create unacceptable safety issues and traffic congestion on both WaNaPa Street and Forest Lane," the council wrote Monday.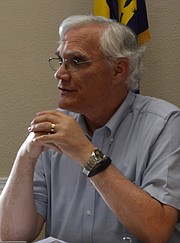 Instead, council asked the company to turn trucks around at Interstate 84 exit 51, Wyeth, to access the Port of Cascade Locks' Industrial Business Park from exit 47, Forest Lane.
The city and port are working with Oregon Department of Transportation (ODOT) to secure funding to engineer and construct new access ramps near exit 47 for access to the port's riverside industrial park, but the Wyeth turnaround would serve as a temporary solution.
For years, the city has attempted to site a Nestlé water bottling plant in Cascade Locks, tapping into nearby Oxbow Spring.
In May, Hood River County voters passed Ballot Measure 14-55, which prohibits large-scale bottling companies — like Nestlé — from tapping into county water sources.
However, City Council decided to continue discussions with Nestlé and investigate legal options regarding the 14-55 legislation. Councilors cited the will of voters within their jurisdiction — Precinct 12 voted down the measure by 58 percent.
On Monday, Council voted 4-1 to send the traffic letter to Nestlé.
Council member Bruce Fitzpatrick commended the letter as a chance to address local concerns.
"This issue about the trucking — from our local citizens — is the one that I heard the most," Fitzpatrick said. "I believe that anything we could do to address (those concerns) is a positive for the city of Cascade Locks."
Council member Deanna Busdieker disagreed, referring to 14-55.
"I don't know if you guys remember this, but last month we had an election that said commercial water bottling is illegal in Hood River County … so anything moving forward with Nestlé, as far as I'm concerned, is illegal," Busdieker said.
City Administrator Gordon Zimmerman said in a follow-up interview the traffic letter responded to feedback from local residents.
"We looked at the people inside Cascade Locks who voted in favor of or opposed to the ballot measure, and their concern was 'we've got to keep the trucks out of residential areas,'" Zimmerman said. "So this is an attempt to let Nestlé know this is the line in the sand — if you don't want to follow this, tell us now. If you do, we'll continue down the road for a viable solution."
The Nestlé plant, first proposed in 2008, would access water from Oxbow Spring, which Oregon Department of Fish and Wildlife (ODFW) uses to rear fish at Oxbow Hatchery east of town. To feed the plant, the city would swap 0.5 cubic feet per second (cfs) of municipal well water for an equal portion of ODFW's spring water. The city would sell spring water to Nestlé.
However, opposition from advocacy groups and a successful county voter measure have challenged the deal, leading to an unclear future.
First, the city has to secure spring water access. If approved, the Cascade Locks-ODFW water exchange, overseen by Oregon Water Resources Department, would allow the city to trade water "gallon-per-gallon" with ODFW and then sell spring water to Nestlé.
However, Zimmerman anticipates a decision from the state commission could take anywhere from three weeks to three years, given opportunities for appeals and a contested hearing.
Another legal issue is Measure 14-55, which bans large-scale commercial water bottling companies from operating in Hood River County. Once voted in, the measure amended the Hood River County Charter to include that rule, enforceable (according to the measure's text) in circuit court.
Hood River County Administrator David Meriwether said the measure was included in the charter via 14-55, though a formal implementation, or codification process, hasn't taken place.
"It's obviously part of the charter. We haven't gone through the codification process … but that doesn't mean it's (the 14-55 amendment) not in place," Meriwether said.
Meriwether said so far no lawsuits have been filed regarding 14-55, and the County Board of Commissioners hasn't made any decision regarding "what the county would do or not do."
As of Monday, neither the county or City of Cascade Locks have received litigation concerning 14-55.