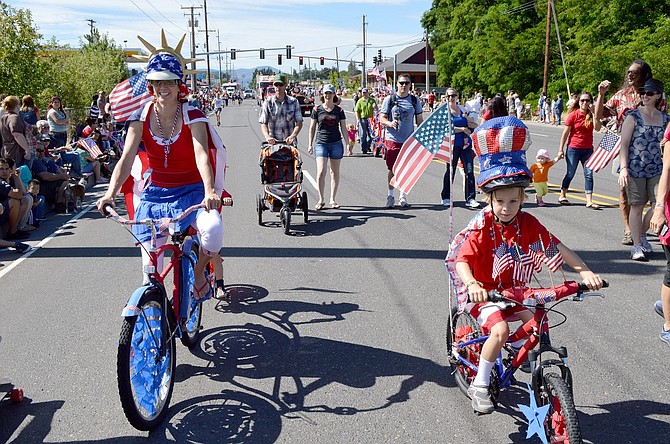 Parades happen in Hood River at 10 a.m. and 4 p.m. in Odell. For the safety of children and to minimize litter along the Hood River parade route, the "no candy distribution" policy will once again be encouraged during the parade. After the parade, gather in Jackson Park where State Farm Insurance will have candy for the children and the Hood River Rotary Club and Heights Ice Cream are teaming up again to provide ice cream at a special price for kids. There will also be two bounce houses and face painting. Of course, at 11 a.m., the Hood River Fire Department will start serving their barbecue meal of beef and veggie burgers along with hot dogs. Emcee Keith Doroski will oversee the raising of the American flag at noon by the Odell Boy Scouts and to the National Anthem played by The Big Horn Brass Band from Portland. Then grand marshal Jean Harmon and some Hood River military veterans will lead the audience in the Pledge of Allegiance.
•
Los Temerosos mariachi band of the greater Gorge (seen here at the 2015 event) will be among the performers at the July 3 "Independence Eve" live broadcast from Bingen Theater in downtown Bingen; anyone may attend, and doors open at 6:30 p.m. Or tune into Radio Tierra, KZAS-95.1 FM. Details in schedule at right.
•
Prior to the parade, several hundred people participate in the Kollas/Cranmer Memorial Run and Walk from the Odell Fire Station to Jackson Park. The participants make their way via the parade route on 12th and May Street. Walkers leave the Odell Fire Station at 8 a.m. while runners start their race at 9 a.m.
Schedule:
July 3
Mayors' Independence Eve Celebration, 7-9 p.m. at the Bingen Theater, 210 Oak St. in Bingen. Free, but donations will be accepted for the Mayors' Independence Eve Scholarship Fund at the door for Gorge students.
The show will be broadcast live on Radio Tierra and include the music of Mariachi Los Temerosos De Juan Antonio, Maren Euwer, Bill Weiler and Jim Tindall, Tim Mayer and the Riverside Gospel Choir, Midnight Gypsy, Harmony of the Gorge, Antifaz and Paul Blackburn; readings of the poetry of Robert Service, Langston Hughes, Woody Guthrie, and original poetry readings by White Salmon fourth graders; tongue twister samples with Kirby Neumann-Rea; and a special appearance by Sam Hill. As a special feature of this year's party the memory of Gorge native and 2016 Presidential Medal of Freedom recipient Min Yasui will be honored.
July 4
• Kollas/Cranmer Memorial Run and Walk, 8 a.m. walkers and 9 a.m. runners; meet at the Odell Fire Station. Run ends at Jackson Park.
• Hood River Lions Fourth of July Parade, 10 a.m. on The Heights.
• Jackson Park Fourth of July Celebration, 11 a.m. Meet after the parade; candy for children, discounted ice cream, bounce houses, face painting, Hood River Fire Department BBQ, vendors, flag salute, National Anthem, more.
• Odell Parade through downtown Odell. To participate, meet at Mid Valley Elementary at 3:30 p.m.; parade starts at 4 p.m.
• Fourth of July Activities in Cascade Locks, 6:30-10 p.m. at Marine park. Featuring Columbia Gorge Lion Club's Duck Derby fundraiser at 6:30, live music by the Stingrays, food vendors, t-shirts and coffee. Fireworks display begins at 10 p.m., also at Marine Park.
• Eyeopener Lions Club Fourth of July Fireworks Display. Begins at dusk, around 10 p.m. Gather at the riverfront, or see it from virtually anywhere in town. Donate to display: Lions Fireworks, 1761 12th St. #136, Hood River, OR 97031.
Jean Harmon will be HR parade Grand Marshal
Jean Harmon, a longtime Hood River resident, teacher and volunteer, has been named as the Hood River Lions Club July 4 Independence Day Parade grand marshal. The parade is a longstanding holiday tradition, making its way through the Heights each year.
Harmon was chosen because her community service fits this year's theme, "Serving Your Country in Many Ways."
"Harmon has been serving her country for more than 50 years," organizers said in a press release.
Harmon moved to Hood River in 1967 and taught at both Hood River Valley High School and Wy'east Middle School. Her list of accomplishments fills nearly two pages with events and projects, organizers said, including a 1975 trip she took with 30 HRVHS students across the U.S. by bus for one month as part of the American Heritage organization.

After nearly 30 years of teaching, Harmon purchased the Stonehedge Inn Restaurant. While in business, she was a member of the Hood River County Chamber of Commerce, and served as board president for a year. She also formed what was then known as the Heights Business Association and led the Jackson Park Fourth of July event for five years.
She has given long-term service via the local Soroptimist Club, been involved in Relay for Life, the History Museum, Friends of the Library, Hood River County Reads, and the Columbia Center for the Arts.
"There always is something one can do to participate in community activities," Harmon said. "It has been so much fun to live in Hood River and still is.
"I just want to be a representative of lots of people in our county who are also serving their neighbors in one way or another," she said of the grand marshal honor.